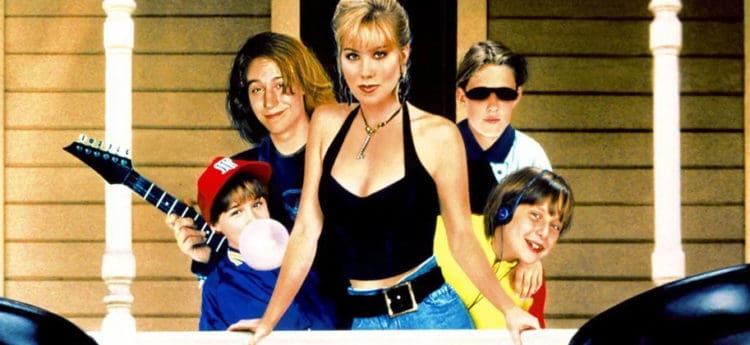 How many of us remember this movie? It wasn't all that big of a success when it came out but it did help Christina Applegate a little at least since it was a step outside of TV for her and it was a movie that eventually became a cult classic given that a lot of people can quote at least a few lines from it at this point. But as Kevin Fraser of Joblo has said, the new adaptation is apparently going to center around a black family, which on its own isn't a bad or even controversial thing since it could offer a new look at the story. But when words such as "connected to the world today" come up when describing a movie such as this it becomes a little problematic, largely because it implies that a white cast isn't going to connect as well as a black cast. Again, there's nothing wrong with a black cast, but there's also pandering to society in a way that makes it feel way too obvious that those working on this project, who are the same folks that worked on Dear White People and Beauty Shop. There are going to be folks that will have a major issue with this, unfortunate and as factual as it might be. One of the wisest things to do, just as an homage to the original movie at least, would be to feature a couple of cameos from those that made the movie what it is at this point, if only to show fans that yes, the writers and director are paying attention to the source material in some way.
It will likely be said at one point or another, but just to get it out of the way, if the original cast had been black and was suddenly replaced by a group of white people one can imagine that there would be a serious issue with the fans. As it is, there might be a bit of noise at the cast change, but likely as not it will be a dull roar in comparison since it's not entirely trendy to rail against swapping one race for another unless it happens to lead to whitewashing. Hard as that truth is and as petulant as it might sound, it's the absolute truth in Hollywood as much as anywhere, as the idea of whitewashing is usually quite disruptive to many a movie and opens up a project for non-stop criticism that is well-earned in some regards. But the opposite rarely happens as the moment a cast is switched for people of color or different ethnic backgrounds it's said to be 'diverse' and is thus A-okay. To be fair this is the kind of movie that doesn't really elicit the need to raise that much of a stink, but all in all the hypocrisy is kind of funny. Centering the main point of the story on a black family would be different to be certain, but one has to wonder just where the idea of 'connected to the world today' is going to happen since in the world of today a dark comedy such as this can get extremely dark all too quickly. Amanda N'Duka of Deadline has more to offer on the topic. The idea of finding a babysitter dead in your house is, for many kids, likely to be a highly traumatizing experience and since we're going for realism in movies these days the comedy aspect might be tinged with some real-world issues that wouldn't be solved with a few witty quips and a big sister that has to take control of the house and her siblings.
Seriously, giving Christina Applegate a cameo in this movie would go a long way towards giving it the credibility that it's going to need, not because she's white, but because she's one of the main reasons why people watched the movie and likely remember it in the first place. Keep in mind this was during her Kelly Bundy days when she was still young, incredibly attractive, and had enough of an edgy look to her that made a lot of young men go absolutely nuts. Giving her at least a small part in the movie would likely placate a lot of people since it was one her attempts at greatness even if it didn't really become anything. Apart from that, yes, the movie could likely do with an update and a way to explain the death of a babysitter in the house, especially since in this day and age there's simply too many ways that this could cause a heap of trouble for a group of kids. Of course if filmmakers were really looking to do something impressive they would leave the older movies alone and use them as inspiration instead of using their ideas entirely. But hey, I'm a writer, not a filmmaker, so that's none of my business.