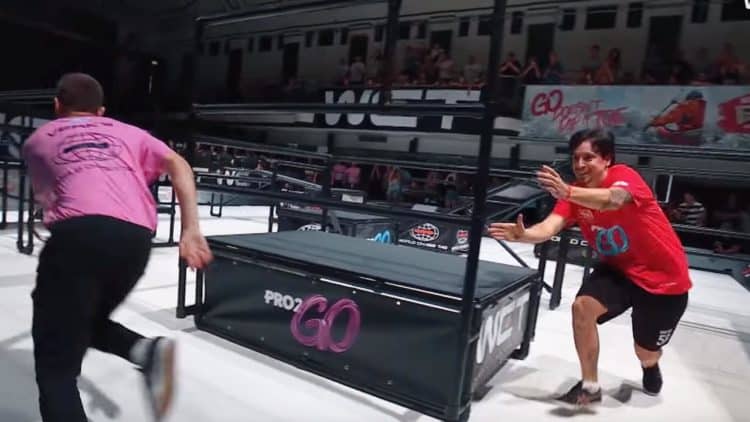 Tell a person that there's a professional game of Tag that people play professionally and the average individual might laugh and ask if you're being serious. The truth though is that there IS a professional sport of Tag and it's been developed to be one of the most challenging sports out there, even if it's not so big that everyone knows about it. It's also interesting enough to note that it's become something that parkour athletes are exceptionally good at since the course that's been created features set obstacles that are situated and cater to the very impressive skills that parkour athletes tend to possess given their propensity for insane jumps, maneuvers, and the ability to bend and move around said obstacles to put on an impressive show for the audience. But in the game of Tag, as all of us that have ever played the game as children will know, the object of the game is to simply not get touched by the pursuer. This particular game makes use of a rather interesting course that allows each of the athletes to put their skills on display as one attempts to get away from the other. In this version of Tag, there are only two people on the course in any given round and one will be the pursuer and the other the evader, and each match only lasts for 20 seconds. One might not think that's a long time, but with the moves that these competitors are putting on, 20 seconds might feel like 20 minutes to a lot of people considering that after such a short time a person can be sucking wind if they're moving at top speed to pursue or evade and jumping, sliding, climbing while they're doing it.
The fact that this originated with a GoPro in someone's back yard is kind of hilarious since they wanted to record how their game was going and the idea kind of built from there. A lot of people tend to put the game of Tag away as something childish and fun that they did back in the day that has no place in their adult life, but there are plenty of people that still embrace that inner kid even if they don't necessarily play the game the way that a lot of us remember. If anyone does recall, it took a lot of maneuvering and a few very skillful moves to be a Tag champion back in the day since the bigger and slower the player, the more likely it was that they would be caught and singled out. This version of the game is making it clear that the better shape a person is in, the more competitive it's about to get and the trickier it will be when trying to tag someone.
In a big way, this brings to mind the movie titled Tag that was actually quite funny but didn't get a whole lot of respect when it came out in 2018 starring Ed Helms, Jeremy Renner, Isla Fisher, Jake Johnson, Jon Hamm, and a few other notable names. That movie was about a group of friends that had been playing Tag for years and met up for one month out of every year to continue the game. The only trick was, the character that was played by Renner was the best ever since he tended to employ tactics that were brilliant but also kind of abusive and a bit crazy at times. They also didn't play in a warehouse since the game took them to various spots and made use of their surroundings as Renner's character was seen to use everything from table cloths to purses to psychological warfare to trip his friends up. Oh yeah, it got nuts, but it was also hilarious since the general feeling was that the others were attempting to take the character down and finally tag him after so many years, but simply couldn't match his energy or intelligence when it came to the game. This version in the warehouse is much more controlled and far more ordered than the movie since it kind of has to be since otherwise, people might get a little upset and start filing charges if parkour athletes took their game to the streets and started causing all kinds of damage.
But watching this does make it look like a lot of fun if you're in that kind of shape and can keep up with some of those that come to win and are adept at the many different jumps and techniques that parkour athletes learn after continuous training. It looks like a lot of fun, but it's a good idea to not just running willy-nilly into a situation that might cause massive injury until you've trained for a while. Keep in mind that parkour athletes are in very good shape typically and have been practicing their sport for a while. It's not something you're bound to pick up on the fly.