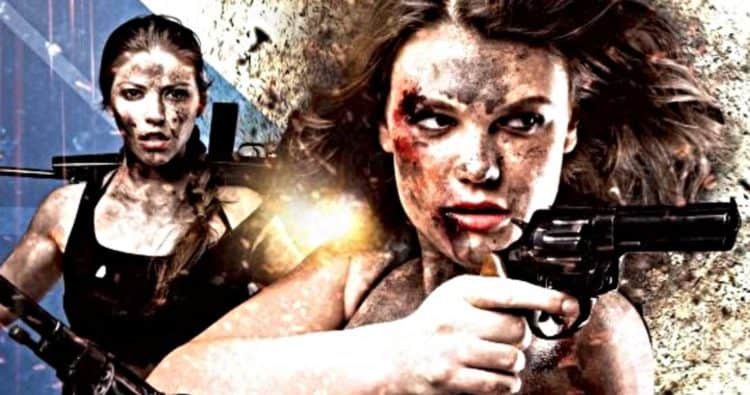 6 Hot Chicks in a Warehouse doesn't sound like much of a PC title does it? Well, factor into this the idea that all 6 of them wake up in cages and are being actively tortured by a MAN of all things, then you might think that there's not a lot of redemption to be had right from the start. But it gets better, the guy is pitting them against each other, taking pictures, and expects them to fight to the death. Oh yeah, you can easily imagine that liberals will be actively shouting at this movie to try and see if they can get it taken down before it ever comes out, but maybe, just maybe they'll see some sense in entertainment. B. Alan Orange of MovieWeb explains it nicely though when he states that this, as you might expect, is a revenge story that is carried out by the same demented photographer that's apparently been humiliated by the six models he's invited to his studio for one last photo shoot. As you can already guess things don't go the way that he wants since, well, that's about how it works in revenge stories since people either take too much time when it comes to exacting their revenge or they don't think things through as much as they should.
Having 6 supermodels duke it out inside an area that's cordoned off by a ceiling to floor electrified cage however is something that seems fit to drive some people into insane bouts of laughter while others look on in absolute shock. We're not that far removed from MeToo after all and the overall feeling of women being assaulted and wronged is still fresh enough in many peoples' minds that this might prove to be a bit raw for some folks. But to be honest it looks absolutely brutal since it could very well be one of those movies that crosses the line in a way that some folks don't think it should be crossed. Just judging by the art above and the track record of revenge stories it does seem as though the evil photographer isn't really going to think this plan through from A to Z and the supermodels, as mean as they're being made out to be, will be the ones to get their own bit of revenge when all is said and done.
As a Grindhouse flick it's definitely bound to get the attention of a few people, well, more like thousands since there are a lot of folks out there that absolutely love this kind of stuff, but it's also bound to be seen as something that's both so over the top that it's not worth arguing about and something that extremists might actually cite as something that offends them beyond belief. The premise is pretty simple really since supermodels do tend to get a bad reputation at times for being a bit too demanding and diva-ish for their own good and while photographers can be just as demanding and even more irritating in their manners the combination doesn't really work well since it creates a great deal of resentment and anger that has to be vented in one direction or another. The fact that someone thought this up and believed it would be a good idea isn't too hard to fathom since it might be a dark fantasy of some folks that work in the fashion industry. Hey, everyone's had them at one point or another in their lives, it's nothing to be ashamed of.
That being said though it might be interesting to find out just how the models do manage to get free and what kind of knowledge they might actually possess to inspire the scene pictured above since not a one of them seem as though they might know more than rudimentary fighting skills, let alone how to handle a gun, from the trailer. That's the fun part about movies of this caliber though, there's not a lot of explaining to do, you just have to watch and be entertained since that's the whole point. The title is about as simple and descriptive as it gets and is likely to be enough to draw a hearty chuckle from a lot of people and the content is bound to be enough to gather the attention of many that might like to see just what it might be like if some of the modeling elite were to be tossed into a situation like this. Like I said, dark fantasies right?
All in all though the name of this movie might be what gets it the most notice since it's kind of off kilter and just long enough that you might want to read the whole thing before wondering what it might be about. It's almost guaranteed though that it will draw more people in their teens to 30s than anyone else.