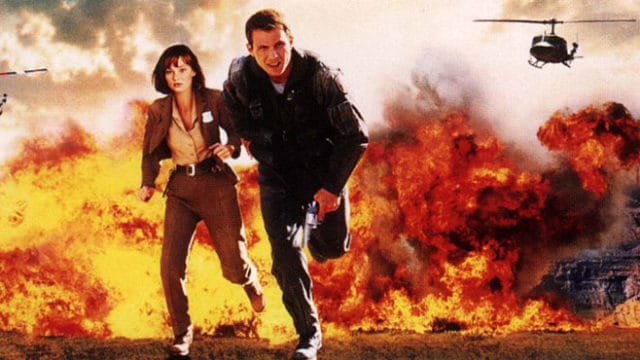 Big bangs and huge explosions in movies are awesome. They get the audience worked up and they just look hella cool, right? But there's one little problem. The big bangs you see on the screen are manufactured for the most part. Some of them, or maybe a lot of them these days are cunningly done with CGI effects made to look as real as possible. I won't tell you to go out and prove it to yourself or any other person, but go behind the movie magic and find out how they did that and you might discover that the type of explosions that heroes run from in the nick of time should in fact be lethal from a fairly good range.
Luckily the truth is that these explosions might never happen in the first place in the real world.
5. Broken Arrow
Obviously the nuke didn't go off or the ending of the movie would be very different. But seriously what was on that train that burned in such an odd way? Fire will usually follow the trail of gas all the way to the source as it tries to consume enough fuel to maintain itself, and strangely whatever leaked was still kept fire-free for the most part. Then when the train cars collide it decides to go off, as though this was the perfect catalyst for a sudden and violent explosion. Those spur of the moment booms do give a nice effect though.
4. Indiana Jones and Temple of Doom
So here's the problem. The plane was running on empty. As in no fuel, nothing, nada, not even a fume to keep the propellers going for another second. That's a problem in and of itself right? Let's get past the whole falling to the hard-packed snow in a raft that would leave them flat as pancakes and hardly able to stay conscious if they survived. The plane dives into a mountainside as they're sledding past, and explodes like a TIE fighter from Star Wars. What fuel reserves were left? And really, what kind of fuel was it to atomize so much of that plane?
3. Dawn of the Dead
Maybe they should put this in the next Call of Duty on the zombie level. The "improvised mini-nuke" it could be called. So you attach a road flare to a propane tank and then pop a shotgun shell at it and……yeah, no. A full propane tank with all the safety measures removed would make one hellacious bang, but it wouldn't act like a miniature nuke complete with a shock wave for effect. Nice movie effect, but not real.
2. The Incredible Hulk
It's understandable if the forklift hit something volatile on the other side, but then again if something was able to be trashed that easily and cause such an explosion wouldn't it be too dangerous to keep people working next to it? Also, if it WAS the forklift that exploded, what the hell was the thing made of? You'd think it was packed with a bundle of TNT the way it went off. We could have said bye-bye to Emil if that was the case, because the shock wave alone should have killed him.
1. The Rock
How much C4 was in that car when it got tapped? One thing that you can look up and you will be amazed to find is that one little explosion could not have possibly lifted this trolley. The average trolley car weighs upwards of 7.5 tons and is extremely solid. The car in this film was lifted up like it was toy. That kind of explosion would have taken out the entire block and several surrounding blocks just to lift this car a few feet off the ground. To get it to skyrocket like it did, goodbye Bay Area.
Don't get it all twisted. I love these movies just as much as the next person, but the dynamics of the explosions just seems off no matter how many times you watch them.
Save
Save