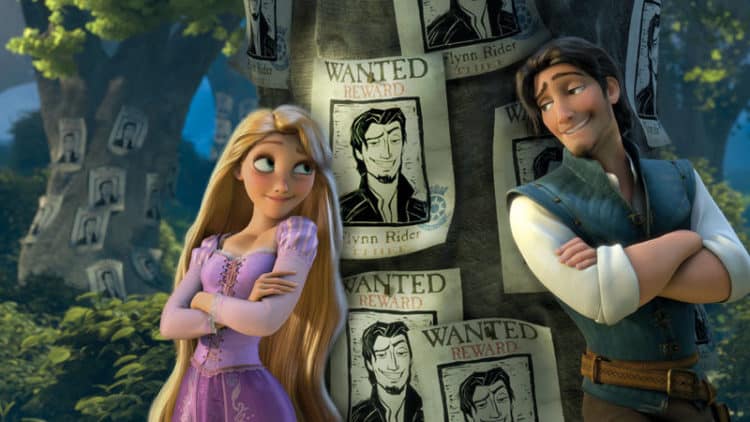 Live action movies are bound to keep coming so long as Disney can find a way to make them profitable and the next movie up really isn't too much of a surprise as Tangled has been one of the most well-loved stories that Disney has rolled out in the last couple of decades. Having come out in 2010 one might have thought that the story of Rapunzel was one that might be destined for minor obscurity since the old fable has been around so long that it's something we tell our kids in a very half-hearted way. But given that the Mouse House came up with a new spin on it, making Rapunzel a lost princess, was a stroke of genius, and casting Mandy Moore and Zachary Levi as the two leads was yet another that helped this movie to rake in a considerable sum of money. Taking it to the next level was only a natural step, though as Ryan Scott of MovieWeb points out this one will be coming to the big screen instead of to Disney+ as the live action Lady and the Tramp did a short time ago. The expectations are likely going to be high for this movie since it was one of those that people happened to find highly appealing in its time since it even spawned a TV show on the Disney channel which was kind of cute really.
You can be sure of one thing though, this will be a seriously CGI-laden event whether they keep to the Tangled story line entirely or decide, as they did with Mulan, that a few things need to be changed. One can only hope that Disney will see the sense in keeping it as close to the animated feature as possible however, while staying within some bounds of reality of course. Given that so much of Disney focuses on magic and wonder it's easy to think that Tangled might be able to keep a great deal of source material, such as Rapunzel's hair being insanely strong thanks to its magical qualities, among several other things. One aspect of Mulan that people are going to miss is Mushu obviously, so for Tangled it's a big hope that Maximus and Pascal can be written in somehow, especially given that they do have their own importance within the story. There are going to be changes no doubt as this has been the case with nearly every live action movie. Some things that are created in animation just tend to defy the natural laws of physics and as such can't really be included in live action if the people are to remain entertained. Otherwise the eye rolling just doesn't stop and a lot of fans might look elsewhere for a better experience. Cami Cabrales of DisInsider has more to say on the subject.
The love story within the tale however is obviously something that will be kept, but it might need to be updated just a bit for the sensibilities of the viewers given that Rapunzel is supposed to be 18 and Flynn Rider, aka Eugene, is about 26. That's not such a serious age gap to think about, but aging Eugene down just a bit might go over a little better with parents that want to take their kids to the movies. It's a trifling matter really given the legal-minded sense it would make, but when it comes to family movies it's already apparent just what lies over the horizon when it comes to 'concerned parents'. With that in mind though much of Tangled is pretty harmless as it's presented in a way that goes from inherently dangerous to absolutely silly in a matter of moments, such as as the scene in the bar with the assortment of thugs. As far as being turned into a live action movie this should hopefully go off without much of a hitch, though the casting is going to need to be spot-on and done in a manner that will encourage the fans to watch and to keep watching since like it or not, the animated version was about as good as it gets given that it had great voice actors and a very pleasing story that might have made many people tear up at one point. Okay, so Rapunzel's magical tear that saved Eugene's life was a little over the top, but given that the power of the flower that her mother imbibed when she was pregnant with her obviously transferred over to the young princess, it's easy to think that Rapunzel has some magic to her that comes out when she needs it most. Maybe the writers will work that in somehow.
All in all, this does sound like it might have a chance to be a successful movie, largely because the animated version was so well done. Now we just need to see who they're going to cast. Kelly Coffey of Inside the Magic has a few ideas about that.