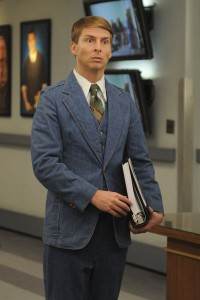 30 Rock season 6 squares off against the eleventh episode of season 6 with "Standards and Practices," where Liz and Kenneth conflict over his new job, and Jack helps out potential rival Kaylie Hooper (Chloe Moretz), while Jenna uncovers a new path to publicity. Streets ahead of last week's effort, "Standards and Practices" carries with it the momentum of a show half its age.
Last week I made a point of mentioning how sitcoms running in omnipresent syndication can ultimately affect the way we interpret newer episodes. In particular I had watched a very strong, and unique second episode of 30 Rock that seemed to make far greater use of its characters and tropes than a program essentially running on fumes, but I did my best to give things a fair shake. 'Standards and Practices'proved in fact a much better counterpart to 'Succession'than 'Alexis Goodlooking and the Case of Pete's Missing Whisky,'not only for a similar structure, but for a far more effective use of character relationships that have evolved over time.
Let's back up. 'Standards and Practices'dealt with a lot of long-running and even criss-crossing threads, between Jenna discovering herself to have a number of children she can utilize for fame, Jack squaring off against a returning Kaylie Hooper (Chloe Moretz), and Kenneth discovering a new relationship with Liz in his censorship efforts at TGS. It may seem like a lot to juggle, but mostly the action is kept within the walls of 30 Rock itself, unlike 'Alexis Goodlooking'(I'm not writing that again, even if it took longer to type this), which felt somewhat distant in moving the Frank / Liz story back and forth between locations.
'Standards and Practices" gets to construct a much more organic rhythm to the various stories, and center most of the climax around a dizzyingly funny array of the different conflicts. While Tracy went largely underused this week, it still provided the impetus for some strong Liz / Kenneth moments as he begins embracing his true potential within NBC, a little bit of growth for Jenna, and yet another wonderful turn to play against his greatest acting partner: himself. Throw all the child-actors and Chloe Moretzes in the world at that man, but Alec Baldwin is always funniest tearing down himself.
So with Tracy popping in and out to deliver a few one-liners, most of the burden fell to Jenna to deliver on a C-story, and fortunately her character is just vain and off-putting that she could suddenly have six kids, and it doesn't seem all that unusual. It didn't ultimately amount to much beside some well-earned comeuppance as the five beautiful ones cast Jenna out just as harshly as she had earlier cast out her ugly duckling daughter, but there's still plenty of potential to be mined for future episodes.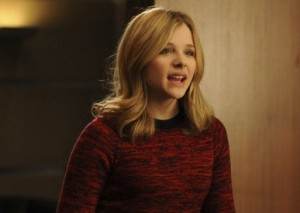 To that end, Jack battling wits with Kaylie Hooper once more isn't terribly different from any of the other past rivalries we've seen with Devon Banks, or others, it affords fine challenge for both Jack and indeed Alec Baldwin as a comedic actor regardless of the sparring partner. Similar to Banks even, Kaylie seems yet another type too soon or unlikely to achieve power so quickly, yet still find avenues to challenge Jack's throne time and time again. Obviously, 30 Rock shouldn't be around by the time Kaylie Hooper were of age* to really provide any threat, but their sparring still makes for a fine exhibition bout.
(*) Slap the cuffs on me, I couldn't care in the slightest. But the image of Chloe Moretz sensually sipping scotch (or ginger ale in a scotch glass) while wearing elegant businesswear, good lord that girl is going to be a heart-breaker someday.
Most effective for me, as it has been these last few episodes, is the continuing ascension of Kenneth in the world of corporate NBC. It breaks my heart to think of Kenneth slinking back into status quo at the end of the season, and I've somewhat noticed that every week seems to pair Kenneth's new position against another one of the 30 Rock cast, but the character's evolution has easily proved the strongest aspect of the current season. It may not have taken only five years, but I firmly believe Kenneth will either end up the head of NBC, or murdering everyone. And it does give a new dynamic to his relationship with Liz, much as it did Jack last week, but where Jack represents the tough love type, Liz gets to be more silently nurturing, in an equally strong turn. I felt genuinely sad for Kenneth crying at the pressures of his new job, and in truth that might be the most sympathy the character has ever generated.
I couldn't tell you if 30 Rock genuinely wants to move its characters forward, or merely take us on a fun ride before dipping back down into the same-old same-old, but I'm still having more fun than I have in weeks.
And Another Thing…
There were actually a few gags this week I either missed, or went over my head. Can someone tell me why Jack's phone melted?
I totally LOL-ed at Tracy thanking Liz for solving Apartide with her hunger strike.
Much like 'Who says I've been alive forever,"Do you have a second, Kenneth?"What, there's only one of me! What are you asking?'
'Once again, Lemon, I leave your office more confused than when I entered but having glimpsed yet another tile in the rich mosaic that is your menstrual history.'
Kenneth's nose being smushed by the encroaching camera, and the vulgar censor were also great.
Yeah, I guess that's it. Kenneth wins this review!
What did YOU think?
Tell us what's wrong with this post? How could we improve it? :)
Let us improve this post!