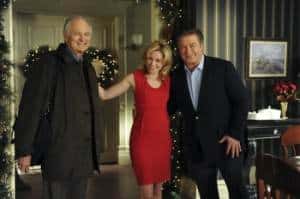 'Tis the season … for Christmas episodes.
Christmas episodes are typically the second best type of holiday episode next to Halloween episodes. Tonight's 30 Rock truly outdid themselves this year.
In an effort to avoid her own family's Christmas drama, Liz decides to join Jack's family for dinner. Jack decides to use Christmas to reunite his mother with his estranged father, Milton (guest star Alan Alda), and turn his pregnant girlfriend, Avery (guest star Elizabeth Banks), against her. Meanwhile, Jenna has the perfect idea for a couple's costume for a new year's party but is no longer a part of a couple and Kenneth helps Tracy reconnect with his comedy roots.
After last week's completely meh episode, 30 Rock returned with a fantastic episode. The jokes were better, the guest stars were better and, of course, Colleen Donaghy is back and terrible as ever. Colleen's presence also brings out the worst in Jack, whose sole purpose of Christmas is to ensure that his mother feels unbelievably guilty. In fact, I think Jack may have taken it a little too far. Colleen's struggle to think of a comeback actually bummed me out a little. She's always the one with the emotional upper hand and to see her losing was a little rough.
Perhaps one of the best running gags on the show is the constant jabs at Liz's appearance by the other characters. It makes me really wonder how the others see her. Just how visually offensive is she? What made this episode different was how seemingly rapid-fire these jabs were.
Tracy's visit to a battered women shelter to show his new movie turned out to be one of the sweetest moments in recent 30 Rock history. Seeing him do something completely selfless was a nice change to his usual craziness.
Will Forte returned again this week as Paul, Jenna's Jenna-impersonating ex-boyfriend. The Paul/Jenna relationship is definitely the strangest in the series, but it is oddly the most appropriate. They both love Jenna equally.
Well done, 30 Rock. Well done.
Merry Christmas … episode, uh, month.
Tell us what's wrong with this post? How could we improve it? :)
Let us improve this post!