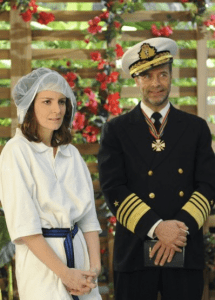 Finally back from hiatus, 30 Rock did not disappoint.
Liz and Jack, recently married by accident, use their marriage as leverage against each other in assorted work-related problems. Meanwhile, Jenna, left without a dressing room because of the Kabletown buyout, is forced to share a room with Danny and Tracy's wife, Angie, considers new career options.
Jeffery Wienerslav, the NBC human resources guy and unfortunate pronunciation victim, made one of the best in-jokes of the episode, recapping (and misinterpreting) Liz and Jack's "will they/won't they chemistry." The kicker, though, was we're meant to realize that Liz and Jack are perfect for each other in a completely platonic way.
It was nice to see Jenna and Danny share a sub plot. Usually, Jenna and Tracy share scenes and Danny is often left out (which was also a punchline of a nice in-joke) but Jenna and Danny have great, toxic chemistry.
One surprising turn was the almost complete lack of Tracy this evening. He popped up here and there, including a hilarious scene with Dr. Spaceman ("You have no reflexes, your blood tastes like root beer and some of your bones appear to have vanished."). Not that this was bad, necessarily. Just different.
What the episode excelled at most, though, was washing the bitter taste of Perfect Couples out of my mouth. Even after stellar episodes of The Office and Parks and Recreation, I still thought about how awful Perfect Couples was. 30 Rock completed what the others started. It's two bad that those three brilliant shows are sandwiched between two train wrecks.