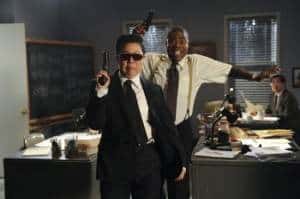 No. Way. Condoleezza Rice? For real? They got Condoleezza Rice?
Say what you will about 30 Rock as of late, but they can sure land some high-profile cameos. On top of former Secretary Rice, Margaret Cho appeared as Kim Jong Il and Elizabeth Banks returned as Avery Jessup.
In "Everything Sunny All the Time Always," Liz attempts to take control of her personal life but hits an unexpected snag, Tracy attempts to recreate the conditions of an inside joke upon feeling left out and Jack must find a way to bring his kidnapped wife back from North Korea.
The scene with Condoleezza Rice was as funny as it was surreal. 30 Rock has quite a past of turning political figures, specifically members of the previous administration, into cartoon versions of themselves. This wasn't quite so in the scene with Rice. Viewers were offered a glimpse into her and Jack's relationship and it seems as though they were constantly competing against one another. The only real bummer with the scene was Rice's acting ability. I know, I know, she's not an actress but she looked like she was about to break with every line.
As Liz begins organizing her life, a brief montage plays of her painting her apartment and eating ceiling lamp candy (I hope it was just candy). A self-aware montage song plays with Tina Fey explaining how montages work. This was very reminiscent of Matt Stone's and Trey Parker's montage explanation song heard in South Park and I'm pretty sure Team America, as well. Fey's version doesn't seem to have the same vibe as Stone and Parker's. It almost seems like she went down the cutesy path and made it a big joke. Sometimes the best jokes are when one appears to take something too seriously, much like the South Park montage song.
I was completely surprised when I found that Margaret Cho played Kim Jong Il. For a second, I thought that they brought in the same person that played Mr. Kim in It's Always Sunny in Philadelphia. Cho portrayed Il the dictator as a folk hero whose ridiculousness is on a Charlie Sheen level. Humor at the expense of North Korea's leader is never not funny, but it makes me wonder if he pays attention to it and what he's planning for a response. I'll begin constructing my bomb shelter once this review is posted. Nah, nevermind. Screw that guy.
Last week, I suggested that it may be time for 30 Rock to throw in the towel. This is an opinion that seems to be changing constantly now. I feel like if 30 Rock continues to produce episodes like "Everything Sunny All the Time Always," the show will remain adequate … just maybe with less shark-jumpy moments like a major character winning an Oscar or the wife of another major character being kidnapped to North Korea and essentially written out of the show. Just a thought.