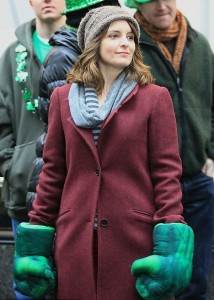 30 Rock season 6 celebrates the twelfth episode of season 6 with "St. Patrick's Day," where Liz re-evaluates her relationship with Criss (James Marsden) when Dennis (Dean Winters) reappears, Jack plays a game with the writers, and Tracy compares his stardom with Jenna. Somewhat weaker than last week's effort, "St. Patrick's Day" still carries with it a few laughs.
30 Rock had built up a rather large amount of good will lately, not only for showing continued, even somewhat renewed strength in its sixth season, but also some of the more intriguing character shifts that breathed a bit of new life into the series. For instance, its been great to play with the idea that Jenna's star outranks Tracy now, or that Kenneth seems to have actually found a new home in "Standards and Practices" rather than finding the next way to embarrass himself for his work family. It could never be enough to keep the show on the air for multiple further seasons, but it was still nice to see that the show could age gracefully, and even surprise us now and again.
Unfortunately, 'St. Patrick's Day isn't quite the great purveyor of that quality, relying on a number of devices the show has explored before, and not often in a way that seems to present any kind of fresh perspective. For instance, it shocked me to realize that the show was in its third holiday episode since the premiere, counting the fictional 'Leap Day.'That isn't to say that 30 Rock doesn't get a great deal of mileage out of of the holidays, but to cram theme episodes so close together feels very much like the writing staff has begun looking outward for material to give the characters, rather than create anything fresh intrinsically. By the same token, 'St. Patrick's Day's largest selling point lies in the re-appearance of Dennis (Dean Winters) to square off with Liz Lemon's current beau Chris (James Marsden), as well as a measured look at the Irish culture, both ideas that suggest 30 Rock isn't sure what to do with its established characters anymore.
Now, we know that Criss and Liz are doomed. That's just how TV works. 30 Rock's best circumvention of the relationship problem came in Matt Damon's Carol, who had a convenient enough excuse not necessarily need to appear on camera every episode, but otherwise we know every guest-star taking a turn to date Liz Lemon will inevitably end in heartbreak. And the thing is, we don't need the return of Dennis Duffy to point that out for us, nor contribute to its advancement, as is the ultimate case with 'St. Patrick's Day.'I like for a few moments that Dennis could have some growth and a new woman in his life, and that his de facto analysis of Liz's 'Irish'guilt actually pushed her into some genuine character development* with Criss, but it still feels a bit hollow given we've seen how this story ends before. It's only a matter of time.
(*) I'd be giving Liz's character development and declaration of love at the end a lot more credit if the episode's closing tag didn't sardonically point it out for detractors of the show.
There's a similarly meandering feel to Jack's story this week, as the silver-tongued head of NBC finds himself equating a Dungeons and Dragons style board game in the writers'room with his own malaise since the Kabletown takeover. Indeed, a great deal of Jack stories this season have been devoted to the executive's seeming impotence, be it for his wife's kidnapping, or inability to adapt to life under the new company, and I can only hope that his Irish guilt-fueled realization at the end of 'St. Patrick's Day'will yield some actual movement toward the character's re-ascension. Beyond that, there wasn't much purpose to be had for the B-story, feeling as much of a distraction as anything from the Irish festivities beyond the wall.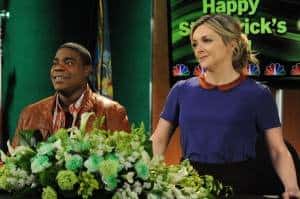 Somewhat unsurprisingly, the weakest plot belongs to Jenna and Tracy this week, as they revert into their schtick of bickering over fame, something utilized a dozen better times over the course of the series. To the episode's credit, the end result does spin into a somewhat fresh take of having Jenna be the bigger star for a change and even offer introspection on past 30 Rock plots like Tracy's Oscar. It feels like a fresh enough take on their usual schtick, even if we have seen it a million times before. If anything, the thread winds up somewhat saved by Kenneth and Kristen Schaal, who continues to make the case for her continued presence as a page, even if the writers haven't completely locked down what to do with her more extreme personality shifts. It was of great sentiment to have Kenneth wrestle with relinquishing his past duties keeping Tracy and Jenna civil, yet still offer unseen aid to the situation, provided the writers don't use the idea as a springboard to move things back to status quo. Kenneth is best having moved on, and should stay that way.
I've said enough. 30 Rock has been doing well this season, I just worry when emulations of past greatness become echoes instead.
And Another Thing…
I'm amazed that I managed to get through all of that without once mentioning Liz's anti-Irish, pro-German seniments. Risky venture, no?
'Siri, kill Jenna!"I killed Jenna Elfman. Is that right?'
I presume that bizarre pan over the game board was a Game of Thrones reference?
Yeesh. I've been watching some older 30 Rock, and Jenna is absolutely right about Tracy's weight fluctuations.
Remind me to wear Hulk Hands this St. Patrick's Day.
'You Solo'ed me!'Be honest. You've pulled this too.
What did YOU think?
Tell us what's wrong with this post? How could we improve it? :)
Let us improve this post!