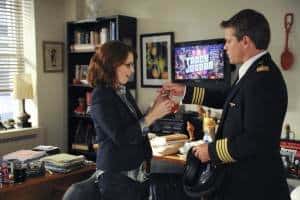 Boy am I glad for 30 Rock to be back.
As the promos aired, my girlfriend and I speculated what would happen with Liz and her airline pilot boyfriend Carol. What's wrong this time? He's not in the "good looks" bubble, is he? He can't be an alcoholic. Is he a virgin? Is that why he's asking for "grown up love"? He's a virgin?
Well, that wasn't the case. It was something much more subtle. Something better.
When Matt Damon appeared as Carol at the end of last season, I figured that he would just be a bit part and that something would drive him and Liz apart by the end of the episode, but I was very glad that that didn't happen and that he's back for the fifth season. His level of involvement remains to be seen, but I trust the 30 Rock writers to make this season as fantastic as the others.
The biggest surprise was Jenna being the most sane and reasonable character in the episode, not that I'm complaining. Her new producer's credit on TGS gave her more responsibility and she even helped Pete balance the show's budget. She gave up the credit as a result, so maybe we'll see a more familiar Jenna soon.
Alec Baldwin is still pitch-perfect as Jack. He is so great in the role, in fact, that I can't see any of his other performances without thinking about Jack. Alec Baldwin was born to play Jack Donaghy.
The 30 Rock brand of humor is back as well, down to the great "time allotted" joke toward the end of the episode and phrases that I'm sure to use in my everyday vernacular like "sadness scavenger hunt" and "pube shirt."
30 Rock is my pube shirt.
Tell us what's wrong with this post? How could we improve it? :)
Let us improve this post!