30 Rock season 6 advises you to watch the thirteenth episode of season 6 with "Grandmentor," where Liz takes Hazel (Kristen Schaal) under her wing while Jack struggles to keep Avery's story in the media and Kenneth finds himself butting in on his old job. Full of fresh direction and some uneven characterization, "Grandmentor" seems like a promising new start for the aged series.
Had I known earlier that tonight's 'Grandmentor'was more or less the first half of a two-part story (something 30 Rock seems to be doing a lot of this season, for some reasons more legitimate than others), I might have watched 'Kidnapped by Danger'before I sat down to start writing this. That said, I felt it a more interesting challenge to judge the show on an episode-to-episode basis, as not every two-parter is meant to be looked at as one stand-alone story. Anyone who watches 'Grandmentor'isn't necessarily going to pop in 'Kidnapped by Danger'immediately after, so it wouldn't be fair to judge both as a whole, particularly when they're not even named as such.
There may yet end up being some major payoff or connection to 'Kidnapped by Danger'that I'm missing (I'm aware that's the movie Jack produces, but the episode also features 'Weird'Al Yankovic, enough to make it stand alone) by starting to write after 'Grandmentor,'but I'll take that bet. After all, you're only as strong as your weakest side.
All that said, I genuinely liked the first of tonight's 30 Rock. I've been on a big kick of harping on the show's age, and propensity to dip back into its own history for character developments and jokes, helped in no small part by the recent announcement that the series would attempt yet another live episode. And while a bit risky, I still felt that 'Grandmentor'offered up some of the freshest 30 Rock this season, each character effectively used in unfamiliar ways. It does set up a few portents for the story to veer back toward the status quo, and the next episode could confirm that, but for now I'll trust my instincts of originality.
The biggest thing on people'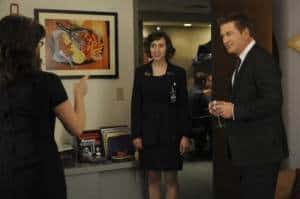 s minds coming from "Grandmentor" is that of Kristen Schaal, whose replacement page Hazel Whassername grows increasingly unhinged with each episode. I understand most viewers' dissatisfaction with the character's inconsistency, and I'd agree that she'd benefit from a little more gravity, but her continued presence is still a breath of fresh air, and a wonderful showcase for Schaal. Schaal has been around for some time and likely you've seen or heard her without realizing it, be it Mad Men or Bob's Burgers, thought this was the most range I've ever seen her allowed to display. Liz doing her best to take Hazel under her wing, with Jack as 'Grandmentor'presiding also makes for a refreshing angle change of their own relationship, which for me outweighed any silliness to Schaal's character. I doubt it Schaal could make any real commitment to 30 Rock, but I certainly wouldn't want to lose Hazel just yet.
Hazel also more or less pulls Kenneth and Tracy's arcs into her orbit, so the other side I felt most worth exploring was that of Jack's effort to bring Avery's plight to the media, and playing off Jenna desperate for a role in the movie. Jenna's vanity too often retreats into empty gags and one-liners, but here I thought playing off Jack and forcing him to confront certain truths about both his relationship with Jenna and his relationship with Avery offered a lot of ground to explore. It wasn't always funny, and I'm not certain how much longer 30 Rock can sustain the notion of keeping Elizabeth Banks off-screen by way of kidnapping, but perhaps there'll be some movement on that in the next episode.
Overall, 'Grandmentor'is definitely a beacon of hope that the show can sustain new story-lines and developments without losing much of the humor that made it great in the first place, but I'm fully prepared to eat my words if things go back to normal by the end of the season, or next episode even. Bring back Standards and Practices Kenneth!
And Another Thing…
Something tells me 'Gaylord Felcher'and his obscenities are merely the writers'shiniest new toy, but I'm still laughing.
Chinese miner babies and the puppies lowered in to retrieve them felt like just the perfect amount of satire the show does so well.
Ah, the irony of mentioning Krang the week when everyone is up in arms about Michael Bay's Teenage

Mutant

Alien Ninja Turtles.
'At best, you're a featured extra with no lines.'Ouch, meta-burn.
'My real name is Tracy Morgan!'
What did YOU think?
Tell us what's wrong with this post? How could we improve it? :)
Let us improve this post!