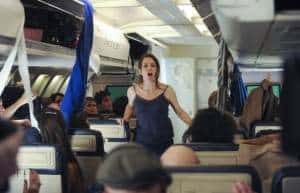 Airplane jokes. These are usually pretty lame, especially when punctuated with a "what's the deal with that?" Fortunately, 30 Rock's penchant for the absurd and subtle misanthropy saved these jokes from mediocrity.
This week's 30 Rock saw Liz hopping on a plane, piloted by her boyfriend, Carol (Matt Damon), only to find the plane stuck on the tarmac as Carol refuses to discuss why. Meanwhile, Jack and a very pregnant Avery visit Canada for the G8 summit but scramble to return to the states as Avery's labor begins. Tracy, having just won his Oscar for his performance in Hard to Watch, deals with the pressures of being an EGOT winner.
I originally thought that having Tracy win an Academy Award would be a little shark-jumpy but the show handled it in such a way that only they could. Tracy's acceptance speech lampooned Marlon Brando's from his win for The Godfather, except that he was present and only couldn't speak because his mouth was full of Pop Tarts.
Back to the airplane jokes, I think that the only reason they felt funny (at least to me) was that they made fun of the passengers more than the airline itself. Sure, Carol invoked "sky law" several times and the passengers were subjected to NBC programming that didn't make the cut (if Perfect Couples made it onto the schedule, I don't want to know what didn't). The passengers that were forced to wait slowly went crazy, deteriorating into a primitive, pre-industrial group of "villagers."
As Jack and Avery try to scramble back to the states to avoid their baby being born Canadian, many of the jokes hit pretty close to home. Having toured in a band and played a handful of shows in Canada (and visiting family there as well), I can say that Canadians were portrayed fairly accurately: They are all super polite. Not to get too off topic, but politeness is way too underrated.
Anyway, Harold and Kumar's John Cho guest starred as Lorne, the Canadian version of Breaking Bad's Walter White (complete with his mobile meth lab). Just one of his lines really summed up the politeness of the Canadian scenes: "I'm sorry, where are my manners? Would you like to try some meth?"
Once again, 30 Rock had yet another strong episode. This show really proves that clever writing and almost hidden jokes can really make a sitcom great. I'm looking at you, almost every other current network sitcom. You're on notice.