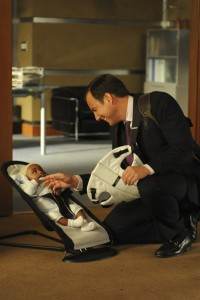 You know when you're watching a cartoon and there's a driving scene and the background loops over and over? I feel like that's happening with 30 Rock. A few houses (I mean episodes, in keeping with this analogy) have certainly stood out. Last week's episode was a nice change in scenery, and, as someone mentioned in the comments of last week's review, the manufactured disaster episode from earlier this season was fantastic. Totally forgot about that one. Good call.
TGS with Tracy Jordan is put on a forced hiatus, prompting the staff to figure out their backup plans. Meanwhile, Jack must figure out programming on a gay-centric network he purchased for Kabletown and enlists Devon Banks (guest star Will Arnett) to help.
This episode, like most other episodes, adheres to a fairly strict formula. The main plot is established in the cold open, there's the Liz/TGS staff subplot(s) and the Jack subplot, there's a cameo from someone playing a version of him or herself and saying silly things (Aaron Sorkin in this particular episode), sometimes there's a flashback that features Liz with a funny haircut and the problem is solved by the end of the episode while still moving the season's main arch forward.
Will Arnett returning as Devon Banks was the one thing that made this episode stand out from the other episodes on the block. What I really like about Arnett is his ability to play similar characters (Devon and pretty similar to GOB Bluth in demeanor) but to bring enough subtle differences to the table that make each character special. Banks is my favorite secondary character in the series and I would like to see him on NBC more often (do you hear me, The Office?).
30 Rock began as a brilliant showbiz sendoff with memorable characters and clever jokes, but it's, as I'm beginning to realize, quickly becoming a repetitive showbiz sendoff with memorable characters and adequate jokes. But, hey. At least it's not Perfect Couples, right?
Tell us what's wrong with this post? How could we improve it? :)
Let us improve this post!