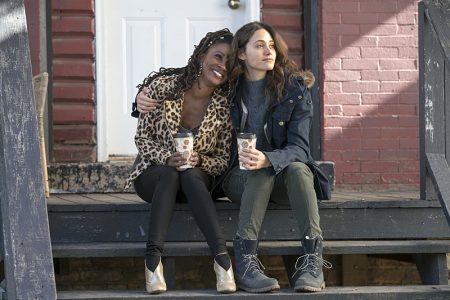 Shameless has almost finished its seventh season, and every episode gets better than the last.
Fiona made a difficult decision to sell the laundromat for a higher profit and put Etta in assisted living against her will. I'm sure Debbie will attack Fiona for giving away her job without asking. The good thing is that Fi used this to rekindle her relationship with V. I'm so happy that they remembered the roots of their friendship and are back together.
Poor Kev and V, though! I wish I had seen it coming, but I was just as blindsided as them. Lana faked lease papers for the Alibi as adoption papers and now legally owns the bar. She told Kevin that is was better for all of them, but V is heartbroken and betrayed.
The other groundbreaking news is that Mickey has escaped from prison, and he's back! I know there are a lot of hardcore Mickey/Ian fans who rejoiced at this reunion, but I wasn't one of them. I love Ian's life right now, I even love his relationship with Trevor. Maybe the writers thought it was time for something truly exciting and disruptive in Ian's life again. I was disappointed when Ian got into the car with Mickey. I hope next week Ian realizes that while his life on the South Side isn't always exciting, he definitely has it better than on the run with Mickey.
Also, the force of nature that is Monica returned last week. She revealed to Frank that she's dying, but I don't buy it. She's trying to make up everything to the kids, but it involves stealing money, and roping Neil into all of it. It's a mess, and she even crashes a bus in the process. I don't expect anything new to come out of this plotline.
Lip also took a turn for the worse this week. He has gone full Frank Gallagher and it doesn't look good on him. Rejection just throws him back into the depths of addiction. He ends up in his former lover's house, a sign that he's truly hit rock bottom.
I hope next week Lip can find some guidance and help himself get out of this dark place. I also cannot wait to see how V deals with Svetlana. Next week should be an exciting episode, so I can't wait!
[Photo credit: Showtime]
Summary
Ian and Mickey meet up, and Ian makes a decision. Fiona weighs the pros and cons of selling the laundromat. Debbie gets a job, and Lip goes on a bender.