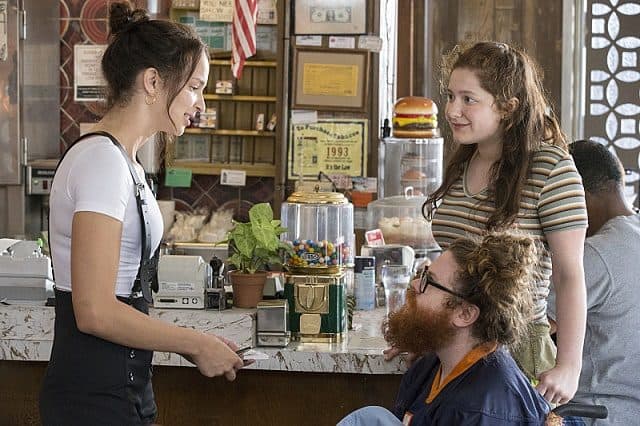 Tonight's Shameless was a fantastic filler episode. It's hard to beat the beautifully directed episode from last week, so the writers kept it simple this week.
Every character is faced with a new challenge this week. Fiona wants to be like Margot and own a business. She has her eye on the laundromat down the street. I suspect we will find in the coming weeks how she convinces the old woman to be partners with her in the endeavor.
Lip recruits his college friend, Joaquin, to hack into the rebuilt fantasy gaming company. I'm sure everything will go smoothly with that. Just kidding, that's going to explode into a lot of trouble, and I can't wait.
V, Kev, and Svetlana file paperwork to adopt each other's kids, becoming a more and more legitimate family day by day. They also discuss vaccines, and only get one of their children full vaccinated. I'm interested to see where that takes us as the season moves on. Vaccines have been a heated topic for the last two years, and it doesn't surprise me a show about working class people would give their own spin to the issue.
Carl and Dom's dad continue to team up, but this time for a DNA test to prove that Carl has non-white heritage so he can fit into the military school's diversity quota. I wonder if he gets into the academy if we will see that in the show, or if he will be absent from the show for some time. I hope not, Carl is becoming one of my favorite characters.
Ian struggles with his feelings towards Trevor. Trevor thinks the next step is obvious, but Ian is hesitant. I like this challenge, but I hope the Shameless writers can handle it well. Trevor and Ian are really cute together, and I hope this doesn't end any time soon.
Finally, the biggest challenge of them all: Debbie and Frannie (or is it Harry). She gets into a fight with a homeless woman begging at a corner, and her ex-boyfriend's sister reports her to child services. I'm happy about this development. Someone needs to step in to help this girl out. It's been hard to watch Debbie this season.
Again, another solid episode from Shameless. It was a filler, but it wasn't boring to watch.
[Photo credit: Paul Sarkis/Showtime]
Tell us what's wrong with this post? How could we improve it? :)
Let us improve this post!