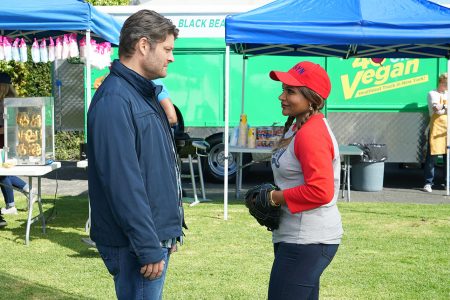 As the end of The Mindy Project season approaches I grow more curious to see where everything is leading. In recent interviews, Mindy has been saying these last few episodes are "Danny heavy" and that no one is (so far) correctly predicting where this season is headed. I have a few theories about a major red herring after watching this episode. Let me know if you agree.
A minor time jump occurred between now and the last episode with Mindy meeting and connecting with Drew at Princeton. It's almost as if Jody and Mindy were never an almost-couple now since they're both somewhat happily paired off with others. Mindy's been keeping her relationship with Drew low key, or as low key as possible when Morgan's in the know. Jody moved on quickly from his crush on Mindy with Courtney, and they're already making big plans together. In regards to Mindy's comments about an unpredictable end to the season, I'm thinking Jody was never a serious possibility. What if Mindy ends up engaged and/or married to Drew by the season finale? That'd be a cliffhanger no one would see coming but at the same time one that no one could really object to. Danny's biggest contribution to the show anymore is only as Leo's father so he'll always be around. It would be super interesting to see his reaction to a new man in his son's life especially as Leo starts talking soon. Then again I don't know how logistically possible it would be to make Jay R. Ferguson a recurring character (at least) next year since his new ABC show The Real O'Neals was renewed for a second season.
Mindy's love life aside, the rest of the episode felt very old school Mindy Project with the annual hospital softball game. The OB/GYN team featured the Des Lauriers brothers and Morgan, who claimed he was never included before because of Dr. C outshining him. Maybe one upside to Danny leaving the practice but I especially smirked at the meta commentary in the staff meeting about the practice losing 15% of patients when Danny left. Danny hasn't left the show forever but I can't help to think that was a wink at the possible decrease in viewers since the big breakup.
I mentioned earlier that Jody and Courtney are getting pretty serious. Of course Jody wants his sister Collette to spend more time with his girlfriend, but Collette can't get on board with the relationship. She's noticing changes in her brother that might not be bad, just different. Tamra's reaction to Collette not so subtly blowing off an invitation to a fancy burger restaurant with the couple was also my favorite quote of the episode: "What is she? A gold digger, heartless, black skinhead? Which Kanye song best describes her?" All of Mindy's sports quotes were gold and so relatable. ("Oh my God, you're a sports coach and we're sporting!") To be honest, baseball and softball appear to be exactly the same to me as well so I can't blame Mindy for constantly flubbing on that.
There's no love lost between Collette and Courtney still, yet I can tell Jody feels perfectly at home with Courtney. If Mindy doesn't marry Drew in the season finale, maybe that'll be a surprise step Jody takes instead.
Stay tuned for the final 3 episodes of the season!
Tell us what's wrong with this post? How could we improve it? :)
Let us improve this post!