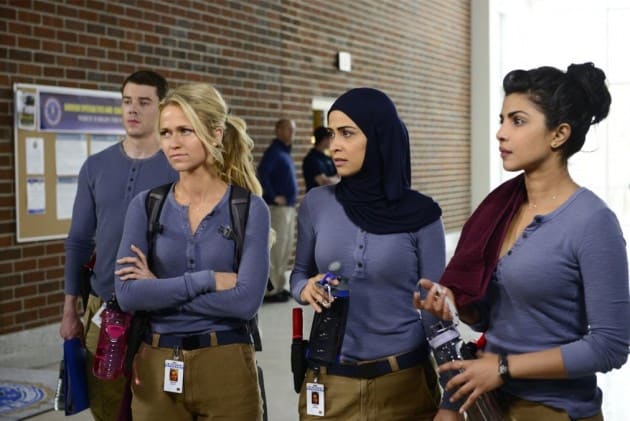 To clarify, this article and the ones similar to it are not reviews of this fall/midseason's pilots (because pilots can change a lot between now and when they broadcast). These are just my first impressions of the not-for-air network pilots that I have been able to screen. I last wrote about FOX's The Grinder. Next up: ABC's Quantico, which premieres on Sunday, Sept. 27, at 10 p.m.
The Premise: A diverse group of recruits has arrived at the FBI Quantico Base for training. They are the best, the brightest and the most vetted, so it seems impossible that one of them is suspected of masterminding the biggest attack on New York City since 9/11.
The Cast: Priyanka Chopra (Mary Kom) as Alex Parrish, Jake McLaughlin (Believe) as Ryan Booth, Aunjanue Ellis (The Book of Negores) as Miranda Shaw, Yasmine Al Massri (Crossbones) as Nimah Anwar, Johanna Braddy (UnREAL) as Shelby Wyatt, Tate Ellington (The Mindy Project) as Simon Asher, and Graham Rogers (Resident Advisors) as Caleb Haas
First Impression: When the trailer for Quantico first came out, maybe TV reporters and critics (including myself) called it Grey's Anatomy: FBI, and that's somewhat true in the series' pilot, as there's sexual tension (and actual sex) happening between the many good-looking FBI recruits that report to Quantico. However, that's where most of the similarities end, as Quantico feels the need to pack on twist after twist (none of which I'll spoil here) in its pilot, doling out shocks and surprises before worrying about establishing its characters as real, living, breathing individuals. Also, some of these twists range from clever to straight up ridiculous, turning Quantico from a sexier, Grey's-esque version of 24 into the type of guilty pleasure TV watching that requires you to shut your brain off from time to time.
All that said, though, there's still a lot to enjoy here. The cast that Quantico has assembled is pretty solid, particularly Chopra as Alex, the show's protagonist, Massri as the tough and guarded Nimah, and Braddy as "the girl next door," Shelby. The men of the cast are a little more bland, but you'll definitely remember the likes of McLaughlin and Ellington from roles they've had on other TV series. And really, any show with a cast this diverse is pretty refreshing.
When it's the recruits bickering and bantering, while also exchanging smoldering looks at one another, Quantico is actually a whole lot of fun. It's only when it tries to become a thriller that the show runs into problems, utilizing a narrative structure that bounces back and forth from the new recruits' first day to nine months later, when a major terrorist attack has the FBI questioning everyone's loyalties, and coming across as a series that feels like it needs to constantly pull the rug out from its audience, even in this first hour. It's still an entertaining watch, but it needs to settle down on the twists and focus more on the characters in order to become the type of Sunday night hit that ABC is hoping it will be.
My Interest In Watching More: So-so. I'll definitely give Quantico a few more episodes to see if the characters develop into more believable, interesting people, and its attractive and talented cast certainly makes this more watchable than it could have been with other actors. However, I'll have short leash with this show. If Quantico keeps coming at us with convoluted twist after convoluted twists, I don't think I'll be sticking with it.
Will you be checking out Quantico this fall? Comment below and let us know.
[Photo via ABC]