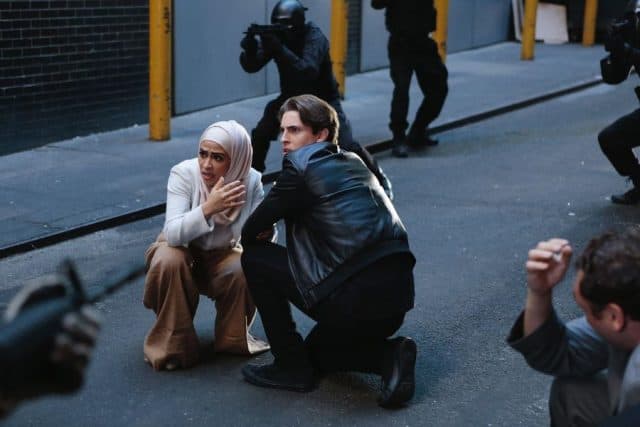 Quantico has been moseying along all season, trying to carve out a new feel for a new year. Let's take a look at the progression in this week's episode, "Kubark."
The episode opens inside the crisis zone as things are worse for the hostages than ever before. The demands are becoming both more intense and more confusing to the outside parties, and it's extremely difficult to figure out what to do. As a viewer, it's interesting to see this storyline play out because the stakes are clearly so incredibly high, but, for a reason that I can't explain, I just do not care about them. So much of this show now is watching the same things play out that we saw a year ago, and not nearly enough effort is being made to change things up. It's just so frustrating to see.
A year earlier, Alex and Ryan are also going through many of the same lessons and situations that they did while at Quantico. Again, this is extremely frustrating to see. The relationships are more interesting and the cast additions are helping out a bit, but too much is the same as the first season. The biggest bright spot to all of this, though, is Blair Underwood, and I'm really enjoying learning more about his character as we go along. Underwood is a strong addition to any series that he's part of , and his role on Quantico is no exception.
I know that I harp on it with every review of Quantico, but it's seeming more and more like the writers didn't have a plan for the series to go past a single season and, since it did, they're just spinning their wheels and repeating the past while they try to come up with something new. Even when this "works" (which I hate even saying), it's completely unengaging. The audience is starting to not even care anymore, and it's harder and harder to retain any semblance of interest in what's going on.
Look, "Kubark" is fine. If this were just a single episode, nothing would really be wrong with it. But the fact that it's the way that it is in the season that we're in, it's a clear sign of the larger problem with Quantico. Something has got to change on this series, and it's got to change soon. The events of the season are so abnormally uninteresting and unengaging that there's almost nothing to even talk about, and I truly don't know how much longer the series can sustain itself at this pace.
What did you think of this week's episode of Quantico? Let us know your thoughts in the comments down below!
[Photo Credit: ABC]
Quantico Season 2 Episode 4 Review: "Kubark"
Summary
Another week of Quantico spinning its wheels makes you wonder just how much longer the series can continue.