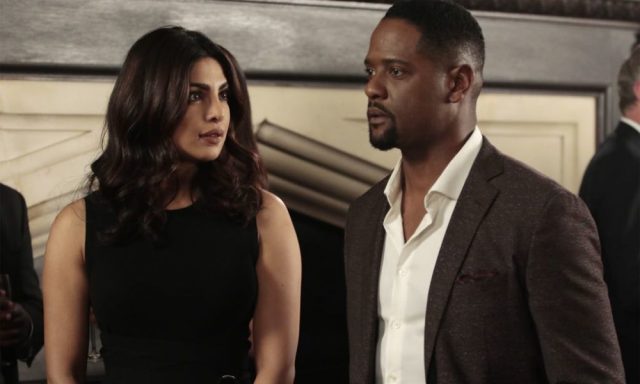 This season of Quantico has been, to say the least, a massive disappointment, and the previous episode didn't give me any hope at all that thinks would turn around. With that in mind, let's take a look at last night's new episode, "KMFORGET."
The episode opens in the future as everyone still alive is in a very precarious and unfortunate position. Just like before, I find it harder and harder to care. They're in a bad spot, they'll mostly get out of it, someone unexpected will probably die. Despite the raised stakes, it just doesn't interest anymore.
The more interesting story (the exact opposite of the first season) is that of the "cadets" in training, and the new characters are actually turning out to be the most intriguing on the show. I've talked about Blair Underwood's addition being the single best thing about the second season of Quantico, but Harry is also shaping up to be quite the character. The nicest thing about him is the inherent complexity and slow reveal of just what kind of person he is, and it's one of the few things about the season that is managing to engage the viewer.
The lessons for the recruits this season are slightly more involved than what they encountered at Quantico last season, but that involvement doesn't necessarily lead to intrigue. Once again, there's just not enough different about what's going on this year. I feel like I'm repeating the same thing over and over with each review, but that's exactly what Quantico is doing with each episode. More than ever, we're getting cookie-cutter plots that could have been copy-and-pasted from last year with just some slight modifications. I want to enjoy Quantico (the first season, despite some lows, was a lot of fun and delivered a ton of great character drama), but the writers are making it harder and harder to do so.
Another week, another episode of Quantico. With that, I think that this is going to be my last review of the show for a while. Each time a new episode releases, there's nothing new to talk about, and I feel like I'm spinning my wheels just as much as the writers at this point. I'm going to keep watching the show, and hopefully there will be some change later on that encourages me to return to the show. Until then, though, I'll just have to try to be satisfied with what I've got.
What did you think of this week's new episode of Quantico? Let us know your thoughts in the comments down below!
[Photo Credit: ABC/Giovanni Rufino]
Quantico Season 2 Episode 5 Review: "KMFORGET"
Summary
Another mediocre episode of Quantico shows that this series is just spinning its wheels eternally for season two.