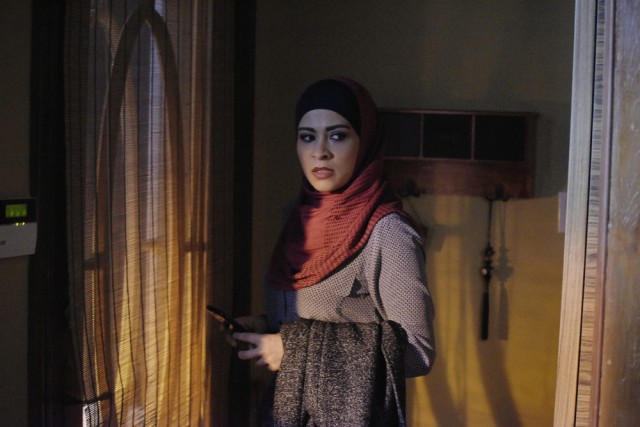 Quantico has been incredibly action-packed lately, so let's take a look at what happened in this week's new episode, "Turn."
The episode opens with Alex and Simon (post-bombing) attempting to figure out whose voice was really behind the phone call that has been plaguing her for the past few episodes. I have to admit that I'm loving Simon's return into the fold in this storyline, and I'm so interested in seeing if his heroism will manage to surpass his fear as we move forward. Simon has been the most complex character on Quantico since the series premiere, and his evolution throughout the season has been incredible to watch. The post-bombing world offers a wonderful opportunity to explore him outside of the restraints of the academy, and I'm actually glad that this is the only story with which he's currently involved.
Pre-bombing at the academy, tensions remain high between the old cadets and the new as training and exercises progressively become more difficult. The one thing that makes it a little easier for Alex is her attempt at reconnecting with Ryan. Their continuously budding relationship is fun to see return, but things can't stay sweet as her time is taken up by an intense lesson involving Caleb's mother. The intensity, though, comes once a terror cell manages to infiltrate the academy as everyone is all together. Strong material is present throughout the story, and the twins, Miranda's son Charlie, Caleb, and the new cadets receive the best of the best. It hasn't completely gotten there yet, but "Turn" really started to make me care about these new characters in a way that the past few episodes have not.
There isn't much to say about it, but a long-running sub-plot surrounding Shelby progressed in "Turn" in a very strong way. Shelby has wavered between one of the better and one of the weakest characters on Quantico throughout the entire season, but it's very clear that she can be fantastic when used in the correct way (as she is here). We also get to see a progression of Ryan's story after virtual absence for a few weeks, and it's left me wanting to see more of what he was up to between leaving the academy and showing up after the bombing from the pilot.
"Turn" featured a lot of intensity that was highlighted by some fantastic performances throughout. At its core, Quantico has always been a character drama, and it works best when it plays to that genre as it did here. Action is important (and Quantico definitely has its fair share), but these characters are the reason that people continue to tune in each week. The stronger the writing for individual character arcs, the better the show will be.
What did you think about this week's new episode of Quantico? Let us know your thoughts in the comment section down below, and be sure to check next week for another review!
[Photo Credit: ABC/Philippe Bosse]
Quantico Season 1 Episode 15: Turn
Summary
"Turn" was a pretty intense episode of Quantico that featured some wonderful performances throughout.