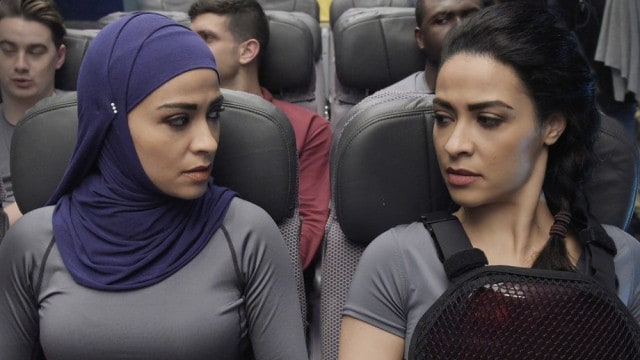 We keep inching closer to the end of Quantico's first season, and we're now at the point in which the pieces of the puzzle are really starting to come together. With this in mind, let's take a look at this week's new episode, appropriately titled "Clue."
The episode opens with Alex, Simon, and Hannah going over all of the information of Alex's actions since the bombing, but things don't go quite as Alex would have hoped (of course). Luckily, though, Hannah does believe them, and, after a series of events the next day, she agrees to help Alex figure all of this out. I can't talk enough about how wonderful Eliza Coupe is in this role, and I am thrilled that this storyline is allowing her character to evolve so much. Hannah Wyland could have been a one-off character after her introduction, but Quantico's writers have (wisely) realized what a great resource Coupe can be to them. Whether because of the advancement of the plot or because of Coupe's addition (or both), the post-bombing storyline on Quantico has been the best part of the show since its return from hiatus.
Back at the academy, all of the cadets are being reviewed over their viability as agents. Each member of the class has his or her own pros and cons, but both we and the committee are assured that the upcoming lesson will be the best way to find out for sure. As usual on Quantico, the lesson at the academy parallels what's currently going on post-bombing, so it requires a pretty substantial suspension of disbelief to be fully enjoyable. We did get a reprieve for a couple of weeks over the past few episodes, though, so the return to this format almost feels original. We do get a great lesson on lose/lose situations out of it, too, so I'll give it a pass. In addition to the actual story taking place at the academy, the old and new cadets continue getting closer, and the dynamic that's being created is a good advancement for the show that also pulls back the shade on a few mysteries that have been presented lately.
Overall, "Clue" was a solid (if not at all unique) episode of Quantico. I care so much more about the post-bombing storyline now than that of the academy, but I think that's really a good thing since we'll have to move on from Quantico at some point anything. Make us care about the characters, and we'll care more about where they go from here. It's taken a bit of time, but we're getting to that point.
What did you think of this week's new Quantico? Let us know your thoughts in the comments down below!
[Photo Credit: ABC]
Quantico Season 1 Episode 16 Review: "Clue"
Summary
"Clue" was a solid if not at all unique episode of Quantico.