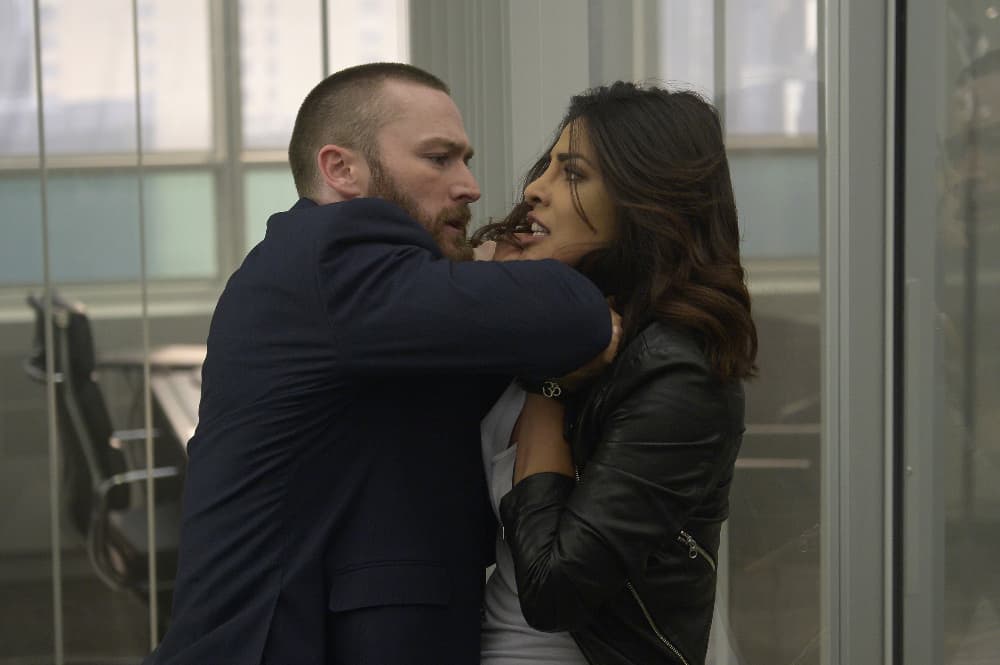 We're inching closer and closer to the season finale of Quantico, so let's dive right in and check out this week's new episode, "Drive."
The episode opens with Ryan and a team of agents trying to find Alex after the events of last week's episode, but they are unsuccessful since she is away from her apartment as she looks into the nuke that's out there unchecked. A figure from her days at the academy shows back up in Alex's life, and he reveals that Ryan may be involved in the terrorism plot. Ryan, meanwhile, interrogates Caleb (after finding him in Alex's apartment), but his former classmate isn't quite as useful as the FBI would want. The interrogation is postponed, however, after Shelby and Alex break into the office, but Ryan proves to be smarter than anticipated and ends up confronting Alex inside. Alex manages to get away, but only after finding out that Ryan isn't the terrorist that she thought he might be.
Back at the academy, training continues as we approach graduation day. Assignments are being worked out for what everyone will be up to after they leave Quantico, and the cadets are sent on a "field trip" of sorts to shadow real agents before they're put out there on their own. For the most part, unfortunately, field work isn't nearly as glamorous as any of the cadets would like, and personal storylines continue to affect the assignments surrounding the cadets. The events of the assignment play out in a somewhat predictable way, but it's as fun as always to see the team outside of the classroom.
Briefly, I want to mention that, as soapy as it is a lot of the time, Shelby and Caleb's "relationship" and story is still managing to be more compelling than it has any right to be. I really like the revelations that came at the end of the episode, and I look forward to seeing more of them soon.
I may not have been too fond of this week's episode in particular, but I do really like getting to see more of what it will be like once all of our characters leave the academy. Graduation will take place at the end of the season, so the future of Quantico will, presumably, feel much more similar to "Drive" than the previous episodes of the season. There's a lot of potential to be mined here, so I'm left with hope (even if the actual story of tonight's episode wasn't wonderful).
"Drive" was more of the same with Quantico, but a big positive is that it gave us more of an idea of what to expect in the future of the series. The terrorism plot also progressed in a pretty major way, and it seems as if things are getting put into place for a pretty intense season finale in a couple of weeks.
What did you think about this week's new episode of Quantico? Let us know your thoughts in the comments down below!
[Photo Credit: ABC/Phillippe Bosse]
Quantico Season 1 Episode 20 Review: "Drive"
Summary
"Drive" was more of the same for Quantico, but things look to be leading toward an intense finale.