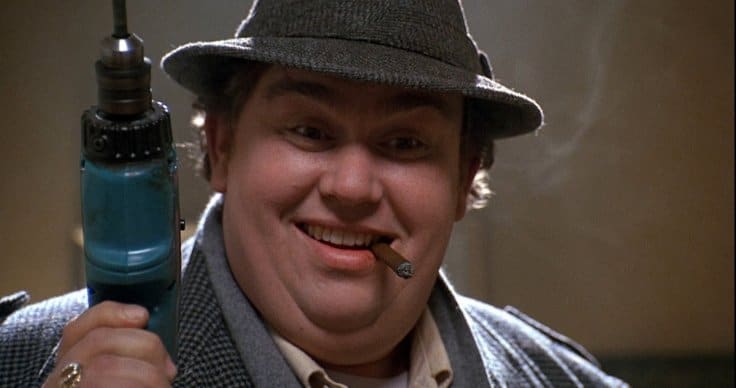 Most of the celebrities on this list you likely have already heard of, either as singers, musicians, or television and movie entertainers. Hotels are often a common place to go when on tour, but as you read the stories of many of these celebrities who decided to take their own lives, a hotel seemed to be the place of choice. Several of the celebrities actually called a hotel their home, while for others it was a place to party.
Some of the deaths are tragic in the sense of people taking their own lives, while others are simply a matter of time running out of the hourglass of their time on earth. Some were very well known, while others you have to look closely for as they took part in small but noticeable roles on television and in the movies. For the names you don't recognize, you can be sure that their peers and those who worked with them know them well.
None of the celebrities on this list lost their lives to foul play in a hotel, which is something to think about. On the one hand, that points to a hotel being one of the safest places to be. On the other hand, it can be one of the most dangerous places to be — alone.
1. Whitney Houston
Whitney Houston was 48 years old when she took her own life. The most notable and recent of hotel deaths on this list, Houston died of a drug overdose at the Beverly Hilton Hotel on February 11, 2012. Though the coroner's report listed drowning as the cause of her death, the toxicology reports revealed there were drugs in her system. The singer-actress was considered one of the greatest vocalists of her time, and Showtime compiled a documentary of her life by interviewing friends and co-workers, underlining some of the possible for her depression and subsequent use of drugs in their special, Whitney: Can I Be Me? After viewing the special, you can't help but wonder if the same question can be asked of many celebrities now and in the past.
2. Janis Joplin
Janis Joplin was 27 years old when her life was ended by a drug overdose. On October 4, 1970 Joplin died of a heroin overdose at the Landmark Hotel in Hollywood, California. She had struggled with drug addiction for many years prior to her death, but there was no sign of her being depressed during her stay at the hotel. In fact, she was happily looking forward to the release of her new album "Pearl." An odd note about Joplin's death was when she was found she had $450 clutched in her hand, her body clothed with a short nightgown. What was the money for? Did she intend to go somewhere or was the money to be given to someone who would come to the hotel room? These are questions we will never know the answers to.
3. James Gandolfini
James Gandolfini was 51 years old when he died of a heart attack. He was staying at the Boscolo Exedra Hotel in Rome, Italy in July of 2013 with his family. They were out and about doing the normal tourist things, but the weather had been hot and humid for days. His last meal according his family was prawns and foie gras, both which are high in cholesterol and fat, and loaded with sodium. Medical professionals say that a single meal with such a combination of unhealthy heart foods can cause the arteries to harden quickly and be the basis for a heart attack — the kind that was attributed to Gandolfini's death. For the record, some medical professionals argue that he did not die from "natural causes" but from an excess of fat, sodium, and cholesterol in his diet that was preventable.
4. Anna Nicole Smith
Anna Nicole Smith died at the age of 39. She was staying at the Seminole Hard Rock Hotel and Casino in Fort Lauderdale, Florida in 2007 when she overdosed on at least eight different prescription medications, including one to help her sleep. Some estimates have her taking as many as 44 different prescription meds. During her stay at the hotel she was dealing with a number of problems, including a fight to win custody of her daughter. There was considerable public acrimony towards her as she has taken her case of the estate of her late husband, 89 year old J. Howard Marshall, to the Supreme Court of the United States. At the time of her death she may have been one of the most despised women in America. What she would never live to find out is that custody was awarded to her daughter's paternal father, and she would not inherit a single penny from her late husband's estate.
5. John Belushi
John Belushi would die at the age of 33. He would find the end of his life at the Chateau Marmont hotel in Hollywood, California after taking speedballs and suffering a massive heart attack. A speedball is a combination of heroin and cocaine, but it wasn't Belushi who injected himself with the fatal combination. Two witnesses at the scene testified that his girlfriend, Cathy Evelyn Smith, who injected him at the hotel party. One of the most tragic deaths on this list, Belushi had everything in front of him to live for. He was popular, successful, and had a number of film projects lined up for him to star in. Saturday Night Live wanted him, and so did most the young people who loved his comedy. Cathy Evelyn Smith was eventually prosecuted and served 15 months in a California State Penitentiary as a major contributing factor to Belushi's death.
6. Coco Chanel
Coco Chanel passed away at the age of 87. Unlike most of the people on this list, Coco called the hotel she lived in, the Ritz Carlton in Paris, France, her permanent home. Some called her hotel room an "apartment" which might be the case if the average person has Chanel's net worth of an estimated $7 billion at the time of her death. Also, she had lived there for more than 30 years without having to worry about landscaping, unannounced guests, or other irritations of living in an apartment or house. If you heard of Chanel No. 5 perfume, you know enough about Coco Chanel to appreciate her contributions to the women's fashion industry. She died what can be considered a "normal" death. She went out for a walk at age 87, apparently fell ill, and died the next morning of natural causes.
7. David Carradine
David Carradine died at the age of 72 at what can basically be understood to be by his own hand. But it wasn't suicide in the regular use of the word. He was staying at the Swissotel Nai Lert Park Hotel in Thailand and was found dead in his room by what a coroner termed "auto-erotic asphyxiation." In cruder terms, he apparently was stretching the limits of auto-eroticism by hanging himself and cutting off the oxygen supply to his brain just long enough to orgasm. This is definitely the weirdest way to off yourself, especially given his age of 72. It is up for debate whether Carradine will be remembered more for his Hollywood roles as Bill in Kill Bill and his television series "Kung Fu" or whether he hung himself in Thailand.
8. Richard Wagner
Richard Wagner died at the age of 86 after completing his final opera. Yes, this is the Wagner (pronounced Vahg—ner) who is famous for writing many classical musical compositions. He qualifies for this list because he is still one of the most talked about and played composers in history. The hotel was the Palazzo Vendramin, the location was Venice, Italy, and the year was 1883. At the time of his death it is recorded that he had been suffering from attacks of angina, or acute chest pains. This is now commonly known as an indicator of heart trouble, but back in 1883 the medical knowledge and technology was nowhere near the level it is today. Maybe it isn't right to say here, but at least he went out on a high note.
9. John Candy
John Candy died at the age of 43. Anyone who saw John Candy in a movie or on television could naturally wonder how he could carry as much weight as he did and remain healthy for any considerable period of time. The fact is he died of a heart attack in Mexico. Candy was staying in room 120 of the Camino del Perque Villas near Durango while he was doing what he loved – acting. He had been working on the film Wagon's East for more than three months before the fatal heart attack occurred. The official cause was myocardial infarction, which is basically when the arteries of the heart clog up and cut off the blood supply to the heart.
10. John Pinette
John Pinette died at the age of 50. He was most popularly known as a stand-up comedian, though he did appear in minor movie and television roles, such as the man whose car broke down in the final episode of Seinfeld. Staying in the Sheraton Hotel in Pittsburgh, Pennsylvania, he died of natural causes in 2014. Born in Boston, Massachusetts, he is one of the lesser known celebrities on this list that died on the road while working on another stand-up comedy act.
11. Lisa Lynn Masters
Lisa Lynn Masters died at the age of 52. Most popularly known as Ugly Betty, she was found in a closet in her Nuevo Mundo Hotel room where she hanged herself with her skirt. That is not the only oddity about her death. Why Peru? At the time of her death on November of 2016 she definitely was struggling to find work, but Lima, Peru? There was a suicide note left by her stating she had a history of mental illness along with a cellphone that gave instructions on how to contact her family members. A simple explanation for her choice of location and method is she had it planned out and was going somewhere where nobody would be looking.
12. Jimi Hendrix
Jimi Hendrix died at the age of 27. Anyone who has picked up a guitar knows about the out-of-this-world talent Hendrix had, and it lives on today. In 1970, Hendrix was staying in London's Samarkand Hotel where he was found dead of an accidental drug overdose. Many music historians compare the deaths of Hendrix and Joplin, both being age 27 when they were found dead, but Joplin was reported to be reasonably happy while people who saw Hendrix days and months before his death reported him as being very unhappy with the way his life was going. Challenging the word "accidental" to describe his death may not make his fans happy, but the fact there is evidence to the contrary, the possibility of an intentional overdose cannot be ruled out.
13. John Entwistle
John Entwistle was 57 years old when he died. This is another example of where the term "accidental" overdose may not be completely accurate. Entwistle had managed to create a crater of debt he could not get out of. It was so deep that the fellow members of The Who scheduled a concert just to help him pay off his debt. He was staying in the Las Vegas Hard Rock Hotel when he died of a reported accidental cocaine overdose. On the one hand, it made no sense for him to take any chances when so much help from those closest to him was clearly being offered. On the other hand, maybe debt wasn't the real problem his friends had to deal with. It can be said he was so close to a new start, yet so close to an inevitable end.
14. Moses Malone
Moses Malone died at the age of 60. He was staying in the Waterside Marriot Hotel in Norfolk, Virginia to attend the 2015 Still Hope Foundation Charity Golf Tournament — as a celebrity. He had a history of high blood pressure and hardening of the arteries, which were both major contributors to his death. One of the few deaths on this list to occur while just going through a daily routine, Malone was one of the most beloved figures in the city of Philadelphia as a member of the NBA's Philadelphia 76ers. Even when you are professional athlete and taken care of by some of the best doctors in the world, you cannot escape your heredity.
15. Michael Hutchence
Michael Hutchence, lead singer of the INXS, died at the age of 37. He was found dead hanging from a doorway in his suite at the Ritz-Carlton Double Bay hotel in Sydney, Australia where he was on tour. The medical cause of his death was asphyxiation by hanging brought about due to depression. At the time he was in a very bitter legal custody battle over his daughter. He had been taking Prozac for the previous 3 months and was drinking with friends hours prior to the time of his death according to the coroner. He had had episodes of being depressed directly related to the unknown outcome of his custody battle. At one point Hutchence had "begged" by telephone his wife to allow him to see his children, but apparently she refused. If there is anything useful that be taken away from this tragedy is that there are things about women that men don't know, and things about men women don't know.
16. Cory Monteith
Cory Monteith died at the young age of 31. He was a rising star on Glee and there were plans for expanding his acting career. He was staying at the Fairmont Pacific Rim hotel in Vancouver, Canada when he was found dead of a cocaine overdose. Monteith battled with drug addiction for a good part of his life, and for his end to come as a result of that addiction should not surprise anyone. It wasn't just his addiction but a very troubled past, including being moved around to 16 different schools as a youth and having an intervention done when he was just 19. Yet over and over again he relapsed into his old patterns of behavior. Even with the support of his girlfriend and co-star Lea Michele, it was not enough to keep him away from the thing that would be his undoing.
17. David Gest
David Gest died at the age of 62. He was married to Lisa Minelli, which afforded him more than enough celebrity status. He was staying at East London's Four Seasons Hotel in Canary Wharf when he suffered a stroke that led to his death. This is not surprising, given that at the time he was a member of the show Celebrity Big Brother but had to withdraw because his health was interfering with his ability to continue. One of his more famous quotes is interestingly, "I would give it all back to have my health."
18. Divine
Divine died at the age of 42. For those not acquainted with Divine, he was America's first and perhaps most famous drag queen. He was staying at the now-closed Regency Plaza Hotel in Los Angeles when he succumbed to heart disease. He was later to have been found with an enlarged heart that was a contributing factor to his death. One interesting note to his death was that three of his friends stayed with his body as it was carried out to ensure no one from the media would be able to take pictures.
19. Rob Pilatus
Rob Pilatus died at the age of 32. Pilatus was one half of the Milli Vanilli duo who was publicly disgraced after it was discovered that several of their songs were lip synched — songs that led to a Grammy Award for the pair. Their Grammy was revoked, and the careers of both men plummeted. Pilatus had been struggling with drug for some time, and his body was found in a Frankfurt, Germany hotel room, dead of a drug overdose. What compounds the tragedy is that Pilatus was kept at more than arm's length by his former partner. When Pilatus wanted to work in collaboration with Fab Morvan to produce a new album, Morvan's public answer came out in People's magazine, "We have no relationship at this point. I got sober. I am going my own way."
20. Nancy Spungen
Of all the names on this list, Nancy Spungen is famous for being the victim of a celebrity, in this case, Sid Vicious of the rock group the Sex Pistols. Spungen was 20 years old when her and the vicious Vicious got into a violent argument, and he decided to end the argument by stabbing her 30 times. They were staying at the Chelsea Hotel in New York City. All this occurred in 1978, and would also be the year that would be the end of Sid Vicious life. In a suicide note after dying from an overdose of heroin (not in the hotel) he stated that he and Nancy had made a death pact, one that he apparently decided to hold up his end of the bargain on.