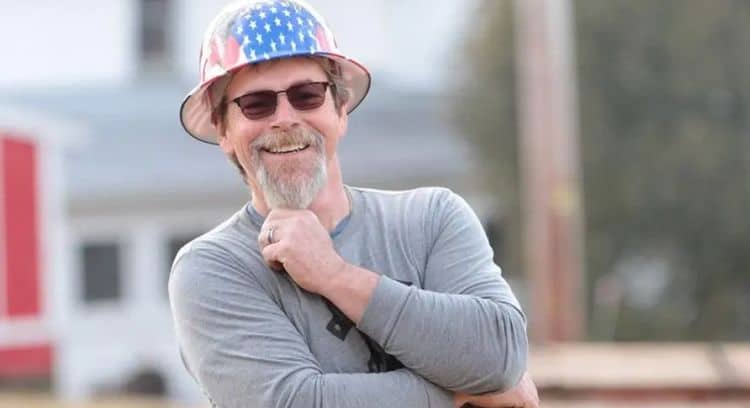 When you're a famous reality television star who gets to work on a cool show, you might find that you have people you've never met curious about the life you're living. That's the reality for people like Sherman Thompson. He became famous taking old cabins and barns and turning them into homes people love, and that's a huge interest for the general public. He's a man everyone is curious about, and we thought we might help you all get to know him a bit more.
1. He's Been Around
He's been around the block a time or two, but he's been on television on this particular show since the beginning. "Barnwood Builders," is the show that made him famous, and that was all the way back in Season 1. He's still on the show in the new season, which is the 11th season. He's definitely been around.
2. He's Not Interested in Sharing
It's safe to assume that when you become famous because you like to hunt down old cabins and rebuild them in a modern manner, you're not on television for the fame. You're on it because you were offered a deal to show the world something they've yet to see, and that's pretty enticing for most. Sherman Thompson falls heavily into this category as he is not on television for the fame. He's also not on it to share his personal life. You won't find him discussing anything that is his life outside the show – ever.
3. He's Married
He's a married man, but you won't hear him talk about his wife. Her name is Roma Andreuzzi. He's been married for approximately 13 years, but he's more about keeping that to himself. It's rare to hear him say anything about his wife, but he has mentioned that he feels lucky to have her in his life. That's really all that needs saying, though.
4. He's a Dad
Alongside his wife, he has two daughters. The couple shares Felicia and Agostina. He also doesn't discuss his daughters, either. He loves them, and he values his time as a father, but he does not focus on putting them in the spotlight in any capacity now that they are old enough to have their own private lives outside of his work.
5. He's Longtime Friends of His Coworkers
If you thought there was a chance that he was thrown together with either Mark Bowe or Johnny Jett as a way of making some successful reality television, you'd be mistaken. They've been friends for a very long time, and they really are friends in real life; they're not just television friends. That's kind of sweet.
6. He Credits His Enjoyment of Life to His Wife
While Sherman Thompson might not have much to say publicly about his family – and they don't use social media, either – he has said that his enjoyment of life is due to his wife. Without her in his life, he's unsure he'd be able to enjoy anything that he does. We love that about him. It's a sweet thing to say.
7. He's From West Virginia
It's a small piece of personal information, but that's really all we get from him. We know that he is from West Virginia only because it's part of the show, and they discuss that amongst themselves. We suspect his family must live there since that is where his company is based.
8. He Travels
A big part of his job involves travel. He and his costars head all over the country to find antique cabins and log cabins to save, and it's part of their job. They cannot just look in their immediate area, after all. There can only be so many antique cabins in own town or state. Traveling to find what they're doing makes sense.
9. He's Not Into Drama
Perhaps the biggest appeal of the show he does is that it's not about the drama. It's not about things going wrong or people having issues with one another. It's all about a group of men who are clearly good friends having a good time doing what they love – which just happens to be their job. You get the feeling that they are exactly the same whether the cameras are on them or not. That's refreshing.
10. He's Not Going Anywhere
The great news about this man is that he's not going anywhere anytime soon. This is his career, his company, and his life, and he's here for the long haul. He really does enjoy what he does for work, and that means he's going to stick with it and continue to thrive.
Tell us what's wrong with this post? How could we improve it? :)
Let us improve this post!