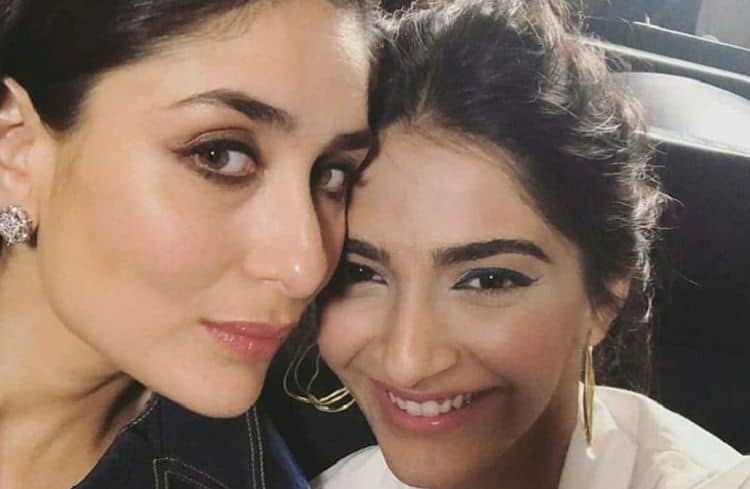 Kareena Kapoor first came to our attention in 2000s Refugee; in the 19 years since her debut, she's become one of Bollywood's most popular and bankable stars. With a clutch of new projects on the way (including the much anticipated December 2019 release of 'Good Newwz' with Akshay Kumar, Kiara Advani and Diljit Dosanjh, and Karan Johar's 2020 release 'Takht'), it's clear that marriage and motherhood aren't getting in the way of her career plans. Find out more with these 10 quick-fire facts.
1. She's got a famous family
Kareena isn't the only famous member of the Kapoor family. Her father is Randhir Kapoor, a film actor, producer, and director who entered the spotlight in the 1970s and hasn't left since; her grandfather is the actor-filmmaker Raj; her great-grandson is the actor Prithviraj; her uncle is the actor Rish; her mother is the actress Babita (who's father is the actor Hari Shivdasani, and whose first cousin is the actress Sadhana Shivdasani); while her older sister is the actress Karisma Kapoor…. with a family tree like that, it's little wonder Kareena chose the career she did.
2. She made her debut in Refugee
After developing an interest in Law at university, Kareena enrolled at the Government Law College, Mumbai. However, during her first year, she realized her passion for acting was bigger than her one for law; after dropping out of the college to study her craft under Kishore Namit Kapoor, she landed her first acting role opposite Hrithik Roshan in Rakesh Roshan's Kaho Naa… Pyaar Hai (2000). However, after realizing just how much of a secondary role she would end up playing to Roshan, she withdrew from the project just a few days into shooting. She subsequently made her debut in J. P. Dutta's war drama Refugee (2000).
3. Her father discouraged her from becoming an actress
Despite coming from a family that seems to consist almost entirely of actors, Kareena was initially discouraged from pursuing the path herself by her father, who disapproved of women entering an industry he believed conflicted with their traditional duties as wife and mother. Her mother, a former actress herself, was of a very different opinion, and the ensuing conflict would eventually lead to their separation (they eventually reconciled in 2007). Kareena has also since welcomed her father back into her life, telling the Mumbai Mirror "My father is also an important factor in my life. Although we did not see him often in our initial years, we are a family now."
4. She's a multi-award winner
Since her debut over 19 years ago, Kareena has proved her talents over and over again… and has the awards to prove it. In total, she's scoped 6 Filmfare Awards out of 10 nominations, including Best Female Debut, a special jury recognition for Chameli (2003), and two Critics Award for Best Actress for Dev (2004) and Omkara (2006). Her performance in Jab We Met (2007) earned her a Best Actress trophy, while her work on We Are Family (2010) won her a Best Supporting Actress award.
5. She's one of the most marketable stars in India
Known for her versatility (not to mention bankability,) Kareena's success has seen her become one of the most popular and marketable stars in Bollywood. In January 2011, she ranked fourth on Rediff's list of "Top 10 Actresses of 2000—2010", having previously featured highly on their "Top Bollywood Female Stars" listings in 2004, 2005, 2006, and 2007. In a 2009 poll by Daily News and Analysis, she was voted one of India's most popular icons, while in 2011, she was voted "Asia's Sexiest Woman" by Eastern Eye. Other accolades include being selected as "India's Most Beautiful Woman" by People and earning a mention on Verve's list of the country's most powerful women every year from 2008—2013, and again in 2016.
6. She's become noted for her philanthropy
Offscreen, Kareena has developed a reputation as a prolific philanthropist. The majority of her charitable endeavors have focused on promoting children's education and the safety of women: in 2010, she participated in the international campaign 1GOAL Education for All and was appointed an ambassador for the Shakti Campaign to mark the 100th anniversary of International Women's Day. She's also worked closely alongside UNICEF to promote quality based education in India, and launched the 'Child-Friendly School and Systems' (CFSS) package. Since 2017, she's acted as a brand ambassador for Swasth Immunized India, a campaign that aims to promote a global immunization program for children.
7. She's hosted a radio show
In 2018, Kareena showed us she's just as good a host as she is an actor when she hosted the radio show "What Women Want" on Ishq FM. The show went down a storm and even managed to bag her a nomination at the New York Festivals Radio Awards for "Best Talk Show Host". Clearly impressed with her talents, she was later offered the chance to serve as a talent judge for the seventh season of the dance reality show Dance India Dance.
8. She's the first Indian actress to launch her own clothing line
Over the last decade, Kareena has branched out from acting into fashion. In 2008, the actress collaborated with the retail chain Globus to become the first Indian actress to ever launch her own line of clothing. "My clothing line is very reflective of my personal sense of style and will have my label on it. Just like I'm pretty casual about my dressing, my line will also consist of an extremely wearable yet stylish collection," she told Bollywood Hungama at the time. After the positive reception the line received, Kareena expressed an interest in rolling it out internationally, but as of 2019, the plans have yet to see the light of day.
9. She's written a healthy eating guide
In 2009, Kareena teamed up with nutritionist Rujuta Diwekar to release a healthy eating guide entitled Don't Lose Your Mind, Lose Your Weight. The book was well-received, and Kareena soon followed up on its success with a second publication, Women and The Weight Loss Tamasha. In 2013, she explored the topic of healthy eating once again with Diwekar on the documentary, The Indian Food Wisdom and The Art of Eating Right,
10. She's one of Bollywood's highest-paid actresses
Kareena has featured regularly on Forbes "Celebrity 100" (a ranking system based on income and popularity) since 2012. Although her wealth has slid slightly since its ₹735 million (US$11 million) peak in 2012, if Celebrity Net Worth's calculations are correct, she's still sitting on a very tidy fortune of $6 million.