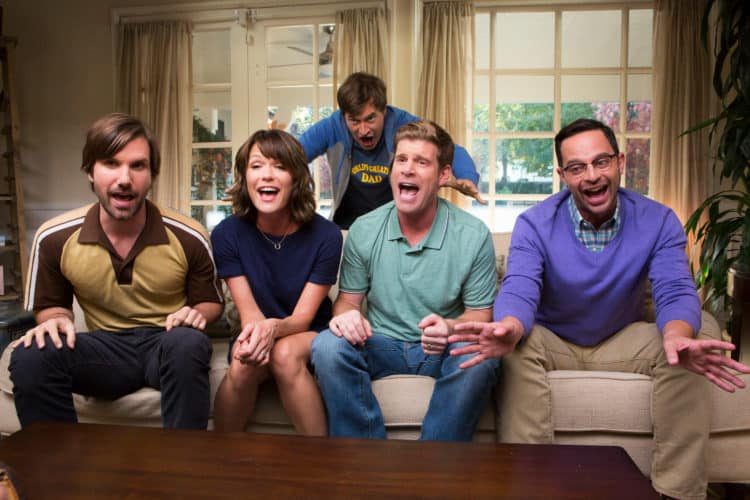 "The League" was a show on FX that lasted for 7 seasons and saw a close group of longtime friends, engaging in outrageous activities that all revolved around their insanely competitive 8 person fantasy football league. Over the course of the show's 7 seasons, we saw everything from celebrity cameos to outrageous stunts and pranks and everything in between. While every season of The League was filled to the brim with inside jokes, obnoxious humor, incredible improv, and more, season 6 explored its highly regarded side characters more and answered more than a large number of questions fans had. Below we've ranked the funniest moments from season 6 of "The League".
16. Advice Slut
In the moment below from season 6 of The League, Andre asked Ruxin, played by Nick Kroll, for advice since he was going against someone else in the group, and Ruxin, surprisingly, helped Andre with his lineup in that moment. However, it didn't last as Andre just asked someone else for their advice as soon as they arrived at the table. This caused Ruxin to cause a bit of a scene as Andre has been known to be what the group called an advice slut, as he was jumping from one person to the next asking advice as if they were the only person asked.
15. Lane Steals Ruxin's Packers Tickets
In an earlier season of The League, we were introduced to Lane, an old friend that was way too into his friendship with Pete and the rest of the guys. When Lane originally appeared in The League, Pete tried to ditch him with Andre, as many people tend to always ditch Lane with Pete but it didn't go according to plan when even Lane ditched Andre. This time around when Lane appeared, for this moment from season 6 of The League, he came to Ruxin specifically and in an effort to avoid plans with Lane, Ruxin accidentally gave Lane his tickets to the Packers game.
14. Taco Breast Awareness
Much like every other season of The League, Taco's stupidity somehow leaked into the real world and caused everyone's favorite idiot to take breast cancer awareness and turn it into breast awareness. As Taco is The League's version of The Fonz, seen as a strange sex symbol and life of the party, of course, he turned something special and meaningful to a large population of people and turns into something literally sexy. Whenever Taco seemed to get his ideas into the real world, he never understood the reactions some people would react to his ideas as he never saw them as inappropriate, when they almost always were, to great extent.
13. Yeast Mode
Some of the funniest moments from any season of The League generally involved cameos from celebrities and athletes, and when Marshawn Lynch made any of his few appearances from the show, he never disappointed. In one of his earliest performances on The League, we see the athlete, also known as Beast Mode calling Andre Yeast Mode, because he had a yeast infection. From this moment forward we actually see Marshawn as a board member for Taco Corp after Pete backed out. Overall, in the moment below, Andre encountered Marshawn Lynch when he knocked on Taco's truck looking for Taco and, for some reason, when confronted by the athlete Andre revealed he was actually wearing his Yeast Mode shirt and Beast Mode was not a fan.
12. Rafi Fights for Gale
Earlier in The League Ruxin, for some reason, asked Rafi to pose as him and take his son to swim class, where Rafi fell in love with the teacher and started to date her, of course still pretending to be Ruxin. In season 6 of The League, we learned that Jenny and Kevin have been lying to their daughter about her favorite meal so Taco introduced Jenny to a chef to help her actually cook the meal. When Jenny discovers that the chef isn't what Taco made him out to be, he storms off and ended up meeting Gale. While we saw in the past that Rafi and Gale separately are both psychotic but that also made them perfect for each other as well. Overall, in the moment mentioned here, Rafi is ready to fight to the death for Gale and her new boyfriend, the chef didn't feel to kindly about that.
11. Andre Flash Dance
In the endless onslaught of pranks that the group unleashes on each other, especially on Andre, things tend to almost always get out of control and be entirely inappropriate and this is no exception. After the group's friend Ted dies while on FaceTime with them and they are attending their funeral, the rest of the group decides to trick Andre and make him think that they are all going to partake in the dance. However unfortunate for Andre, the rest of the group did not join him and Andre was alone in dancing disrespectfully in a church during a usually very meaningful Jewish ceremony. As if the situation needed to be any worse for Andre or uncomfortable for the family, celebrities that knew Ted were there as well.
10. Speed Weed
In the moment mentioned below from season 6 of The League that we certainly believed to be one of the funniest featured Russell losing his control as a previous sex addict and diving straight in again after getting his hands on what Taco called "speed weed". When the initial idea of Andre opening a business with Russell had even come up, his friends told him not to do it due to him being the only one truly committing to the business but Andre continued with the plan anyway. Eventually, on the opening night of the wine bar, Andre catches Russell and his most recent plastic surgery client having sex in the wine room and Andre finally snapped.
9. Second Harvest
Rafi has always shown to be so much more than a loose cannon but somehow he still seemed to always surprise as well with his beyond absurd ways. In the specific moment below with Rafi from season 6 that we considered one of the funniest from the season, Rafi surprised the guys of the group when they were camping in man land with Jenny's father. When talking to the group about survival skills, Rafi informed them about him eating via the second harvest, in which he gathers food to eat by searching the poop of woodland animals.
8. Wine Tasting
As stated earlier in our list of funniest moments from season 6 of The League, Andre and Russell open up a wine bar, but first, the group meets Russell at his job where he previously was a server at a wine bar and intrigued Andre with his knowledge of wine. Not only was Russell's so-called knowledge of wine shown to Andre but as the rest of the group generally picks up on things that he doesn't, they called Russell out for wine descriptions being "slutty", very gross, and sexual. For some reason, even after this, Andre still decided to go through with his strange idea to start a wine bar with Russell.
7. Rafi and Dirty Randy Group Therapy
Much like with our ranked list of funniest moments from season 5 of The League, our ranking of season 6's funniest moments also featured a lot of Rafi and Dirty Randy moments, and for good reason. Normally, Rafi and Dirty Randy are among the funniest character introduced in The League but unfortunately aren't core cast members so we don't truly get much of those characters. Upon watching season 5, many fans of The League were given something glorious: an episode dedicated to Rafi and Dirty Randy solving their friend's death. Season 6 of The League, however, presented something even greater in the form of an entire episode showing the origins of Rafi and Dirty Randy, portrayed by Seth Rogan.
6. Taco's Opinions on Steve Jobs
Although Taco never showed more than one or two true signs of intelligence, he somehow seemed to get his hands on incredible ideas, money, and business opportunities. When the topic of Steve Jobs came up while talking to his apparent board member Pete during what we call one of the funniest moments of The League season 6, Taco went off saying that Steve Jobs not only invented jobs themselves but ended up doing quite well for himself due to that fact. This is incredibly upsetting in everyone else's eyes toward Taco's statements as Steve Jobs not only did not invent jobs but he passed away.
5. Rafi and Dirty Randy Origins Part 2
Earlier, we talked about Rafi and Dirty Randy's origins being brought to life in season 6 of The League, which of course made for some of the funniest moments every time they were on screen. In the moments below, Rafi and Dirty Randy's early friendship is documented at the mental asylum that they met at, due to the same incident we soon learned. In this specific moment that we've called part two of the Rifi and Dirty Rafi's origins the two almost parted ways forever when Dirty Randy signed himself out ahead of getting a lobotomy. Overall, Dirty Randy couldn't leave behind Rafi and a few of the others they met while at the mental hospital so he went back and made a ridiculous motorcycle jump to them.
4. Ruxin's Bathroom Experience at Work
Over the course of The League, among the funniest moments, we've seen early on with Ruxin were involved with his obsession with cleanliness, and as the show progressed only more and more disgusting things happened to the character. In the moment mentioned here, Ruxin's precious bathroom time was not only interrupted by one of his bosses but was made entirely uncomfortable by his boss's actions, portrayed by Rob Riggle. This is just one of many scenes that featured Ruxin and one of his famous Forever Unclean moments.
3. Rafi and Dirty Randy Origins Part 1
As stated earlier in our ranked list of funniest moments from season 6 of The League, Rafi and Dirty Randy had their origins explored throughout a throwback episode of the events that transpired during their shared time at an insane asylum. When we talked about it earlier we discussed what we called part two of their origin stories, but during part one, the pair did some even more serious stuff that ranked it higher than part two of our Rafi and Dirty Randy origin moments. Overall, in our Rafi and Dirty Randy origins part one moments we see the first moments the characters shared together that eventually turned them into the interesting characters that they are today. While this moment also featured the actual moment that explained what ruined Rafi forever, we dive deeper into that specifically in our number one moment.
2. EBDBBnB
EBDBBNB was just another one of Taco's incredibly stupid ideas that ended up being genius and making the big dumb idiot more money than he knows what to actually do with. Of course, it wouldn't be a classic Taco idea with a song being incorporated into it in some way or another. However, this moment ranked so highly on our ranked list of funniest moments from The League season 6 more for its importance to Taco's legacy. As the show is nearing its end, it could be seen coming with the show seemingly coming towards a close in a way and with this venture from Taco heavily referencing a previous idea from him simpled called the EBDB also known as The Eskimo Brothers Database. The Eskimo Brothers Database has been a long-running joke and reference on the show but this moment brought the joke to a whole new level when Taco combined the EBDB with a bed and breakfast encouraging couples to have sex with each other, and others including Taco himself.
1. The Moment That Made Rafi
Overall, and without any contest from the other moments mentioned in our list of funniest season 6 moments from The League, the moment that made Rafi the man, or creature, that he is today was easily the first and only choice for the number one moment. In season 6 of The League, we were not only introduced to the insane origins of Rafi and Dirty Randy's unique friendship but we witnessed exactly what happened to Rafi and Dirty Randy to make them the individual broken men that they are today.
portrayed by Seth Rogan
Tell us what's wrong with this post? How could we improve it? :)
Let us improve this post!