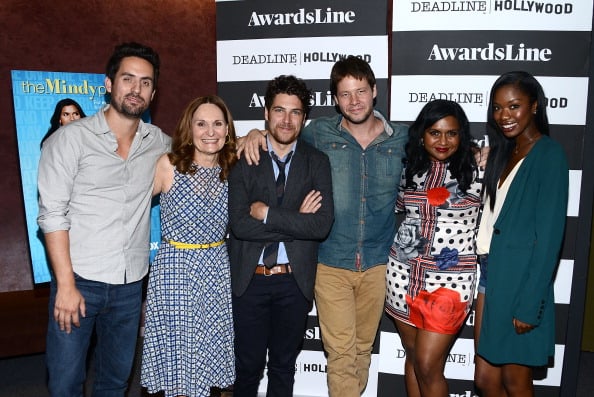 The Mindy Project will be back this fall for a third season on Tuesday September 16th. It was announced this week that another star of the very funny It's Always Sunny in Philadelphia will be making an appearance on the comedy. Rob McElhenney will guest star on the premiere episode as Morgan's cousin Lou Tookers. He has been hired by the office to fix the computers. He is expected to be as weird as Morgan. Sunny co-star Glenn Howerton played Mindy's love interest in season two. Check out these fifteen fascinating facts about one of the funniest shows on television.
Photo by Araya Diaz/Getty Images for Awardsline/Deadline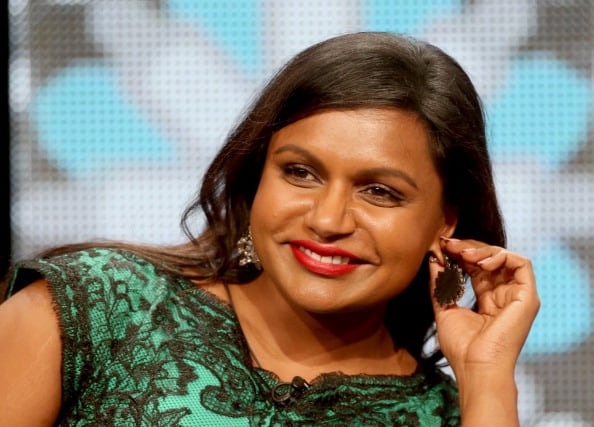 1. A majority of the set on The Mindy Project was decorated by Mindy Kaling. During the time the set was being constructed, Kaling showed up with many pieces loaded up in the back of her car. The actress went online to sites like Etsy and purchased many things that she thought would reflect her character. Writer Jeremy Bronson asserts that 90% of the set of Mindy's apartment was purchased by Kaling. Kaling told Elle magazine, "The apartment is very eclectic and colorful in a way I'm more averse to. I like things to be more muted. This has a much younger feel to it."
Photo by Frederick M. Brown/Getty Images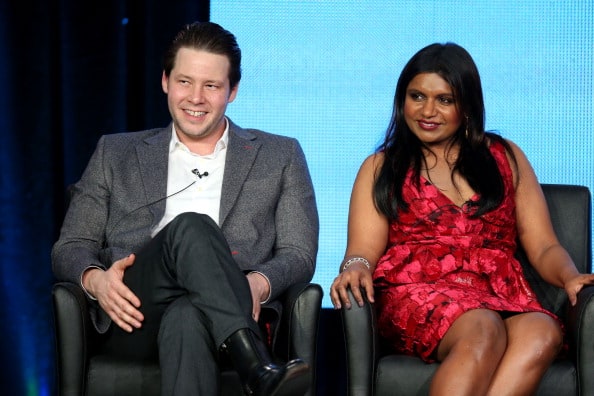 2. The Mindy Project is set in New York City, but not a single scene has been filmed in the Big Apple. A majority of the series is shot on two stages located at Universal Studios in Los Angeles, California. Exterior shots that take place on the streets of NYC are filmed on a pretend NYC block at Universal Studios' back lot. Writer Tracey Wigfield said in an interview with Elle magazine, "There's a big New York street and that's where we do a lot of our exteriors like outside Mindy's apartment. I was impressed by how much it looks like New York."
Photo by Frederick M. Brown/Getty Images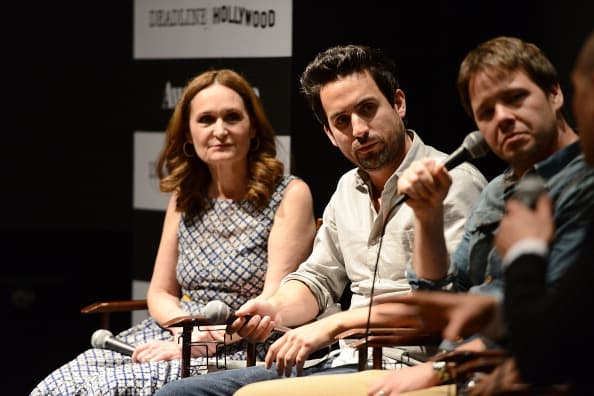 3. Beth Grant loves to play Beverly, the crazy employee at Schulman & Associates on The Mindy Project. In an interview Grant concluded, "Beverly will just say anything that comes to her mind. It's great for me because I grew up in the South and I'm so repressed. It is so freeing to say something weird and dark and strange." One famous guest star took a liking to Beth and her portrayal of Beverly. When James Franco came to the set, he would light up whenever he saw Beth. Grant worked with Kaling when she appeared on two episodes of The Office.
Photo by Araya Diaz/Getty Images for Awardsline/Deadline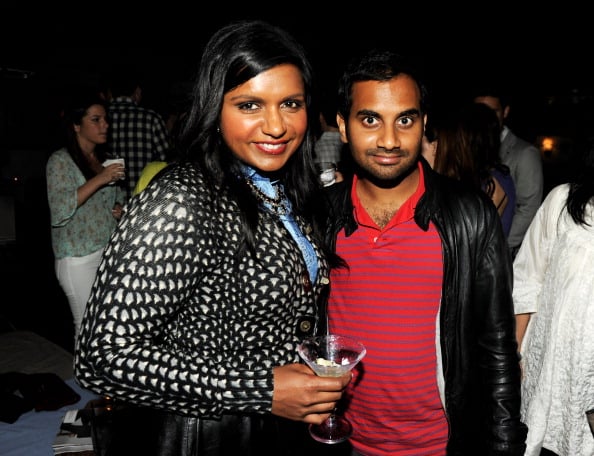 4. On the sets of many shows, you cannot always see the pictures that are shown in frames. The photos that are featured on The Mindy Project in both Mindy's apartment and office were taken out of Kaling's photo albums. The pictures are of Mindy, her family, her close friends, and people she knew from college. There are a few pictures that do not belong to Kaling. For example, there is an old photo of actor Tommy Dewey, who played Mindy's childhood boyfriend Josh, shown in the apartment. The goal is to make the set look as realistic as possible.
Photo by Kevin Winter/Getty Images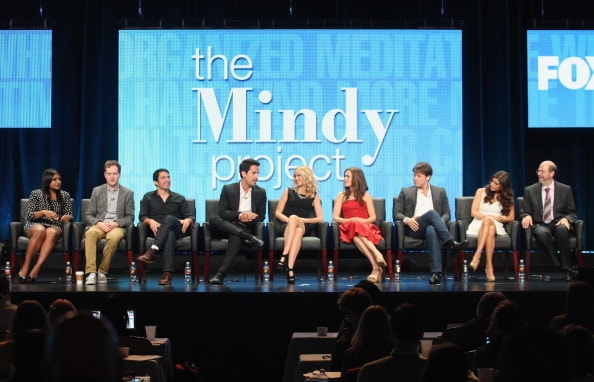 5. In 2013, The Mindy Project was nominated for a Television Critics Association Award in the category of Outstanding New Program. This year, the comedy received two nominations: one for Kaling's performance and the other for Outstanding Achievement in Comedy. The show has also received nominations at the Teen Choice Awards, the TV Guide Awards, the Image Awards, and the People's Choice Awards. Kaling has won two Gracie Allen Awards and the Critics Choice Television Awards named The Mindy Project Most Exciting New Series in 2012.
Photo by Frederick M. Brown/Getty Images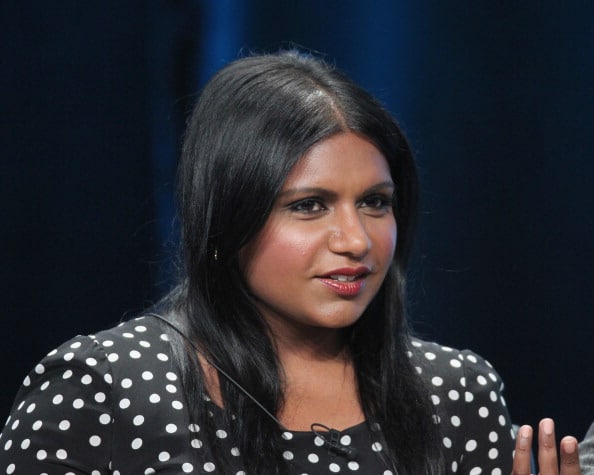 6. The Mindy Project star Mindy Kaling does not have a problem sharing the name of the show or the name of the character she plays. Based on some advice from Linwood Bommer, creator of Malcolm in the Middle, she will change her name when ordering lunch for the cast and crew. This is done in case the place you are ordering the food from either hates you or detests your show. You can never be too careful when it comes to people messing with your food. Kaling adds, "Peggy is my name [when ordering food]." This is in reference to Mad Men.
Photo by Frederick M. Brown/Getty Images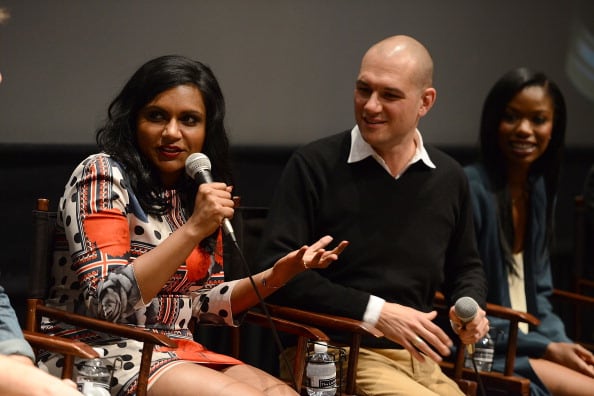 7. Could you imagine The Mindy Project being called It's Messy? That was the original title for the show when it was being considered at NBC in January 2012. When NBC decided to pass on the script, FOX agreed to order a pilot with Mindy Kaling starring in the lead role. In May of 2012, FOX picked up the show and would eventually change the title to The Mindy Project. FOX aired the pilot online a month before its scheduled release to garner more interest in the sitcom. After only being on the air for three weeks, FOX picked up the show for a full season.
Photo by Araya Diaz/Getty Images for Awardsline/Deadlin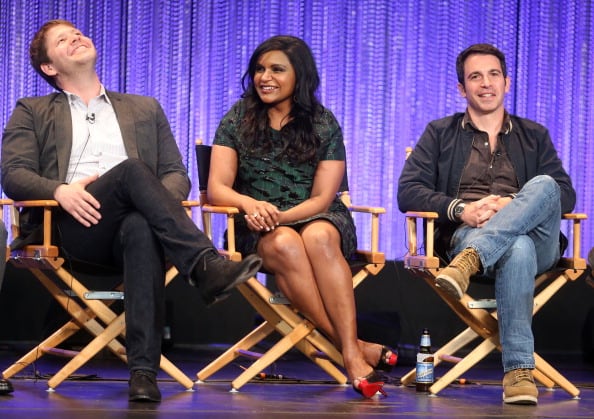 8. The writers on The Mindy Project worked very carefully to make sure the kiss between Mindy and Danny (Chris Messina) happened at the right moment. The team knew they wanted Mindy and Danny to kiss, but they had a difficult time deciding how it would occur. The chemistry between Kaling and Messina was so prevalent they decided to take the leap half-way through season 2. Plus, Kaling did not like the idea of toying with the audiences' emotions with the will they or won't they scenario. Mindy and Danny are adults, so the writers wanted them to handle the relationship like grown ups.
Photo by Frederick M. Brown/Getty Images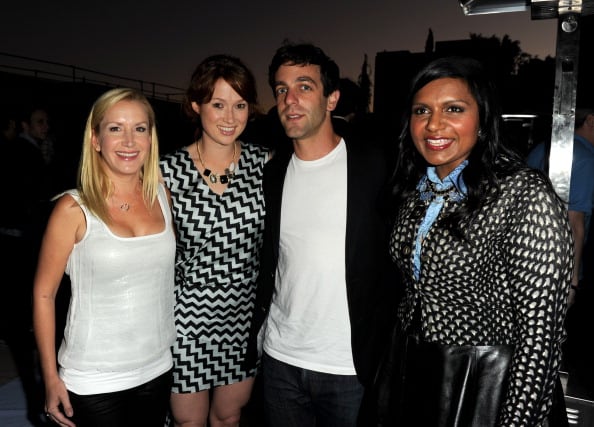 9. Mindy Kaling wants to make sure that Dr. Mindy Lahiri is sporting the most up-to-date looks. Kaling will even send suggestions to the show's costume designer Salvador Pérez, Jr. Kaling will watch the fashion and runway type shows on television so she is aware of the hottest trends. Because Mindy is able to offer her own suggestions on how the character looks, a lot of Kaling's own sense of style shows through on Dr. Lahiri. Writer Jeremy Bronson admitted that it can be intimidating dressing the character because everyone wants to impress Kaling with their cool style ideas.
Photo by Kevin Winter/Getty Images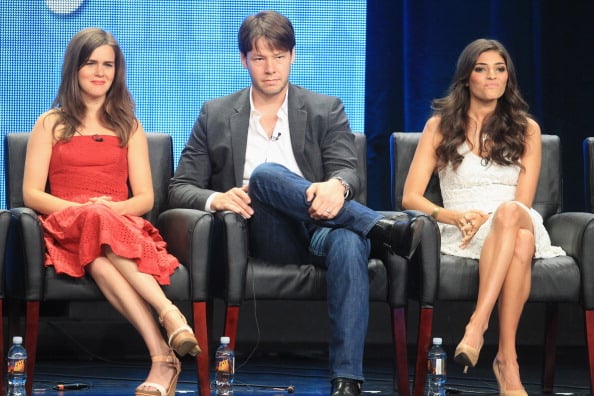 10. There has been many cast changes on The Mindy Project in the very short amount of time it has been on the air. Zoe Jarman was cast as Betsy and Dana DeLorenzo as Shauna after Kaling and Ed Weeks got their roles. Jarman will not be returning as a series regular in season 3 and DeLorenzo was replaced by Amanda Setton before the show even aired. The character was written out halfway through season one. Anna Camp was cast as a series regular but was released from the show at the end of season one as the focus of the series was more at the workplace than with Mindy's friends.
Photo by Frederick M. Brown/Getty Images
11. The Mindy Project has received critical praise during its first two seasons. It was rated as the 6th best reviewed show for the 2012-2013 television season. The season one premiere attracted 4.67 million viewers. The season as a whole averaged a lowly 3.71 million viewers and was ranked as the 128th most watched show that season. The second season was rated slightly higher coming in at 125th overall, but only averaged 3.4 million viewers. The season two finale was watched by 2.48 million viewers. There were cancellation rumors early on during season 2.
Photo by Araya Diaz/Getty Images for Awardsline/Deadline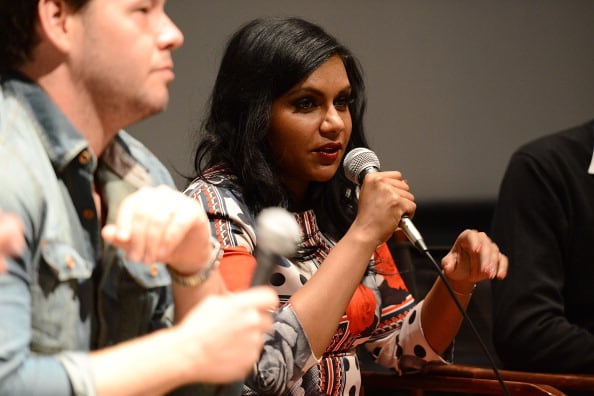 12. In 2003, Mindy Kaling starred as Ben Affleck in the play Matt & Ben. She co-wrote the script with her best friend Brenda Withers, who took on the role of Matt Damon. The play was so popular that Time Magazine named it one of the "Top 10 Theatrical Events of the Year." Before she began her career on The Office, Kaling was a production assistant on a physic show called Crossing Over with John Edward. Kaling wrote over 20 episodes of The Office including "Niagra," which she was nominated for an Emmy. She would also direct two episodes of the sitcom.
Photo by Araya Diaz/Getty Images for Awardsline/Deadline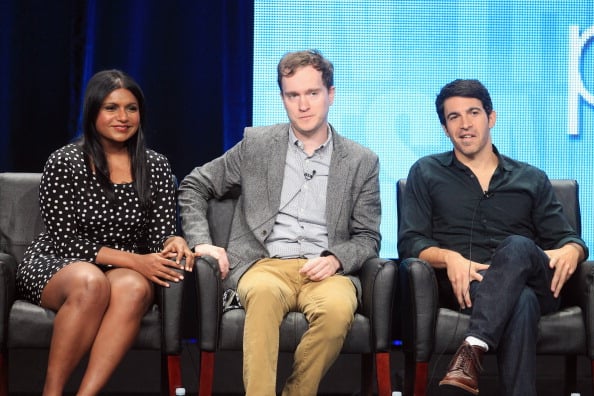 13. Chris Messina would star on three different episodes of the crime drama Law & Order between 1995 and 2003. He would play a different character in each episode. The first episode was entitled, "Rebels" and was about a biker who refused to help a murder investigation. The next episode, "Homesick," focused on an au pair who is accused of poisoning a child she is looking after. Both episodes aired in the 6th season. Messina's final appearance was in the episode, "Suicide Box," where a teenage boy shoots a police officer after no one investigates his brother's murder.
Photo by Frederick M. Brown/Getty Images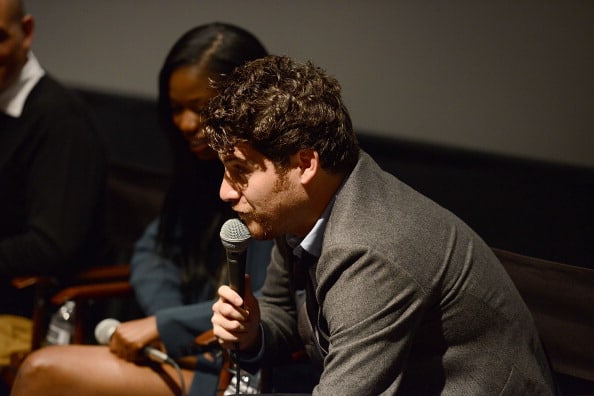 14. After Happy Endings was sadly cancelled in 2013, the talented cast needed to find work. Damon Wayans Jr. was able to return to New Girl after exiting once the pilot was filmed. Pally had signed on to appear in a few episodes of The Mindy Project's second season. Shortly after appearing on the show, Pally was promoted to a series regular. Aside from acting, Pally has directing, writing, and producing credits. Some of his work includes the television series NTSF: SD: SUV and the Happy Endings' webseries Happy Endings: Happy Rides.
Photo by Araya Diaz/Getty Images for Awardsline/Deadline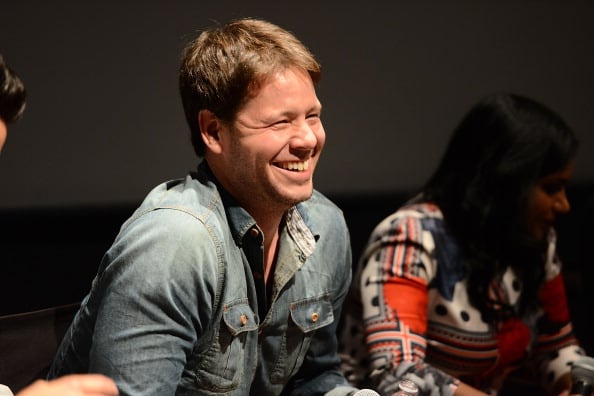 15. Ike Barinholz began on The Mindy Project as a recurring character. After the cast changes during the first season, Barinholz was promoted to a series regular. He has also been a part of the writing staff, having wrote four episodes and being an executive story editor on 21 others. Prior to The Mindy Project, Barinholz spent 5 seasons starring on MADtv. He would also be a writer on that show and impersonate Dane Cook, Wade Boggs, and Alex Trebek. Barinholz would also interview celebrities at red carpet events with cast member Aries Spears.
Photo by Araya Diaz/Getty Images for Awardsline/Deadline