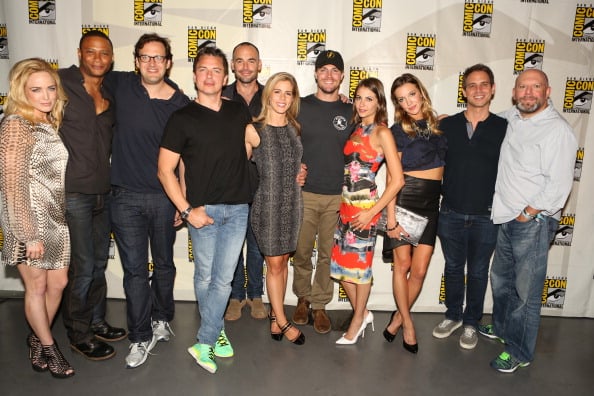 Arrow is one of the most popular shows on the CW Network. The drama, that stars Stephen Amell and Katie Cassidy, will return for a third season on Wednesday, October 8th at 8 PM. It was revealed last week that J.R. Ramirez will be joining the show as Ted "Wildcat" Grant. Ted is a boxer who opens a gym that caters towards troubled teens in Sparling City. In the comics, Ted trains the Black Canary. Will Laurel be sporting the leather jacket this season? Until we find out, check out these fifteen facts about the action adventure show.
Chris Frawley/Warner Bros. Entertainment Inc. via Getty Images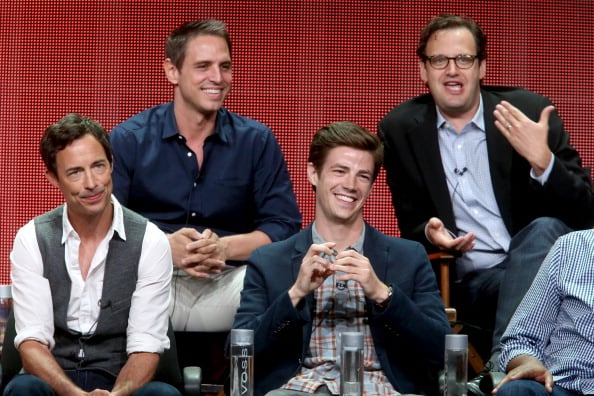 1. Andrew Kriesberg, Greg Berlanti, and Marc Guggenheim began work on a new television series for the CW that centered around the comic book character Green Arrow in January of 2012. A pilot was ordered and Stephen Amell was cast in the title role later in the month. The team wanted to avoid any connection with Smallville. They decided to not cast Justin Hartley in the role on Arrow, the actor who portrayed Oliver Queen on Smallville. Production on the pilot would begin in March 2012 and filming would take place in Vancouver, British Columbia, Canada.
Photo by Frederick M. Brown/Getty Images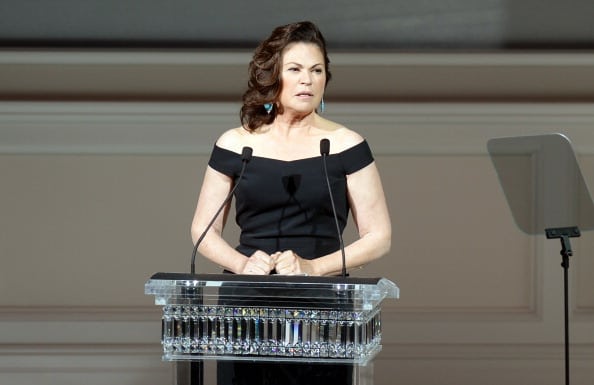 2. Designer Colleen Atwood created the costume for Oliver Queen's alter-ego on Arrow. Stephen Amell wanted the costume to be functional and believable to the audience. In an interview with IGN he asserted, "If I can put it on by myself, I think people will buy it. And that was our idea."  In season two, the Arrow's paint mask was replaced by an actual mask. Atwood has received ten Academy Award nominations for her work on costume design. She has taken home the Oscar 3 times in 2002 for Chicago, in 2005 for Memoirs of a Geisha, and in 2010 for Alice in Wonderland. 
Photo by Theo Wargo/Getty Image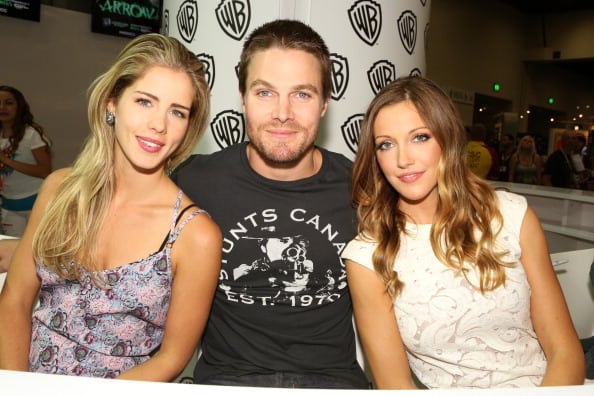 3. Queens Mansion on Arrow is quite a popular building in television and movies. The actual building is called Hatley Castle and is located in Colwood, British Columbia. Smallville fans will remember the castle as being Lex Luthor's mansion. The building was also Professor X's Mutant School in the first two X-Men films. Hatley Castle was used as naval training facility called Royal Roads Military College from the 1940's – 1995. After that, the castle has been used by Royal Roads University, which currently has about 2,500 students. The university was ranked 1st overall based on academic challenge.
Photo by Chris Frawley/WBTV via Getty Images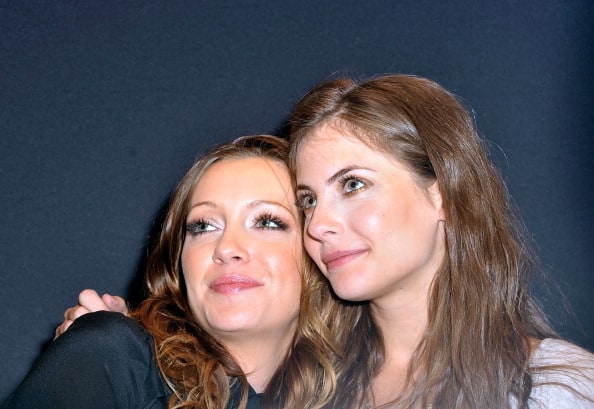 4. The first episode of Arrow premiered on October 10, 2012. It was viewed by 4.14 million viewers, which is quite impressive for a show on the CW Network. The pilot episode was the most watched telecast of any show on the CW in three years. It was the most watched series opener since 2009, when The Vampire Diaries premiered. The first season averaged 3.68 million viewers, which includes homes that viewed the show on DVR. It was ranked as the 119th most watched show of the 2012-2013 season. Season two averaged 3.28 million and was ranked 128th overall.
Photo by Daniel Zuchnik/Getty Images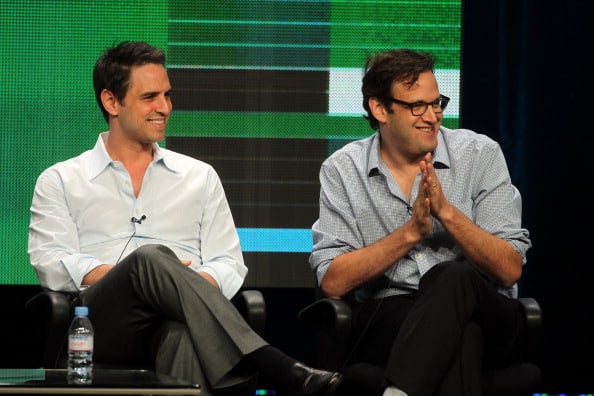 5. In order to promote Arrow when it first came out, DC Comics made a 10-page preview comic and debuted it at San Diego Comic Con. The comic was written by Greg Berlanti, the executive producer of the series. It would later be released online for free. Once the show premiered, DC Comics put out a digital comic that tied in with the show and ran through June 2013 totaling 36 chapters. In October 2013, these chapters were combined and released under the title Arrow: Volume  1. To coincide with season three, Arrow 2.5 will be released in September.
Photo by Frederick M. Brown/Getty Images
6. The season one promotional posters for Arrow showed a shirtless Oliver Queen. You can clearly see the scars on his body from the time he spent on the island, but there is no indication of a tattoo. During the series, you can see a tattoo on his chest. That same tattoo played a big part in the third episode of season one entitled, "Lone Gunman," which focused on Deadshot, a sniper, who is trying to kill bidders at an auction being put on by an industry company. One of the bidders is Oliver's father. The promotional poster was later altered and included the tattoo.
Photo by Daniel Zuchnik/Getty Images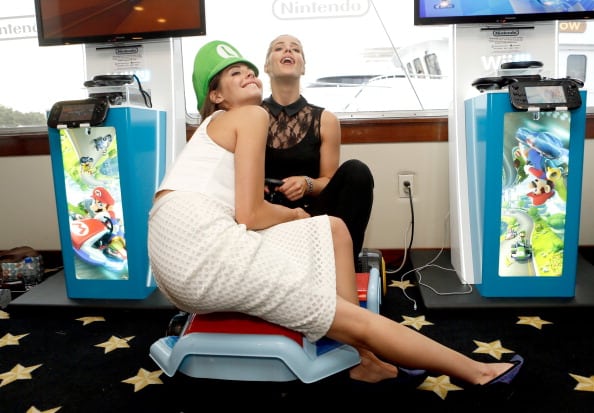 7. The Green Arrow comic books include a character by the name of Speedy, who was his sidekick.  Speedy was a drug user, which caused some controversy with readers. On the Arrow television series, Oliver has given his sister the nickname Speedy. She has been an occasional drug user. Thea Queen would eventually meet a man by the name of Roy Harper. Roy Harper is the real name of the Speedy sidekick in the comic book. The second Speedy in the comic was a female named Mia Deardon. Deardon is the middle name of both Thea and her mother Moira.
Photo by Mike Windle/Getty Images for TV Guide Magazine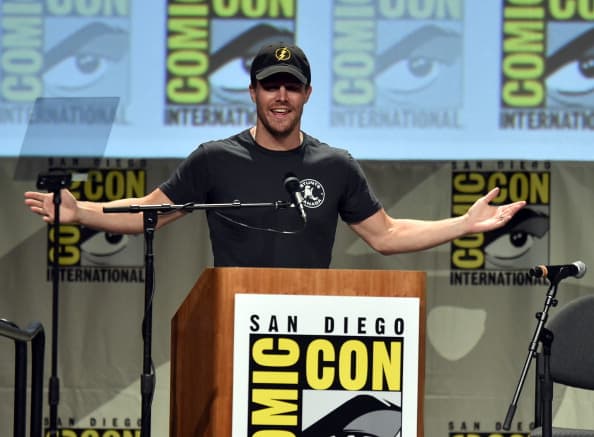 8. The name Green Arrow is never mentioned throughout the entire first season of Arrow. When people are referring to Oliver Queen's alter-ego, the names "the vigilante" and "green hooded guy" are used. The name Green Arrow is suggested by Malcolm Merlyn, who is Oliver Queen's nemesis. The suggestion is thrown out at a dinner party, where guests are trying to think of the best name to call him. It would not be until halfway through the second season that The Arrow starts being used when referring to the hooded vigilante.
Photo by Kevin Winter/Getty Images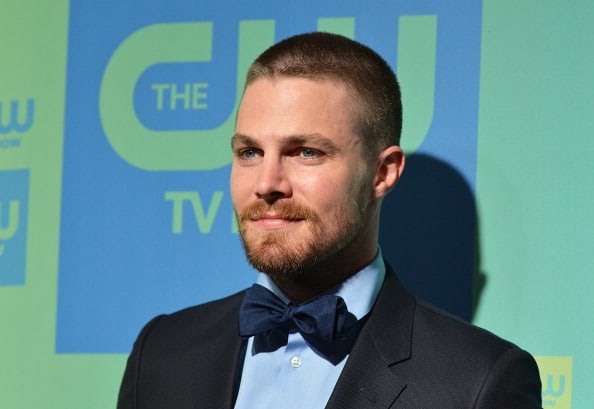 9. In the pilot episode of Arrow, Stephen Amell hoists himself up a bar in a salmon ladder workout. Amell performed the stunt himself without an aid of any wires. It is a part of Amell's own workout routine. When the creator's of the show found out he was able to perform this feat, they wanted to add it to the show. Amell will workout intensely 3 or 4 days a week. The other days, Amell will do an active recovery workout, which is a brief workout where the heart rate is elevated for a short period. He also eats plenty of fat and protein, but reduces his carb intake.
Photo by Slaven Vlasic/Getty Images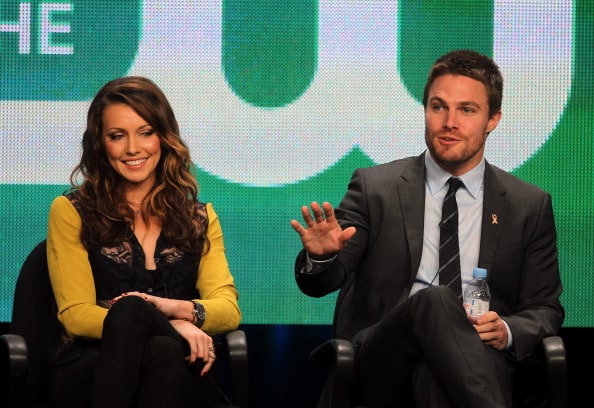 10. Katie Cassidy stars as Laurel Lance on Arrow. Cassidy has died several times in television shows and movies. She played Tiffany is the 2006 movie When a Stranger Calls. Her dead body is discovered towards the end of the movie. Cassidy's character in Taken, was found dead after being abducted while on vacation. Cassidy played the bride to be in the murder mystery television show Harper's Island and was murdered by her soon to be husband. Cassidy's character also died in A Nightmare on Elm Street. However, her character was the lone survivor in Black Christmas.
Photo by Frederick M. Brown/Getty Images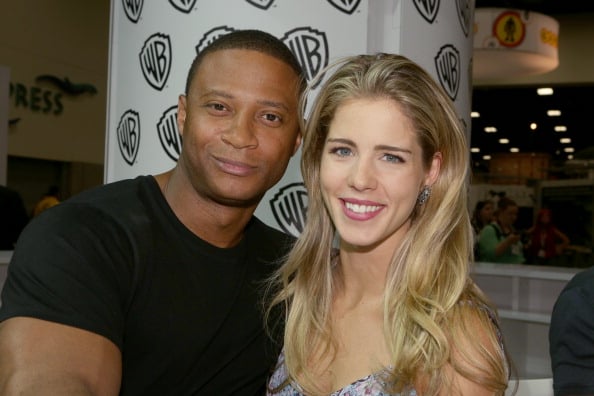 11. David Ramsey, who plays John Diggle on Arrow, is an accomplished martial artist. He currently holds a black belt in Jeet Kune Do, which was founded by Bruce Lee in 1967. The eclectic and hybrid martial arts system uses simple, direct, and straightforward movements. People who practice it believe in minimal movements give maximum effects. Ramsey has also studied boxing and Tae Kwan Do. Ramsey even had the privilege of practicing Kickboxing with martial arts choreographer and kickboxer Benny "The Jet" Urquidez, who has 49 kickboxing wins out of 53 contests.
Photo by Chris Frawley/WBTV via Getty Images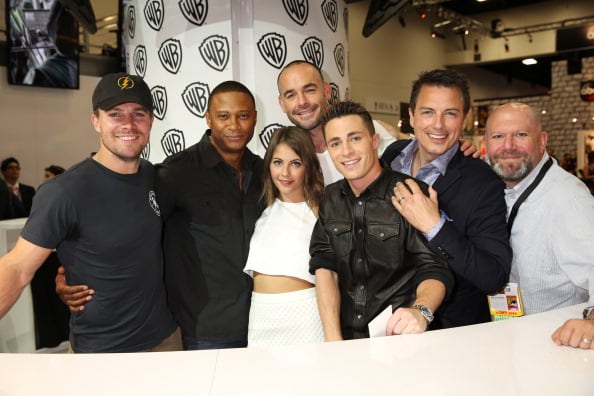 12. Willa Holland, who currently portrays Oliver's sister Thea on Arrow, was the second actress to play Kaitlin Cooper on the teen soap The OC. The first actress that took on the role was Divergent actress Shailene Woodley.  Woodley would star in a handful of episodes in season one and was written out to attend boarding school. Holland took over the role in season three. She was promoted to a regular cast member for the fourth season after Mischa Barton left the show. Holland also played Agnes on five episodes of Gossip Girl from 2008-2012.
Photo by Michael Yarish/Warner Bros. Entertainment Inc. via Getty Images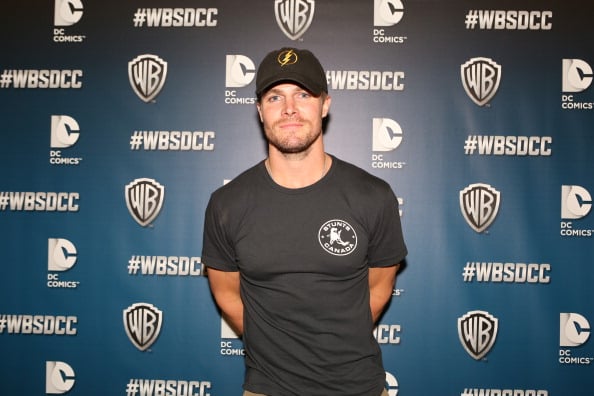 13. Arrow was named the Favorite News Series at the TV Guide Awards in 2013. Other awards the series has taken home include a 2013 Leo Award in the category of Best Visual Effects in a Dramatic Series and a 2013 Canadian Society of Cinematographers Award for Best Cinematography in a TV Drama. Composer Blake Neely won a BMI Film & TV Award in the category of Music. The drama was also nominated for a People's Choice Award in 2013 and Stephen Amell received a nomination in the category of Super Superhero at the 2014 Young Artist Awards.
Photo by Chris Frawley/Warner Bros. Entertainment Inc. via Getty Images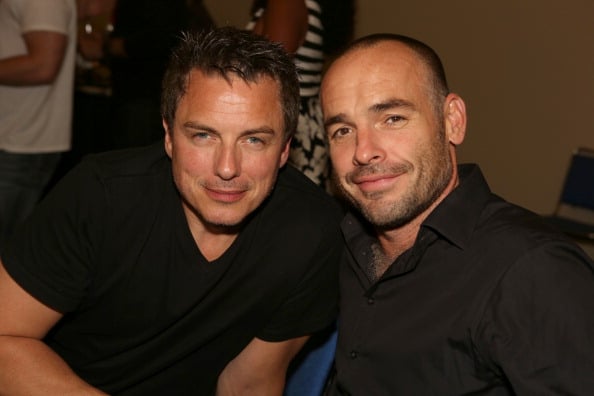 14. Paul Blackthorne, who plays Quentin Lance on Arrow, has an extensive television acting background prior to joining the drama. He has appeared on Lipstick Jungle, 24, The River, and Big Shots just to name a few. Blackthrone has recently started working behind the camera, as well. He is the writer, director, producer, and still photographer for the documentary This American Journey,which came out in 2013. In the movie, Blackthorne travels around the United States and interviews people regarding everyday issues Americans face.
Chris Frawley/Warner Bros. Entertainment Inc. via Getty Images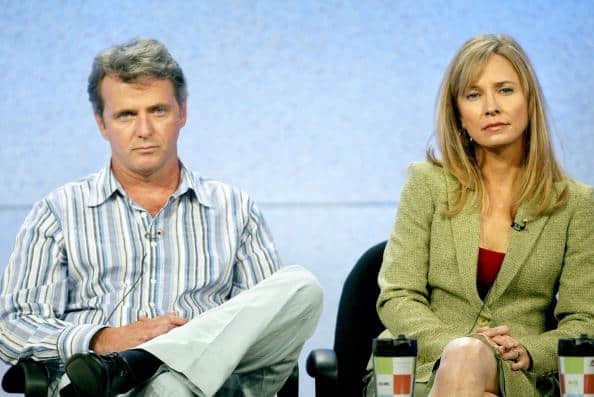 15. Susanna Thompson stars on Arrow as Oliver Queen's mother Moira. Prior to starring on the drama, she played The Borg Queen on Star Trek: Voyager. Alice Krige played the part in the movie, but refused to play the character on the television series. Thompson was unable to film the final episode The Borg Queen appeared in due to a filming commitment with Once and Again, so Krige reprised the role. It would take Thompson over five hours to get her hair and makeup done on the show and she would film for 18 hours a day.
Photo by Frederick M. Brown/Getty Images