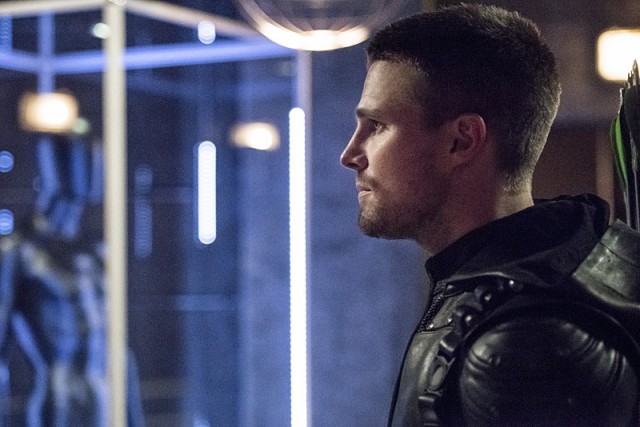 After struggling in its third season, The CW's Arrow kicked off its fourth season last night with a big bang, as the show returned with the type of great quality that fans originally fell in love with when the series first premiered back in 2012.
Oliver Queen was a character that I had a difficult time liking throughout Arrow Season 3, which isn't how any fan wants to feels about a show's main character. However, "Green Arrow" marked a new beginning for the character, and he feels like someone that I can start enjoying again.
As much as I want to see the bromance come back, it's good to see Oliver having to earn back Diggle's respect because of very legitimate reasons. Seeing what Team Star City had become with Oliver and Felicity gone was also really neat, especially with Black Canary and Speedy now being full-fledged heroes. I'm still not 100% liking Diggle's helmet, but at least he has a disguise now, which is better than nothing.
The Season 4 premiere's flashbacks had me more interested than I ever was in last year's Hong Kong arc. The comic book fanatic in me couldn't help but get excited by seeing that Jordan jacket. So there you have it: Hal Jordan exists in the DC TV Universe, but sadly we will not see his face, which is a bit of a letdown. Still, though, miracles do happen every once in a while, so who knows? Maybe Warner Bros. Pictures will soften up a little later this season and at least give us a face. I'm not really understanding Amanda Waller's fascination with Oliver and wanting him to do missions, but I'm intrigued with Oliver being back at the Lian Yu to face a new threat that I'm almost willing to bet is mystical.
Speaking of mystical things, let's talk the new big bad that is Damien Darhk, played by the brilliant Neal McDonough. Arrow got me hooked from the get-go as the sshow wasted no time in establishing Damien right away as the new threat to the team and Star City a a whole. I wasn't over the moon with the whole "The Ghosts" naming, but that's just a minor nitpick. Since Arrow has been hinting at H.I.V.E. for a few seasons now, it's great to finally have that organization as part of the new enemy this year, although I'm very suspicious at Diggle for not telling Oliver about the connection he has because of his brother. I can't blame him too much, though, as Oliver is taking his sweet time with telling the team what "things" he has seen when it comes to the mystical.
I feel there is one of those instances every season for Oliver where he will reveal that he has past experiences with a new threat, but for some reason will keep it to himself for several episodes. Haven't we learned anything from Season 2 with him knowing about the Mirakuru mess? I guess not, but hopefully, the arrival of Mr. John Constantine in a few weeks will shed some light on the mystery that is Damien Darhk. Also, there's another big twist with the new big baddie, as one of our own has joined him: Quentin McGrumpy Lance. I get that he probably joined Damien because he thought he wanted to improve Star City but was lied to.
With all that said, let's discuss the major cliffhanger, taking place six months from now. Someone major is going to die and while we don't see whose name is on that tombstone, it's definitely someone that is close to both Oliver and Barry, who makes a quick (no pun intended) cameo at the end. There are so many possibilities on who it could be and the scary thing is that this death will stick. No Lazarus Pit, time traveling, or things like that will be used here. Let us know in the comments who you think it will that bites the dust.
Overall, aside from a few pacing problems at the start of the premiere, Arrow is back and it's the show that I fell in love with to begin with. I did find Oliver's public announcement to Star City as the Green Arrow a little bit wonk. Because of the way the camera was aimed at him from the new lair, you could see so easily that it was Oliver Queen. However, with shows like Arrow, you got to suspend your disbelief a little bit, and besides, "I am the Green Arrow" is something I have been waiting to hear for four years, so how much can I really complain? Arrow, I have missed you.
Arrow airs Wednesdays at 8/7c on The CW.
[Photo via The CW]
Tell us what's wrong with this post? How could we improve it? :)
Let us improve this post!