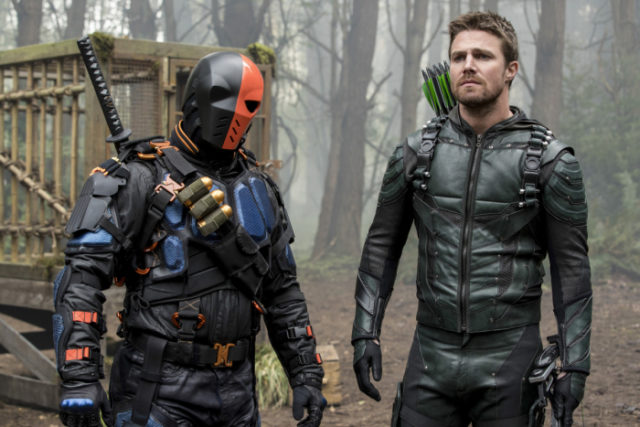 Despite the ups and downs that Arrow has had over the years, it has always been and still remains my favorite of The CW's DCTV shows. Even when the villains have been lackluster or stories have been convoluted, Arrow's characters have always kept me watching, always kept me anticipating each and every new episode with great excitement. Oliver, Felicity, Diggle, Thea, and the rest of the show's mainstays made me want to watch every single week, even as I doubted that the show could ever return to the incredible heights of its universally beloved second season.
Thank God for these characters and thank God I kept watching because I would have otherwise missed out on this spectacular season of television. Arrow Season 5 culminates tonight with an epic, intense, and emotional finale that not only serves as a powerful final chapter to this year's stories but also as a perfect way of bringing the show full circle, as it sets all of the action, both in the past and present, on Lian Yu, showing us Oliver's full rescue from the island and his defeat of Adrian Chase. It's an hour that signifies just how much Oliver Queen has grown as a person from the time he left Lian Yu five years ago to his return in tonight's finale, as he transformed from a killer into a hero and a monster into a man.
About midway through "Lian Yu," Oliver and Slade take a moment to discuss his father and how Oliver still hasn't forgiven himself for Robert's death. During that scene, Slade gives Oliver some sound advice, telling him that he'll never truly move on from his past until he forgives himself for his father's sacrifice and all of the sins that he committed in Robert's name; he explains that it won't be easy, that it's actually the most difficult thing in the world to do, but that it is necessary in order to live his life as the person he wants to be. Slade also, in a somewhat meta moment, says that Oliver's struggle to forgive himself, to truly be happy with the person he is, has always been his problem, and he's right: in many ways, Arrow has played this game of "Who is the real Oliver Queen?" before, particularly in Season 3.
However, what Season 5 has done that no other season of the series has before is deconstructed the character of Oliver; in "Kapiushon," Chase's torturous methods stripped Oliver down to his most bare, vulnerable self so that the walls he had constructed could no longer keep hidden his darkness from those he loves. But knocking down those emotional barriers was necessary in order for Oliver to truly discover who he is; in each episode since "Kapiushon," we've seen him, little by little, trusting in his friends, family, and team, using them as a strength instead of believing they are his weakness. And that's because after he left that bunker that Chase forced him into, Oliver began to realize that his weakness, what makes him vulnerable, is not the people that he loves but the monster inside of himself that prevents him from trusting, connecting, and loving the most important people in his life to his fullest potential. Once Oliver started to recognize this as the truth and began rectifying it, first with Diggle in "Disbanded" and then, even more importantly, with Felicity in "Underneath," he was fighting back against Chase in a way that he never could have before. To be honest, Chase's torture of Oliver set in motion his eventual defeat, and by "defeat," I don't mean his death, which comes at Chase's own hands in the finale's final moments as he kills himself in order to set off the dead man's switch and set off the explosives on the island, one final attempt to break Oliver. What I mean by "defeat" is Oliver's refusal to murder Chase, his denial of the monster that Chase has tried to awaken, and his commitment to being the best man that he can be, a true hero, the Green Arrow.
That's why this journey of self-discovery for Oliver in Season 5 has felt so fresh and been so satisfying; this whole season has been, in a way, one big final step, an examination and acceptance of the past in order to create a better future. There are levels of emotion and depth that have been missing in previous stories about Oliver's identity, and they elevate this somewhat familiar material to the type of spectacular superhero storytelling we've seen throughout this fifth season. The Oliver who kills Damien Darhk to get vengeance for Laurel in the Season 4 finale is entirely different than the Oliver who won't fire an arrow into Chase's heart in "Lian Yu," and it's due to the excellent planning and writing of the Arrow creative team and the fantastic acting of Stephen Amell that there is fulfillment to this year's main story in the finale.
Simply look at how the two scenes in which Oliver spares Chase's life are staged for reasons why this type of storytelling is so effective and satisfying. In the first scene, Oliver refuses to break Chase's neck, telling him that the killer he wants him to be is the person he was before, not who he is now. Oliver says this to Chase with all of Team Arrow looking on at him. Meanwhile, in the incredibly intense second scene, which takes place on Chase's boat, Oliver tricks his nemesis by firing an arrow into his foot to save William's life; again, someone Oliver loves, someone whom he referred to as the best part of himself in last week's episode, is with Oliver when he makes this choice. None of this is coincidence: Chase incorrectly thought that Oliver's loved ones make him weaker, but their presence in those extremely difficult situations ensure that Oliver is the best version of himself and that he spares life instead of taking it.
Again, the Oliver Queen we see in "Lian Yu" has greatly evolved from the person he was in "Schism," the person who believed that embracing his pain and anger were the only way that he could truly the save the city. The Oliver we see at the end of Season 5 is also drastically different than the person we see calling his mother on the rescue boat near the end of tonight's finale; in that moment, Oliver finds hope and love in the sound of Moira's voice, but he knows and we know that he's more monster than man when he initially returns home, more of a killer than a hero.
But the Oliver that's just been rescued doesn't know that he's about to meet John Diggle and Felicity Smoak. He doesn't know that he's going to inspire a team of heroes to fight alongside him. He doesn't know that he's going to become mayor of the city that he vows to protect from evil. He doesn't know that his strength comes from the people that he loves, and even though Chase believes that he's taking Oliver's strength away from him by activating the dead man's switch, we know better.
Even if Diggle, Felicity, and the rest of the team don't survive the explosions on the island (which they obviously do somehow, either by Slade bringing them down to the ARGUS bunker or by Malcolm or someone else rescuing them on the ARGUS boat), they still live inside of Oliver. Their words of encouragement, their commitment to saving Star City, and their faith in him will never disappear, no matter what. Oliver knows who he is now because of the love he has experienced when he's with them, and no matter where they are, dead or alive, there's nothing in the world that can take that type of strength away from Oliver. That type of strength is why he's a hero. It's what makes him the Green Arrow.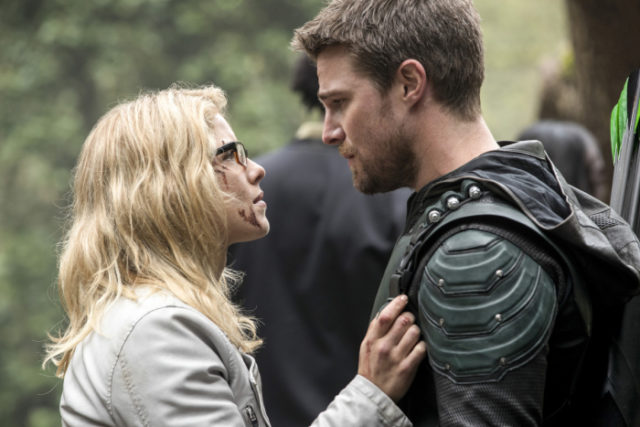 Other thoughts:
Having Manu Bennett's Slade Wilson back for this finale was absolutely perfect and also necessary. In order to have Oliver finally forgive himself for his sins and move on from his past, you need him to confront one of the biggest demons from that past, which is Slade. His and Oliver's conversations are some of the best moments from this marvelous episode, as there are callbacks to their missions together on the island and to the love they both had for Shado. I also really love how the Arrow writers explain Slade's change of heart, citing that the effects of the Mirakuru have worn off. It's simple, easy, and effective, and it allows Slade to join in on the action and do what he does best: be a bada**.
Speaking of being a bada**, can we talk about Flashback Oliver and his total takedown of Kovar and all of his men for a moment? While those actions scenes can't top the ones that happen in the present (and boy did I love how they intercut between the past and present fight scenes during the finale, something we haven't seen much of since the Season 2 finale), they are still all kinds of awesome, especially Oliver shooting down a helicopter.
The best action scene, though, is the nearly minute-long tracking shot of our heroes fighting against Chase and his men. What can I say? I'm a sucker for a good one-shot.
Nyssa's fight with Talia in this episode, and honestly just her presence in the finale overall, makes me wish yet again that Katrina Law could be a series regular on Arrow. With the cancellation of her CBS show, Training Day, I'm hoping that Law will at least be available for more guest appearances in Season 6.
While nothing can top the face-offs between Oliver and Chase and Nyssa and Talia, the battle between Black Canary and Black Siren still packs quite a punch during the finale, especially when it comes to Quentin, who gets not one but two great moments. The first is when he finally refers to Dinah as "Black Canary," and the second one is when he knocks out Black Siren to save Dinah, telling her that he had to do that "for so many reasons." Here's hoping that we get more of Quentin and Dinah, along with more Quentin and Wild Dog, in Season 6.
Malcolm appears to sacrifice himself for Thea and takes out Digger Harkness and quite a few other of Chase's men by switching places with his daughter, who accidentally steps on a landmine. However, we don't see Malcolm's death happen onscreen, and until there's a body, I don't fully believe he's gone. If this is the end for Malcolm's character, though, it's a fitting one, as he shows his love for Thea in the only way he knows how (which Felicity actually says to her in the wonderful conversation the two of them have after the landmine explodes). And even though Malcolm has become somewhat grating as a character over the years, that's never been because of John Barrowman's performance. Barrowman has been consistently excellent throughout Arrow's five seasons, and I will most certainly miss him if this is his actual final appearance on the show.
I really enjoyed the small but significant exchange that Oliver and Felicity have before he, Slade, and Nyssa head out to confront Chase. The "Just in case" line strikes the perfect balance between sweet and somber, and it just feels like something Felicity would say to Oliver in that moment. Also, while I understand why many Arrow viewers aren't fans of Samantha (since she's partially responsible for the contrived Oliver/Felicity drama that broke the pair up in Season 4), I do love the conversation that she and Felicity have in the finale about William and Oliver. You also have to appreciate the fact that she delivers this piece of romantic advice to Felicity: "I saw that kiss you gave him. Doesn't seem that complicated to me."
Let's take a moment to applaud the brilliance of both Stephen Amell and Josh Segarra, who brought out the very best acting from each other this season on Arrow. Any scene between Oliver and Adrian Chase this season was absolutely electric, and it had to do with these two performers sharing the screen together. I'll miss Segarra's presence on the show in Season 6, but his performance ensures that Prometheus will go down as one of the all-time best Arrow villains.
Overall, I still can't decide whether I enjoyed this season or Season 2 more, but I can say, without a doubt, that the second and fifth seasons of Arrow are the best seasons of the show. Maybe Season 6 can somehow top them? We'll have to wait and see, but for right now, I'm so happy we've gotten these past 23 episodes (even the gun control one).
"The plane, boss, the plane. Reference too dated?"
"Just sing, Canary." "Actually, it's Black Canary."
"So instead of marrying the blonde, you married Ra's al Ghul's daughter." "Nyssa talks too much."
"I see you haven't lost your feistiness, Miss Smoak."
And that's a wrap for Arrow Season 5! I've had an amazing time writing these reviews for the past year, and I've been so touched by all of the comments and tweets you all have shared with me. I can't thank you enough for your support. I truly love this show and its fans, and I feel very grateful to have the opportunity to engage with you all every week. Here's hoping I'll see you all back here in the fall for Season 6!
What did everyone else think about tonight's Arrow finale and Season 5 as a whole? Where would you rank it among the show's best seasons? Comment below and let me know.
[Photo credit: Jack Rowand/The CW]
Arrow Season 5 Episode 23 Review: "Lian Yu"
Summary
Oliver fights to save his loved ones and proves exactly what kind of man he is to Chase in the marvelous Arrow Season 5 finale.