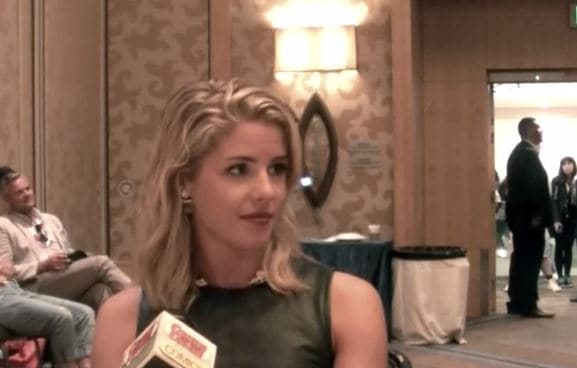 One of the biggest shows on The CW and one of the biggest ones in the comic book television genre right now is the Green Arrow series Arrow. Throughout its run since 2012, the show has had a long line of great characters and one of them is Felicity Smoak, portrayed by the talented Emily Bett Rickards. Felicity, who is the high-tech member of Team Arrow, has gone through big evolutions and formed a big bond with the Arrow (soon to be known as the Green Arrow), Oliver Queen (Stephen Amell). At the end of the third season, Oliver and Felicity got together and decided to leave Starling City, driving off into the sunset.
Last weekend, TVOvermind was fortunate to participate in the Arrow Press Room with other news outlets at roundtables, where stars and producers from the show discussed what is coming up in Season 4. Rickards was one of the people we got to talk to, and you can watch the interview with Rickards in the video below. Here are some of the highlights:
When asked about what it is that Felicity is looking for now in life after getting to be with the man she loves: "I think that when she sort of left this world behind her that she wasn't necessarily aware of how much she was going to be miss it and that is going to be the next big challenge for her. She is also testing what this relationship [with Oliver] is going to be as well, to a certain extent, because Oliver has promised now, a 1000 times, 'We can do this now, I'm OK, I have let go of some things and maybe now is our time, it's going to work.' And maybe she is thinking. 'I'm missing something. What am I missing?'"
On the subject of divided Oliver/Felicity fans and whether two of them work better as friends or lovers: "I don't know if it's necessarily working better in a relationship. I do think that if they give it a fair shot and be honest to each other and trust each other, I think that's a beautiful union. But Oliver has had a hard time trusting [in things], and I think it has made Felicity having a harder time trusting because you are with someone that you care for and that you love, and sometimes you can be in love with somebody and not be with them. That is always a hard pill to swallow.
I think that some of them [the Oliver/Felicity fans] should be mad, some of them should be happy. I'm not sure who I would agree with, per se. I don't think she necessarily gave enough respect to Ray: their relationship wasn't small for Felicity. I think she learned a lot about herself of how she could be in a relationship with somebody that really cares for her. I think that it was a very important learning curve for her and maybe that is what has led her to this now, and now she is able to do this because it takes two. But I was a little upset for not giving him an explanation to a certain extent. I know he knew, but it's harder than that. Being in relationships is complicated and staying friends is even more difficult and it gets even worse when they are turned to dust, so we'll see."
Arrow Season 4 begins on Wednesday, Oct. 7, at 8 p.m. on The CW. Stay tuned for more roundtable videos of the cast and producers in the next few days right here at TVOvermind.
[Photo via YouTube]