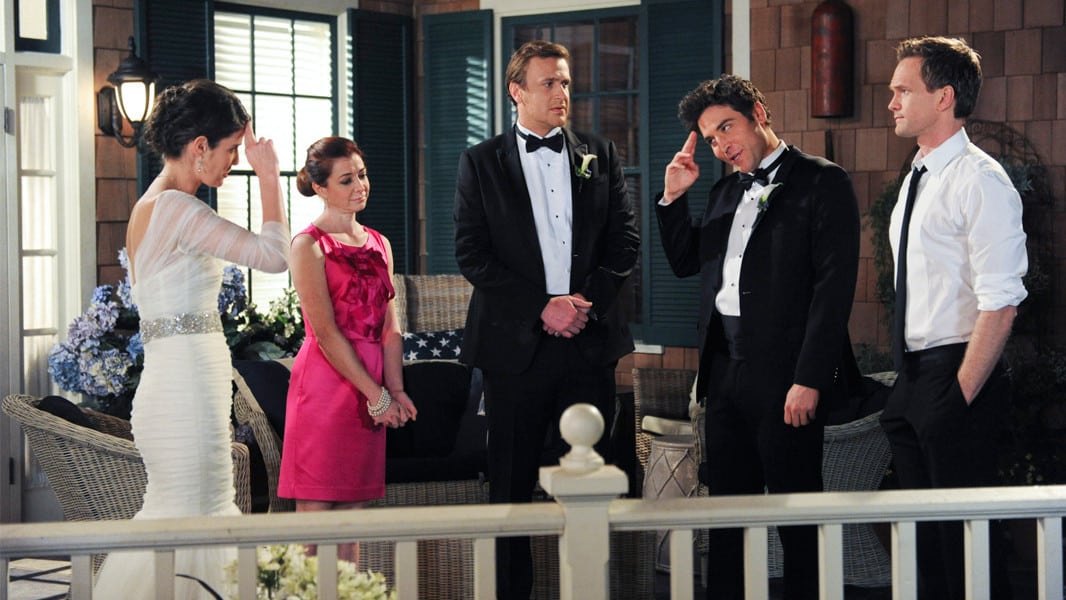 2014 was a great year for television. Popular series such as NCIS, The Big Bang Theory, and Scandal continued to dominate in the ratings and were all ranked in the top twenty of the most watched shows of the fall season. Even new TV shows like Madame Secretary, NCIS: New Orleans, and How to Get Away with Murder are highly watched programs. 2014 was also the year we had to say good-bye to some of our favorite television programs. A total of 136 TV shows bit the dust last year, which is a whole lot of programming. Most of them like Friends with Better Lives and Bad Teacher could not survive one season before venturing out of our lives to never be watched again. Here is a list of 12 TV shows that ended sometime in 2014, all of them very different. One is a show about vampires, one about taking care of a young child, and one about aliens living on Earth.
How I Met Your Mother, 2005-2014
Who knew it would take nine years to tell a story about how a man met his future wife? How I Met Your Mother began airing back in 2005 and was in danger of cancellation several times for its first few seasons. A guest appearance by Britney Spears during season 3 helped add viewership to this very funny comedy. At the end of season 8, viewers finally got a glimpse of "The Mother." The final season took place during one crazy weekend and the bittersweet finale in March left tears in the eyes of many devoted fans.
True Blood, 2008-2014
I am definitely not a person that loved the recent vampire craze on television and film. However, I was a fan of Buffy the Vampire Slayer and Angel. I did not think I was going to like True Blood, but am glad I gave the HBO drama a chance. The series lasted for seven glorious seasons and jump started the careers of Alexander Skarsgard and Joe Manganiello. It was no surprise that the final episode would end with both a happy moment (wedding) and a sad moment (death) since that is how every other season finale concluded.
Californication, 2007-2014
Californication has come a long way since it was sued during season one by The Red Hot Chili Peppers for claiming Showtime named the series after the band's 1999 album and hit single of the same name. The band did not register it as a trademark, but Showtime did earlier that year. The series would go on to win numerous accolades including a Best Actor Golden Globe to David Duchovny and two Emmy's for Outstanding Cinematography.
Dallas, 2012-2014
When the Dallas reboot hit the airwaves on TNT in 2012, it quickly became one of the hottest new TV shows for the network. It did not hurt that the series featured Dallas stars Larry Hagman, Patrick Duffy, and Linda Gray reprising the characters we loved so much in the 80's. The series also featured Jesse Metcalfe, Josh Henderson, and Jordana Brewster. The series was cancelled shortly after the season three cliffhanger aired, which showed Christopher getting blown up in his car.
Sons of Anarchy, 2008-2014
Sons of Anarchy just recently ended its amazing seven season run in December 2014. The series was very popular for FX and the drama's season 4 and season 5 premiere episodes were the highest rated episodes ever for the network. The final season of the series featured guest appearances by Marilyn Manson, Courtney Love, Malcolm-Jamal Warner, and Lea Michele.
Franklin & Bash, 2010-2014
This was not the first time that Mark-Paul Gosselaar would play lawyer on television. Just one year prior, the Saved by the actor starred in the short-lived legal drama Raising the Bar before making us laugh on Franklin & Bash with the very awesome Breckin Meyer. The series lasted for four seasons on TNT and showed us that lawyers like to have fun and party as much as the rest of us.
Anger Management, 2012-2014
2011 was the year Charlie Sheen had his emotional breakdown and was fired from the popular comedy Two and a Half Men. He was able to bounce back in 2012 with another sitcom called Anger Management. The series was granted 90 additional episodes, if the first 10 were successful. The series premiere is ranked as the highest rated sitcom premiere in the history of cable television.
The Neighbors, 2012-2014
I do not think many people watched The Neighbors while it was on for two seasons on ABC. Unfortunately, low ratings is why this very funny series ended so early. A move to Friday nights was not much of a help either. The series even had a cross-over episode with the very popular Shark Tank, but the ploy did not bring in any additional viewers. The series finale did give us a Full House reunion with Candace Cameron Bure and Scott Weinger, who was a producer and write on the series.
White Collar, 2009-2014
Matt Bomer became a household name after starring for six seasons on the crime drama White Collar, which also featured Tim DeKay, Willie Garson, and Tiffani Amber Thiessen. The show proved to be a ratings winner for USA Network and helped pave the way for other dramas including Graceland and Covert Affairs. Bomer's next project is the Magic Mike sequel due out later this year.
Psych, 2006-2014
Psych was USA Network's most popular new show when it premiered in 2006. The series, which stars James Roday and Dule Hill, had the highest rated premiere episode on basic cable television that same year. Over the course of the series' run, viewers were able to see an animated segment of the TV show called The Little Adventures of Little Shawn and Gus and a musical episode that aired in December 2013.
Raising Hope, 2010-2014
The premise for this cute comedy was pretty funny. A guy accidentally impregnates a serial killer and is able to take custody of his baby daughter. The series never proved to be a ratings winner, averaging only 6.45 million viewers during its first season. By the time season four came around, viewership dropped immensely and the last episode aired in April.
Suburgatory, 2011-2014
I had the pleasure of interviewing Suburgatory's Cheryl Hines last year, so I was deeply saddened when it was announced in May that ABC was not renewing this sharply written sitcom that also starred Jane Levy, Jeremy Sisto, Ana Gasteyer, and Chris Parnell. The first season averaged 7.25 million viewers, but by the end of season three only 5.51 million viewers were tuning in every week. The series was being shopped around to different networks, but no one was biting.
Which one of these 12 TV shows will you miss the most? Did we miss any shows that you loved in 2014? Let us know in the comments section below.
[Photo via CBS]
Tell us what's wrong with this post? How could we improve it? :)
Let us improve this post!