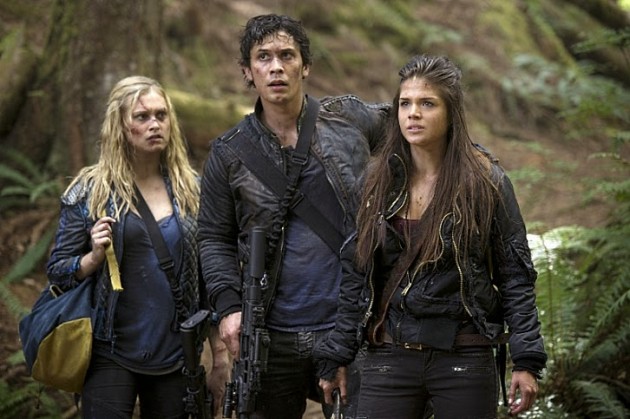 Gosh, The 100 is really good this season. Don't you think? You probably think I'm beating a dead horse by saying this week in and week out, but I just think the show may not be getting the recognition it deserves, so I'm doing everything I can.
This week on The 100, Bellamy, Octavia, and Clarke all return to the adults…only to immediately turn around and go after Finn and Murphy. Finn is seeing red, so Murphy is the voice of reason (yes, you read that right). Chancellor Kane furthers his pursuit of peace with the grounders and Jasper and Monty (and Lincoln) run into some issues at Mt. Weather.
For starters, I really like the fact that they don't feel like they have to include every character in every episode. Of course, it helps that the groups are starting to re-form and grow larger, and more of our favorite characters are together. It makes sense to me that Bellamy, Octavia and Clarke went after the other guys. It fits the characters. I'm a little surprised that Bellamy so readily agreed to let Octavia come, but I think that show his character's growth. Arguably, Bellamy has showed the most growth since the start of the show. Bob Morley is doing an excellent job so far. After that really great Octavia story at the beginning of the season, I think she needs more to do. Of course, I'm sure she'll get it, but I'd like to see more of her. I really like Clarke too. Eliza Taylor is an excellent actress, and her arc this season has been excellent. I finally got a hint of that "Bellarke" subtext the internet has been going on about, also.
Of all of the character mix ups and interesting pairs, I think Murphy and Finn might be my favorite. Their characters work together really well, and they have (arguably) the most exciting story. They definitely have the best action sequences in this episode. I was glad to see them meet the grounder played by Ty Olsson, too, which was equal parts exciting for their story and exciting that Ty Olsson will continue to appear on the show. I hope Finn cools it with the "rabid dog" act soon, because Murphy as the voice of reason just doesn't feel right. It's compelling as all get out, but it's just strange. Thomas McDonnell and Richard Collins are doing a heck of a job. Seriously. I'm really interested to see how both characters progress, and (while I love the other characters) these are the two most interesting characters on the show right now.
Kane made a discovery that shocked the world this week. Turns out the radiation DID create a desert in the Eastern United States. Who knew? I was as surprised as you were, folks, that Kane and Jaha ended up prisoners of the same troop of grounders. For a minute, I thought the two were about to do parallel solo arcs. I think this idea is better. It's going to make for a very interesting story. They're obviously going to try to escape together, and I'm sure there will be some kind of leadership drama. Henry Ian Cusick has had a very strong season thus far, as has Isaiah Washington, and I can't wait to see where they take this.
Least favorite story of the night? Jasper and Monty at Mt. Weather. I'm interested to see the side effects and what happens to Jasper next, but I'm much more interested in Mt. Weather as a whole. What are they going to do with the 47 remaining "sky people"? I'm now 97% sure that Mt. Weather created all of the existing reapers, which is of course in line with my original theory. I mean, we kind of had a Woodbury/Terminus vibe from them all along, right? I did, anyway.
This show just keeps getting better and better. Every actor is giving a strong performance, every character is interesting, and the overall story just keeps getting better and better. The show is extremely good at handling a large ensemble, and I'm interested to see where they go from here. I look forward to this show every single week. What about you? Are you enjoying The 100 as much as I am? Let us know!
Photo via The CW