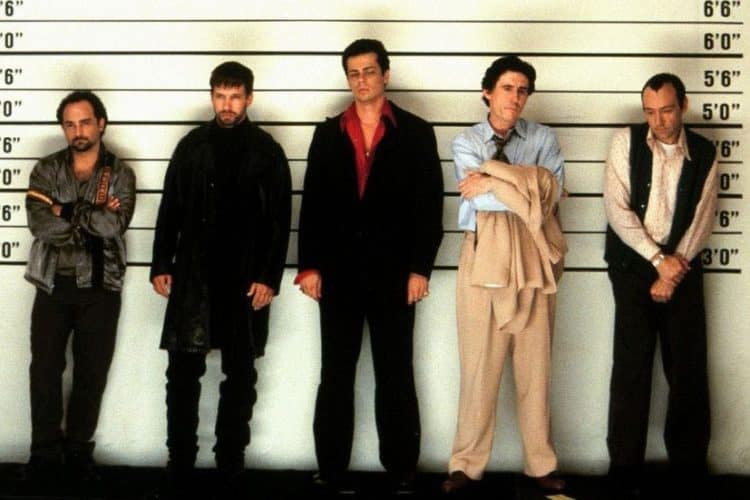 Acting isn't easy, and just in case you thought the actors did a scene in one take, you better think again. Before filming begins, the cast of any movie or TV show is handed their character's information where they are meant to internalize it as much as possible. Actors aren't given characters according to their innate nature since actors are intended to morph themselves. Very few films offer behind-the-scenes footage on the digital copy so that the audience gets to see the bloopers. Most times, they wouldn't be that type of person naturally, which contributes to many actors and actresses breaking character. After a good laugh, everyone picks up and continues delivering memorable lines to the director's joy because it means minimal time wasted on each scene. The British have slang for this act of breaking character; 'Corpsing.'
Let's see a few instances:
1. Jason Alexander and Jerry Stiller in Seinfeld
It's no wonder that Jason and Jerry couldn't keep it together in this 1989 comedy sitcom. In a scene where Jerry tells Jason that he wants to start his own computer company, they are left in stitches.
2. Ross in Friends
The famous Friends began in 1994 and is one of the most popular romantic comedy sitcoms, leaving millions worldwide in stitches up to date, 17 years after it stopped production. The team did the scene where Ross was playing the bagpipe in several takes. Honestly, it became tough for everyone to avoid laughing, especially when Phoebe started singing along.
3. The entire cast in The Usual Suspects
In this 1995 mystery drama crime thriller, there is a lineup scene that the director had to do away with and split already shot takes. Kevin Pollak, during an interview, mentioned that, indeed, nobody could keep a straight face.
4. Tommy Lee Jones in Men in Black
This 1997 action comedy fiction film had a scene where Tommy was meant to interrogate a pug. He had to furiously shake a real-life dog that expectedly made him crack up.
5. Steve Carrel in the 40-Year-Old Virgin
This 2005 American romantic comedy rating of 7.1/10 can boast of being an adequately executed PG-rated comedy. The waxing scene was 100% authentic, and the chest on his hair wasn't props. When the hair removal took place, his reactions were honest and a break of character because who keeps a straight face when under such pain?
6. Daniel Day-Lewis in There Will Be Blood
There Will Be Blood is a 2007 epic historical drama film that was in no way funny. Daniel Day-Lewis is well known for staying in character even when the cameras weren't rolling. In this film, he giggled in a sad scene that made everyone laugh because it was pretty unexpected.
7. Aaron Paul and Bryan Cranston in Breaking Bad
Everyone who's watched Breaking Bad knows how much badassery it contains. It is a 2008 drama, a dark comedy crime thriller with Aaron and Bryan laughing unstoppably in a desert scene. At some point, Aaron said, "I can't say it, I can't do it." At the end of it, he had to, but you see how hilarious it was.
8. Natalie Portman in Your Highness
The film Your Highness came out in 2011 and is a fantasy, adventure, and comedy film. In a particular scene, Natalie (who doesn't do comedies often) had a funny one-liner to deliver. Unfortunately, she couldn't stop herself from laughing.
9. Joaquin Phoenix, Amy Adams, and Rami Malek in The Master
The Master is a 2012 psychological drama. While filming the elevator scene, someone did the one thing you aren't supposed to do in an elevator; fart. The entire cast in that scene burst out laughing as if it was part of the script.
10. Jonah Hill in The Wolf of Wall Street
This 2013 dark comedy-drama crime fiction had Jonah cracking up in one of the many hilarious scenes with Jon Bernthal. You would expect that actors would have gotten used to the humor since they had to do so many funny scenes.
We can all agree that acting isn't such a piece of cake. It takes a lot of work to master a character and absorb it into your actual self. In addition, it gets even more problematic when a scene or the lines are funny, and you have to say them without laughing. Let's also keep in mind the numerous people behind the camera. As such, the attention could get the better of you. Appreciation of shot and released films and TV shows is paramount as the process is undoubtedly tiresome. Indeed, actors, actresses, and everyone behind the camera have a blast while doing what they love most, entertaining us.
Tell us what's wrong with this post? How could we improve it? :)
Let us improve this post!