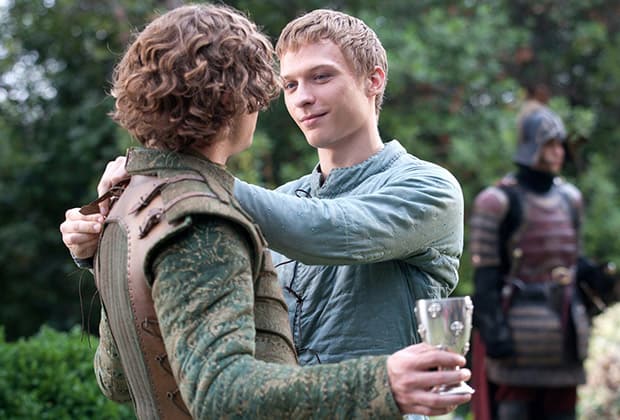 Will Tudor's career has had a certain level of stability that is almost impossible to come by as an actor. He's had a main or recurring role in almost every TV series he's been a part of. He is most well-known for playing Olyvar in Game of Thrones and Odi in Humans. His strong on screen presence and ability to portray complex characters with ease are what has people in from all over the world. His latest role as Theo in the new HBO series Industry has given him the opportunity to play a character who is somewhat different from other roles he's had. Will's ability to be versatile was put to the test, and he passed with flying colors. Keep reading for 10 things you didn't know about Will Tudor.
1. He Considered Going Into The Medical Field
Both of Will's parents are doctors and for many years he just assumed that he would follow in their foot steps and pursue a career in medicine as well. However, his desire to be creative could not be ignored and by the time he was a teenager he discovered his love for acting.
2. He's A Formally Trained Actor
Will's passion and talent are undeniably important to his success, but he decided that he wanted to sharpen his skills as much as possible by getting a high-quality acting education. He attended the Central School of Speech and Drama where he earned a bachelor's degree in acting.
3. He's An Avid Reader
Will's days in school may be over, but that doesn't mean he's stopped learning. He is always looking for new information and books are one of his favorite places to find it. Will loves to read and has read more than a dozen books in 2020 alone. He seems to be especially interested in novels.
4. He Enjoys Exploring Nature
Will spends a lot of time at work, but when he has free time he likes to spend it outside in the fresh air. He is an adventurous person and he loves to be outdoors whenever he can. He has lots of appreciation for the beauty of nature and he likes to explore all of the things it has to offer.
5. He Was A Fan Of Game Of Thrones Before Auditioning
When Will joined the cast of Game of Thrones in season three, he had already been keeping up with the show from home. He told Wonderland Magazine, "I was an enormous fan of that before I got cast. I'd actually, within maybe the space of a few weeks before the audition came through, binge watched the first two series', so that was incredibly exciting and I think that I was aware that might start to get the ball rolling, as it were."
6. He Considers Himself A Stage Actor
Like countless other actors, Will got his start doing theater work. However, since his on screen career has taken off, he hasn't really had much time to return to the stage. Still, he considers himself a stage actor and hopes to eventually get more time to do theater.
7. He Loves To Travel
Will's love for adventure doesn't just stop with exploring his local area, he also likes to get out and see the world. He has done lots of traveling over the years and has gotten the chance to visit places in his home country of England as well as other countries like France, Saint Lucia, Prague, and Canada.
8. He's a Dog Person
As the battle between dog and cat people rages on, team dog has officially earned another member thanks to Will Tudor. Based on his Instagram, he is clearly a dog person. It doesn't look like he has a dog at the moment, but he would probably make a great dog dad some day.
9. He Enjoys Taking Pictures
He has made a living out of being in front of a camera, but in his free time Will enjoys being behind one. During his interview with Wonderland Magazine, Will said "I used to do actor headshots, but then as my acting career progressed I didn't have the time to do them as much. It's something that I really like doing – I really like doing portraiture and I'm trying to get more into landscape photography."
10. He's Writing A Play
Will isn't afraid to explore other areas of his creative side, and he is working on writing a play. We don't have any additional details on what the play is about or if/when it will be released, but if it's anything like Will's acting then you know it's going to be top-notch.
Tell us what's wrong with this post? How could we improve it? :)
Let us improve this post!