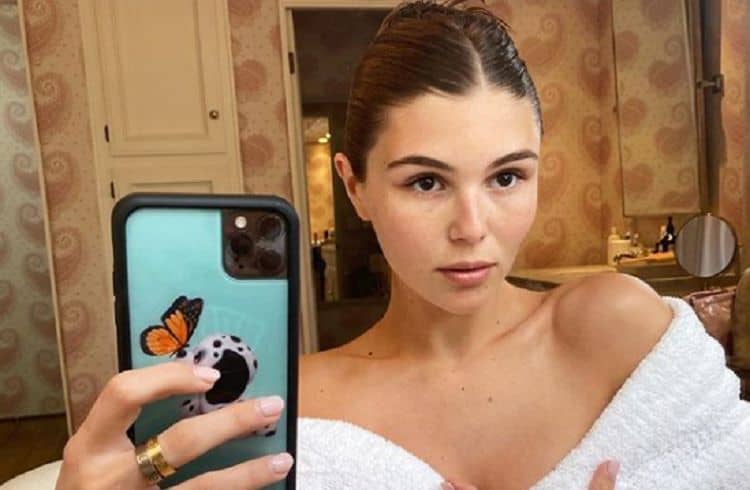 There are times when the children of the stars are kind of made to pay for the sins or even the fame of their parents and it's not quite as fair as it needs to be, but then there are cases when they seem to go along with their parents and it's hard to really say anything positive. Right now Olivia Jade Giannulli is one of those that is reaping the unfortunate benefits that has been produced by the scandal that her mother has engaged in, no matter that her lawyers are at this moment attempting to keep her out of the fire and explain away the half million 'donation' that was used to obtain a place in USC for Olivia and her sister. However you might feel about this young woman and her part in this whole thing you might have to admit at one point or another that she did kind of make the same bed and might have to lie in it.
Here are a few things that you might not have known about Olivia.
10. She's the daughter of popular actress Lori Loughlin.
It's one thing to say that she's the daughter of a famous actress but it's another to see that she has kind of made her own fame and has also made her own mistakes along the line since she's not just the attractive daughter of an actress but also someone that is an adult and has her own opinions. It just seems that she doesn't always think of the consequences of what she says.
9. Her social media following is pretty impressive.
It is and it isn't too surprising to see that her followers are still around since so many of them likely saw the news and have made up their own minds. But it's not surprising since so many people want to believe in someone and are willing to give them the benefit of the doubt. That's not a bad idea really.
8. She's a YouTube beauty vlogger.
This is a profession that seems to have been growing throughout the years and despite not fully understanding it the whole thing has gained a lot of popularity and has managed to attract millions of subscribers. Everyone has their thing after all.
7. Right now she stands to lose the sponsorship deals she's had thanks to her mothers alleged implication in a current scandal.
Whether she knew about this or not, and it's hard to think that she didn't, it seems that Olivia does stand to lose some business from what's happened as sponsors that have been connected to her have been debating just whether or not it's wise to stay affiliated with her in the wake of this scandal.
6. Her current future at USC is not entirely clear.
IF, I'll just say if for now, she was aware of what her mother was doing then she's complicit and there should at that point be nothing and no one that can speak on her behalf to keep her in school when there are so many other willing and ready participants that would likely take her spot at one of the more prized schools in the west.
5. Olivia had the gall to go on record as saying that she didn't care about school, she just wanted the partying experience.
She apologized later but that didn't seem to lessen the sting that she went on social media and had the absolute nerve to tell people that she just wanted to go to USC to party and didn't care at all about her schooling. You can just imagine what came next.
4. She's been getting slammed by a lot of people for her mother's actions when it comes to her getting into college.
People were absolutely brutal when they came on her social media to let her know just what they thought and how she had slipped up in saying that she didn't give a damn about education and would gladly go party away the money that many might have done anything for when it came to getting into and completing their time at USC. Those who love to talk about privilege should check out her comments.
3. The scam actually had to do with Olivia and her sister being members of the rowing team at USC.
This was another sticking point that made a lot of people mad since there was no record of them being on the rowing team at all and there was no desire by either of them to join.
2. This isn't the first time she's decided to post on how little she cares about school.
It would be easy to dismiss her words about a USC education if it was the first time she said such a thing. But sadly, it's not. She's been dissing education for a while it would seem.
1. Amazingly she's kept all her social media sites up.
Her mother took all her sites down, but Olivia seems to think it's a good idea to keep hers up at this time.
So much to say, but I'll be nice.