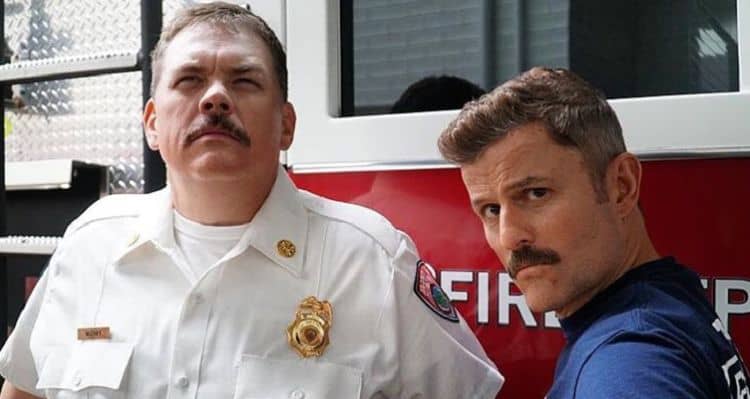 People usually say that you make your best friends in college, but Kevin Heffernan's experience gave him something much more than that. Not only did he meet a great group of friends, but they also became his business partners. Kevin and the rest of the members of the comedy troupe, Broken Lizard, met while students at Colgate University and the rest really is history. The group is responsible for the cult classic, Super Troopers, and they've also worked on several other hilarious projects including the TV series Tacoma FD. Kevin may not have planned on becoming a movie star, but that's exactly what he is. Continue reading for 10 things you didn't know about Kevin Heffernan.
1. He's A Lawyer
Kevin may joke about a lot of things, but if there's one thing he was always serious about, it's his education. He comes from a family that is has a history of working in the legal and political fields. His grandfather was the mayor of New Haven, CT, his father was a probate judge in the city, and his mother is the city's treasurer. With a lineage like that, it was impossible for him to escape following the same path. Kevin attended law school and passed the bar in both CT and New York.
2. His Brother Also Works In Entertainment
Kevin isn't the only person in his family who has chosen a more nontraditional career path. His brother, Patrick R. Heffernan, also works in the entertainment industry. However, instead of acting, he works behind the scenes as a member of the crew. He has been involved with several hit shows and films including the Netflix series, You and the movie, Love & Other Drugs. He was also involved in both Super Troopers movies.
3. His Wife Is A Doctor
Kevin likes to keep his personal life as private as he can, so he doesn't share much information about his family. However, during an interview with Washingtonian, he revealed that he's married to a doctor. He also added that the couple has two children together.
4. He Loves To Interact With His Fans
Even after more than 20 years of being in the industry, Kevin has remained humble and grateful for all of the people who have supported him over the years. He loves getting the chance to let his fans know that he appreciates them. Kevin is very active on Twitter and often uses the platform to interact with his fans.
5. He Went To Prep School
When I mentioned that Kevin was serious about his education, I wasn't joking. Even prior to entering college, education was something that was a major focus for the Heffernan family. Kevin attended high school at Fairfield Prep which also boasts other notable alumni including Bob Skronski and Peter Sarsgaard.
6. His Cousin Suggested The Idea For Tacoma FD
The TruTV series, Tacoma FD has become a big hit since its debut in 2019. Although Broken Lizard technically created the show, the idea actually came from Kevin's cousin, Bill, who is a firefighter in Connecticut. Kevin initially brushed the idea off, but when Broken Lizard was approached to write a comedy about firefighters, he immediately contacted Bill. Kevin says that Bill "was just an integral part of us making this show."
7. He Was In An Episode Of How I Met Your Mother
Kevin is most well-known for the work he's done as part of Broken Lizard, but he's also branched out to do some thing on his own as well. He appeared in an episode of How I Met Your Mother in 2007 as well as an episode of Curb Your Enthusiasm that same year.
8. He's A Director
Kevin truly a Jack of all trades when it comes to TV and film projects. Being in front of the camera is what has gotten him the most recognition, but he's also gotten quite comfortable with being behind it. He made his directorial debut in The Slammin' Salmon and he has gone on to earn two more director credits.
9. He Loves Beer
When the guys of Broken Lizard get together, they love to kick back and enjoy a good beer. While lots of beer drinkers prefer a more classic taste, Kevin says that his personal preference is anything raspberry flavored. However, he warns that drinking too much could result in some frequent trips to the bathroom.
10. He Once Lost An Audience To Kevin Hart
Kevin has gotten lots of cool opportunities throughout his career, one of which was getting the chance to perform at the same show as Kevin Hart. Unfortunately, though, the event turned out to be one of Kevin Heffernan's worst experiences. Kevin Hart performed his routine first, and when he finished, 3,000 people got up and left the arena leaving Kevin Heffernan and Steve Lemme with about a thousand people left in the crowd.
Tell us what's wrong with this post? How could we improve it? :)
Let us improve this post!