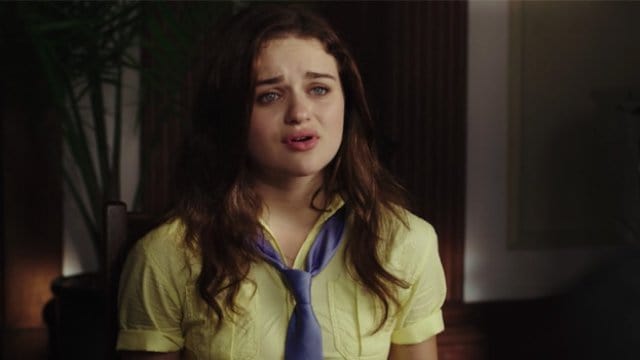 If you recognize Joey King you might have watched Ramona and Beezus or you could have seen her in a few other shows and films that she's been in during her career. She started acting when she was 4 years old after all, so it's entirely possible that you've seen her in one place or another. But one thing about Joey is that she enjoys what she's doing to the degree that she's become something of fan to the stars while at the same time being a star herself. Being a younger actor in show business at this point it's kind of hard to get anyone to really know who she is, but she's made great inroads at this point and is gaining in popularity as the younger crowd is starting to grow up and carry along the celebrities that they remember in their youth. Whether she'll be one that lasts is yet to be seen, but with how well she's done so far that doesn't seem as though it would be an issue.
Here are a few other things about Joey that you might not have known.
10. Joey was 6 when she appeared in her first film.
The younger a person can start these days seems to be preferred in some cases since some of the greatest actors have been in show business for years before they even hit their adulthood. Of course the burnout rate is still kind of high since the life is so demanding and the price of fame is something that a lot of people don't realize until they get there. But so far she seems to be doing okay.
9. She's a big fan of Spiderman.
Joey has seen all the movies and could probably talk your ear off about the webslinger. She's also a fan of Batman, so obviously she likes her superheroes and enjoys those that are a little more dynamic and hardcore when it comes their skill set.
8. Over her career she's been in over 100 commercials.
That seems like a lot of work for a young girl to take on since despite the fact that commercials are only a few seconds to a couple of minutes the work that goes into them lasts for a while since the finished product has to look just right.
7. In the movie Quarantine she did her own stunts.
Throughout the years it seems that more and more actors have been willing to do their own stunts for movies. The only problem is making the stunts appear impressive but at the same time keeping them safe and controlled enough to maintain the security of the actors. After all, stunt work can be kind of dangerous, which is why there are stunt people to begin with.
6. Her father is an arm-wrestling champion.
You might want to say that a guy can be arm-wrestling champion without being ripped and big and buff, but quite honestly being wiry and thin only gets you so far since the bigger your arm is and the stronger your grip, the more power you'll be able to generate. Her father was also a consultant to Sylvester Stallone for Over the Top it sounds like.
5. The advice she would give to those that want to act is to not get discouraged by rejection.
In any facet of show business rejection is going to become a very big reality since it's something you don't get away with. No one is going to appease those that will hire them each and every time, and rejection is something that a person needs to get used to and simply move past in order to find those that will hire them for their work.
4. She like to stay busy apparently.
Joey doesn't mind a normal life but she also likes to keep moving and have something to do in order to occupy her time and thoughts. This can happen when you're busy all the time, any downtime needs to be filled with something.
3. Joey likes to keep a swear jar around when working with adults.
It'd be interesting to know just how many adults she's worked with have conformed to this. Some adult actors have actually admitted to using swear jars in the past since they don't want to sound vulgar, but some seem as though they might disregard it altogether.
2. She enjoys working with famous people.
It sounds funny for a celebrity to claim that they are excited to work with other celebrities and feel in any way intimidated, but then you've got to remember that folks like Joey were young and had the chance to watch their idols and other actors before they became celebrities. So it does seem like it would be an honor to work with those you watched at one time and be on close to equal footing.
1. Joey is left-handed.
It might be interesting to know if she's ever had to try and train herself to use her right hand as the dominant one in a role.
In another five to ten years it might be intriguing to see how far she's gone.