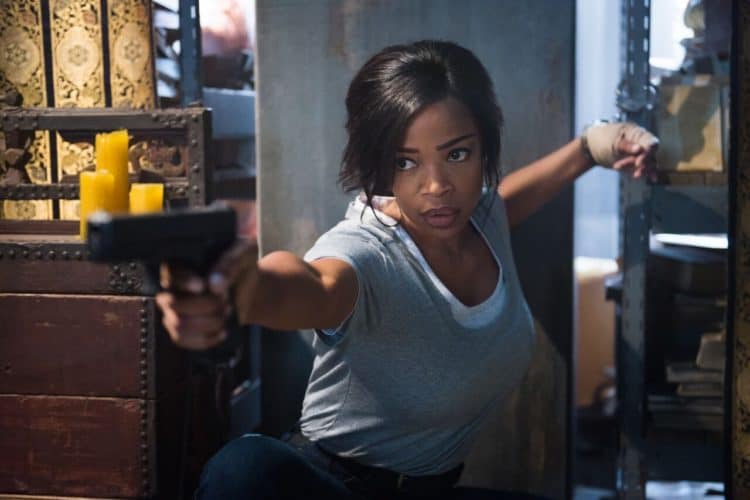 The long-awaited reunion of the cast of the hit show Girlfriends is finally happening, and fans couldn't be more excited. While an actual reboot is still up in the air, Tracee Ellis Ross has announced that her former co-stars Golden Brooks, Persia White, and Jill Marie Jones will be joining her on an upcoming episode of Black-ish, set to air on October 8. This marks the first time the foursome has been together since Jill Marie Jones left the show in 2006. With Jones having expressed interest in reprising her role as Toni in the past, fans are hopeful that this Black-ish reunion could be the beginning of something even bigger. To learn more about Jones and her journey since Girlfriends, keep reading.
1. From Dallas Cowboys Cheerleader to Hollywood
Although Jill Marie Jones always dreamed of entering the entertainment industry, her journey began in a different spotlight. Born in Dallas, Texas, she attended Duncanville High School before enrolling in Texas Women's University. After graduating, Jones spent two years as a Dallas Cowboys cheerleader and another year as a Dallas Mavericks dancer, performing on "Monday Night Football" and "The Miss Texas Pageant". She also toured with the United Service Organization (USO) and United States Department of Defense to Korea, Japan, Israel, and Egypt.
2. Strutting Her Stuff as a Model
Before diving into acting, Jones pursued a career in modeling. Although her height of 5 feet 6 inches didn't qualify her for catwalk modeling, she found success as a magazine model, even gracing the cover of King. Eventually, she decided to leave modeling behind to chase her dream of becoming an actress in Los Angeles.
3. Making Her Screen Debut on City Guys
Upon moving to LA, Jones landed her first acting gig as a Cheerleader Captain in an episode of City Guys titled Shock Treatment. City Guys, an urban take on Saved by the Bell, ran for five seasons from 1997-2001 as part of NBC's Saturday morning block, TNBC. Jones' appearance caught the attention of The CW, who offered her a recurring role on their new show, Girlfriends.
4. Six Seasons of Girlfriends Fame
In 2000, Jones scored the role of the self-centered but popular Antoinette "Toni" Marie Childress-Garrett on The CW's Girlfriends. The show quickly became a massive success, earning high ratings among African-American adults aged 18-34 and running for eight seasons. Jones, however, left the show at the end of season 6 in 2006.
5. Open to a Girlfriends Reboot
When Jones departed Girlfriends at the end of season 6, it wasn't due to any underlying issues. Her contract had simply ended, and she was eager to explore the film world. In an interview with Black Film, she expressed her belief that there was still more to explore with her character, Toni, and praised the show's writers for their creativity.
6. Venturing into Sleepy Hollow and Beyond
Jones has had recurring roles in several TV shows over the years, including playing Cynthia Irving on Fox's supernatural drama series, Sleepy Hollow, from 2013 to 2015. Other notable TV roles include Amanda Fisher in Ash vs the Evil Dead (2013-2015), Pandora in American Horror Story: Asylum (2012), and the titular character of Gillian in Georgia (2010).
7. Making Her Mark on the Big Screen
After leaving Girlfriends, Jones transitioned to feature films, making her big-screen debut in the 2007 comedy, Redrum. Despite the film's critical and commercial failure, Jones continued to take on lead roles in films such as Universal Remote, The Perfect Holiday, Major Movie Star, The Longshots, Drool, Meeting Spencer, 35 and Ticking, Men, Money & Gold Diggers, and Hear No Evil.
8. The Face of Bailey's Irish Cream
During the early 2000s, Jones spent three years as the face of Bailey's Irish Cream, shooting 14 commercials for the liquor brand. In an interview with Black Film, she expressed her love for the drink and her excitement to be a part of the campaign.
9. A Million-Dollar Net Worth
With a career spanning nearly two decades and numerous notable TV roles, Jones has amassed a net worth of $1 million, according to Just Richest.
10. Romantic Connections to Hollywood Stars
Although Jones has been private about her personal life, she has been linked to a few famous faces over the years. In 2005, she had a brief relationship with record producer Bryce Wilson, and later dated Ray Liotta, known for his roles in Field of Dreams, GoodFellas, and Identity. However, their relationship ended after just a few months.