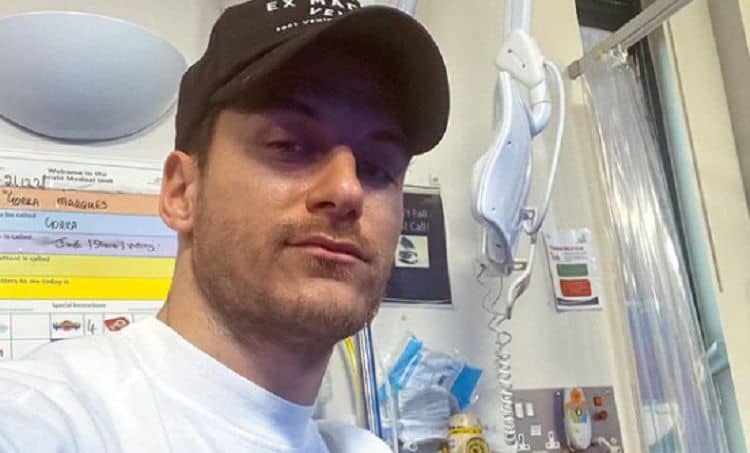 Gorka Márquez is a professional dancer who has been sharing his talent with the world for several years. He is best known for his work on the British show Strictly Come Dancing which is known in the United States as Dancing with the Stars. Not only have people all over Europe fallen in love with his dance moves, but they've also fallen in love with the romance between him and fellow Strictly Come Dancing star, Gemma Atkinson. Needless to say, lots of people were concerned when news broke that Gorka had been admitted to the hospital. Fortunately, he seems to be doing much better now and he's excited to get back to doing what he loves. Keep reading to learn 10 things you didn't know about Gorka Marquez.
1. He Is a YouTuber
Most people know Gorka from being on Strictly Come Dancing, but that isn't the only time he's stepped in front of a camera. He and his fiance, Gemma, have a YouTube channel together where they post a variety of content. They currently have nearly 30,000 subscribers and more than 914,000 views.
2. He Has Been Dancing Since He Was 12
Gorka was only 12 years old when he fell in love with dancing, and it was very evident to people around him that he was working with some special talent. Over the years, he worked hard to hone his craft and by the time he was in his 20s he was a successful competitive dancer.
3. He Loves To Travel
Getting out and seeing the world isn't something that everyone gets to experience. Gorka, however, is thankful that his love for dance has allowed him to travel to places all over the world. There's no doubt that dance is going to take him to even more places over the next several years.
4. He Spends A Lot Of Time At The Gym
In order to dance at the level that Gorka does, it's important to stay in great shape. As a result, Gorka works out on a regular basis and the gym is one of his favorite places to be. Not only does he love getting his own workouts in, but he also likes inspiring others to be active.
5. He Thinks Of Gemma Atkinson As One Of His Biggest Inspirations
Gorka's relationship with Gemma is one of the brightest spots in his life, and he credits her with inspiring him in every way. According to Birmingham Mail, Gorka said, "She inspires me every day. She makes me a better man, a better person, a better person, better everything".
6. He Is A Brand Ambassador
Thanks to his work on Strictly Come Dancing, Gorka has been able to build a massive social media following. He currently has 685,000 followers on Instagram, and this has made him an attractive partner for companies looking to market their products. He is currently a brand ambassador for several businesses including Reflex Nutrition and 10 Cal Jelly.
7. He Is All About Positivity
Life is full of ups and downs, and sometimes the downs can be difficult to overcome. However, no matter what kinds of obstacles Gorka faces, he does his best to maintain a positive outlook on life. Having this mindset is something that has probably really helped him in his career over the years.
8. He Is A Dog Person
The debate over which household pet is better, dogs or cats, is one that never ends. For anyone who was wondering which side of the argument Gorka is on, the answer seems to be dog. While it's unclear whether he has a pet of his own, his Instagram profile suggests that he is a proud dog lover.
9. He Loves Fashion
Not only is Gorka always committed to putting on good performances, but he also wants to look good while doing it. Fashion is another way that he likes to express himself, and he's a natural when it comes to putting outfits together. Whether he's just hanging out with his family or going to an important event, Gorka is always going to look great.
10. He Has Shown His Support For The Black Lives Matter Movement
Keeping people entertained is obviously one of Gorka's top priorities, but it isn't the only thing he likes to use his platform for. He's also passionate about raising attention to the things that are important to him. In the summer of 2020, he participated in a virtual protest called Blackout Tuesday which was created so that people could show their solidarity with the Black Lives Matter movement and the fight to end police brutality.
Tell us what's wrong with this post? How could we improve it? :)
Let us improve this post!