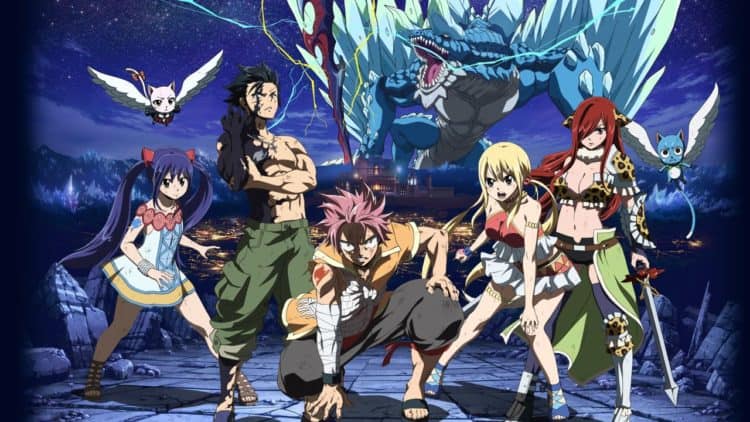 Fairy Tail: Dragon City, which first premiered in Japan back on May 6, 2017, is still gaining traction in the anime fandom. The movie was then released on DVD on November 17, 2017, and recently it was released in North American on March 6, 2018 by Funimation. Dragon City is the second fantasy-action movie based on anime and manga series, Fairy Tail. Here are 10 things you didn't know about Fairy Tail: Dragon City.
1. It's actually based on a screenplay.
Hiro Mashima is credited for writing the anime and manga series, however, it is based on a screenplay written by Shoji Yonemura, a Japanese writer who has done work for a variety of shows and movies in the same genre. Both Yonemura and director Tatsuma Minamikawa worked on the anime series with Mashima being involved as well as both storyboard artist and executive producer.
2. Dragon Cry is an Artifact.
Dragon Cry is actually a magical artifact which has been preserved within a temple; the temple can be found in the Kingdom of Fiore. The artifact contains enough magical power to destroy the entire world. This is why it is stolen by traitor Zash who then delivers it to King Animus of the Kingdom of Stella. The Mages (Carla, Wendy, Erza, Gray, Happy, Lucy, and Natsu) from Fairy Tail, the series, accept the request of recapturing Dragon Cry.
3. The storyline is easily followed even if you haven't seen the TV series.
Zash, the aforementioned traitor, is the minister of state for the Kingdom of Stella as well as being a black magic practitioner. After being solicited by the king of Stella, Zash pervades the Kingdom of Fiore, not only stealing the magic artifact but also defeating the force which had been empowered with protecting the mystical staff. The staff, called Dragon Cry, had been discovered long ago beneath the capital city in the dragon graveyard. The royal family of Fiore then enlists the help of Natsu and his team to recover their sacred artifact. The story then follows their dangerous journey, and without giving anything away, the ending is not what one would expect. However, as mentioned before, the movie is standalone and can be watched (and understood) even if you've never watched Fairy Tail before.
4. There are many exciting battles and events.
Fairy Tail: Dragon Cry has several thrilling battle and event scenes. Just to name a few, there's Recover Dragon Cry, Team Natsu vs. Three Stars, Zash Caine vs. Animus, and Natsu Dragneel vs. Animus. Be sure not to miss any of them!
5. There are different kinds of magic used throughout the movie.
It just wouldn't be Fairy Tail without magic, spells, and abilities. First, we'll explain a few kinds of magic used, such as Dragon Slayer Magic. This is a type of Lost Magic, allowing the user to transform physically into a Dragon. Eye Magic, which involves the use of eye techniques, allows the user to entice or enchant their intended target by making direct eye contact. Life Magic allows the user to sense energy and the presence of life. These are just an example of the kinds of magic used; there are many more.
6. There are also many spells used in Dragon Cry.
As mentioned before, the use of spells comes in handy in this anime as well. Some of the spells include Ice-Make: Key, Sand Buster, Blumenblatt, Star Dress, and Iron Dragon's Sword. To find out what each of these does, as well as many others, check out the movie.
7. Abilities, Armors, and Weapons
There are plenty of each of these used as well, most often during fight scenes. Examples of abilities include Hand-to-Hand Combat, Dragon Force, and Automatic Danger Response Mode. Examples of armors include Heart Dreuz Armor, Armadura Fairy, and Flight Armor. Examples of weapons include bows and arrows, Stellanium Floatation Device, and Musica Sword. Check out the movie to find out what other cool stuff is used.
8. A light novel is included in the DVD/Blu-Ray box movie.
"Wish on a Star" explains the story of Sonya and her past with more information about the Eclipse Gate. Find out how she ended up at the mercy of the Kingdom of Stella.
9. The movie was highly ranked in Japan.
The first week of opening, Dragon Cry ranked in at number ten and over a third of the theaters in which it was screened were sold out.
10. Dragon Cry may be the last of the Fairy Tail series.
In the movie's premiere trailer, it was announced that it would be the final arc of the series. The movie campaign was in promotion of the anime and manga series' climax which ran on July 26, 2017.