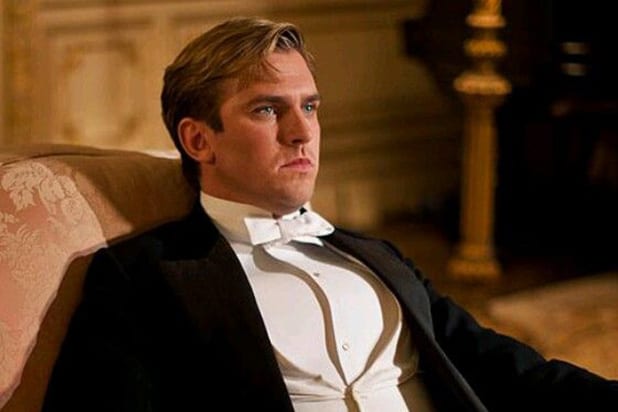 You might wonder who you're looking at but if you've been up on your films and TV shows you might recognize Dan Stevens, who's no newbie to show business and has been around since the late 90s. His talent is unmistakable and his ability to get people on his side or against his characters is great enough that it almost seems effortless. To date he's been the kind of guy that kind of blends into the background or pushes his way to the front as is needed. His career so far is pretty impressive though it would almost seem as if his time as a leading man isn't the most prominent part of who he is. Instead he's the kind of guy that likes what he does but doesn't seem to really get into the whole idea of fame and fortune and being a typical celebrity. If anything he enjoys being a family man first and an actor second.
Here are a few other things you might not have known about Dan.
10. Dan was adopted when he was just 7 days old.
The adoption process is usually known to be quite lengthy and kind of difficult, but there's also the idea that the process can be instigated before the child is born, thereby making it legal and possible only days after the child is born. Otherwise it is a very difficult process.
9. He's very adamant about moving beyond one's comfort zone.
Staying in your comfort zone isn't a sign of creativity as Dan has stated. He's not the only one thankfully since the general belief is that if you do stay in your comfort zone it usually means that you want to keep things safe and predictable. Stepping outside of your comfort zone is a step into uncertainty, but at the same time it's a way to stay creative and allow innovation to blossom.
8. In his school years Dan was a bit of a distraction to other students.
It's interesting to see how the most distracting people in school turn out at times. Sometimes it seems as though they're just looking for attention, but other times it seem that it might be a hint of greatness on the rise in a very rudimentary way.
7. He's a big fan of 80s music.
There are a lot of things to be said about 80s music, both good and bad. But if we try to forget about any of it we tend to deny that it had any value at the time. Celebrities admitting that they were a fan of the music in this decade is kind of refreshing since it kind of validates the music in a way. Of course it's validated simply because people still remember it.
6. Dan is a very big bookworm.
There's so much that can be said about being a bookworm that are positive since reading tends to promote free thinking, creativity, innovation, and the expansion of ideas that are laid down by those that write the stories we love.
5. He had a huge growth spurt around the age of 11.
At the age of 11 he was six feet tall and was incredibly awkward. He didn't really fit in anywhere and was kind of the outcast apparently. This is hard place to be when you're a kid and trying to fit in, but obviously he grew into his size after a while.
4. It's actually a shock to Dan when he's recognized on the street.
He's a big celebrity and he's been in enough films and TV shows that he should be easily recognized, but apparently it's still kind of a shock when people pick him out of a crowd. It would seem that Dan isn't the kind of guy that's fallen in love with his own fame.
3. If you can recall he played the part of Beast in the live action Beauty & The Beast.
Imagine him with long hair and disheveled clothing and you might remember where you've seen him recently since the film was actually one of the best of 2017 as well as the most anticipated. He was covered up by CGI effects for most of the film but he did get to appear for a short part in the beginning and ending as himself.
2. He prefers spending more time with his family.
Dan is a very big family man that likes to spend time with his kids and wife, but he also knows that he has to work in order to support them. Truthfully he would rather spend more time with his loved ones, which is kind of inspiring as well as touching.
1. Dan has stretched his talents pretty far and wide.
He's been in film, TV, on stage, and has narrated audiobooks and even contributed to radio drama, so it's safe to say that he has a wide array of skills that he's been able to hone throughout the years.
Even if you don't know a lot of about him you should know by now that he's pretty skilled at what he does.
Tell us what's wrong with this post? How could we improve it? :)
Let us improve this post!