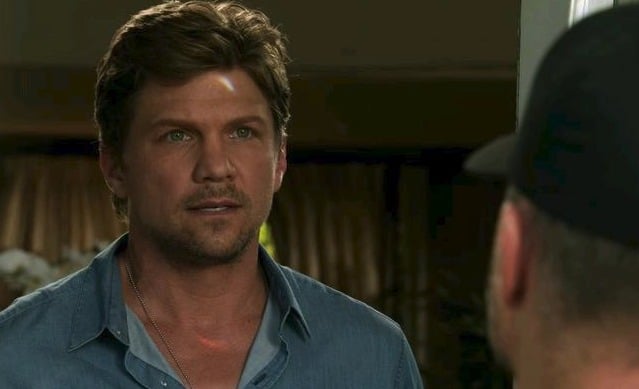 If you think that Marc Blucas looks familiar it's likely that you've seen him around since he does have an impressive filmography. He's been in movies and TV since around 1995 and has played a variety of roles. Marc has been front and center a lot of times but often he's put into scenes with big name actors that tend to overshadow him quite easily. He knows how to play his parts and doesn't falter or stammer but his personality, while genuine and very likable, doesn't always make him stand out as much. He's one of the perfect supporting cast members that could possibly move into a lead role if he was given a little more development as a leading man.
Seriously, if he was given the right movie I think he could become more well known.
5. He had one scene in House on Haunted Hill.
Unfortunately his scene was cut out, but he wasn't the only one. There were a few scenes that were cut out that would have gone a long way towards explaining just what was really going on in the remake of this classic horror story. The effects were great and all but they didn't spend a whole lot of time on development which would have helped a great deal. Plus, the actors were good but the story kind of suffered for not knowing as much as possible.
4. He's a high school basketball coach.
Aside from acting he takes the time to coach a girls basketball team in an all-girls Catholic high school in Los Angeles, California. This speaks highly of his love for the game and for his devotion to giving back to his community. Something tells me that since he's such a good player that the girls are benefiting from his expertise and most likely have come to either love the game just as much or are at least impressed by the knowledge he possesses.
3. He was in the Buffy the Vampire Slayer show.
He was also voted as one of the sexiest men to ever come onto the show. While it was kind of a big deal for him, and for anyone, to be on the show at the time he moved on to bigger and better things eventually. However it's likely that he still remembers his time there fondly.
2. He played basketball for Wake Forest University.
He was a shooting guard and a small forward during his time as a Wake Forest Deacon. He even started for one year alongside NBA legend Tim Duncan, but graduated before Duncan and therefore didn't get to play with him except for a season. His father was an athlete as well when he was younger, so it's kind of natural to assume that Marc would have gone this way.
1. He tried to make it into the NBA.
He made a go of being a professional basketball player but realized very quickly that it's an entirely different level of play and likely wasn't what he was ready for, or looking for. He was selected as an actor however when he was still fairly young, so it all worked out.
You've seen him before, and he probably had a pretty important role in whatever you saw him in.