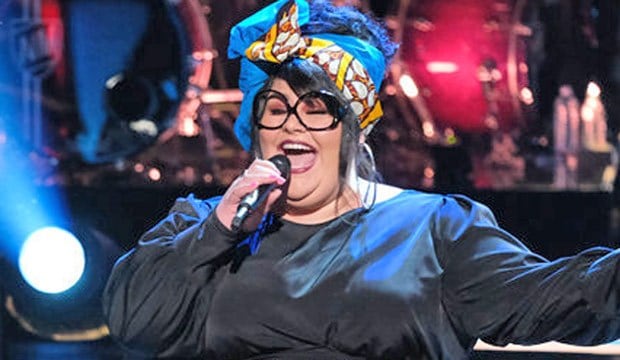 It is never too late to be who you are meant to be. At 38, Katie Kadan is only beginning her career after accepting herself as an overweight woman. It dawned on her that people did not care about how she looked but rather how she made them feel with her music. She is not the first musician whose career started late in life; Sheryl Crow made her debut at 31. Katie is not holding back anymore, and as she continues to entertain you, let's quench your curiosity about her.
1. Her musical influences
Katie's family has always been interested in music, and they influenced her to fall in love with it. Therefore besides listening to her mother sing lullabies for her, Katie would listen to her brother's stereo, where he played Carol King's records. By the time Katie entered her teenage years, she loved jazz thanks to Billie Holiday. Upon hearing Gladys Knight sing, Katie could not help but lean towards soul music. Hoping to be as good as her musical inspirations, Kate stared singing with her cousins and sister.
2. She was in her church choir
Katie's mother brought up her children in the church, and by the age of three, Katie was harmonizing in church. By the time she was ten, Katie had joined All God's Children Choir in Chicago, where she remained a member throughout her formative years. She now joins the list of other artists like Ed Sheeran, Usher, and Avril Lavigne, who used to be in church choirs before becoming stars.
3. She took piano lessons
Being an all-rounded musician is what every artist aims to be; hence, you watch John Legend, Alicia Keys, and Elton John play the piano while others write their own songs too. Katie did not want to be a musician only; she wanted to be a performer also; therefore, she took piano lessons and vocal exercises. However, even before she took the piano lessons, she could already play, but she was determined to be the best. Dennis Nuccio, therefore, taught her to read music as he told the Chicago Tribune since what Katie knew, such as hitting the pocket, was unteachable. To Dennis, the lady was talented, and he only honed her skills.
4. She blew the minds of "The Voice" coaches away
Before Katie went on stage, she had butterflies in her stomach because she was meeting the "famous 4" as she calls them. She, however, calmed herself down by viewing the stage as any other on which she had performed. She breathed in ready to wow the audience, and she did. By the time she was done, every coach wanted her in their respective teams, with Blake Shelton going as far as trying to show Katie how much he loves her city. Blake said that he had been to Chicago and felt a connection, but Kelly could not have him steal Katie away from her. After all of them told Katie she was great, she picked John Legend.
5. She did not want to audition
Competitions were not something that Katie looked forward to having had bad experiences with flute and piano competitions. Still, having a friend who knows what you are capable of and wants you to be the best version of yourself can make your life change for the better. Katie's friend, Sarah Potenza, encouraged Katie to audition, but Katie did not think it was what she needed. Luckily her friend was persistent, and she tagged Katie in one of her singing videos on Instagram. It took a little more encouraging from Luke Wade, who watched Katie in the video and saw her potential. He reached out to Katie to do the blind auditions, and now she does not regret her decision.
6. Why she chose John Legend
Although the four coaches were all willing to have Katie, the final decision lay with Katie, who chose John Legend. The fact that he was the first to turn around in his chair and give Katie a wide smile was what first drove Katie to pick John. Moreover, she saw a lot of herself in John since they both were raised in the church, and he plays the piano; so does Katie. Besides, they both are songwriters, as well as choir directors and arrangers. That common bond was all that Katie needed to convince herself that John was the ideal coach for her.
7. Why she picked "Baby, I Love You" for her blind audition
Katie describes herself as an emotional woman with a loud mouth, and Aretha Franklin's "Baby I Love You" presented the chance to showcase her ability as a singer. Katie told Voice Views as published on Idol Chatter that the song is perfect for a singer since it is full of raw emotion and varies from soft to loud to groovy.
8. She already is an accomplished artist
Katie may have caught the public's eye through her performance at "The Voice," but even before fame, she was making music. She has performed solo and is also in the band, The Rockwells. She released her album, which has ten tracks, and with her band, they produced a 5-track EP titled "Catch and Release." With her musical gift, she also coaches aspiring artists.
9. What encouraged her to start performing?
If you want to accomplish great things, you must get out of your comfort zone, which Katie was not willing to do. She had grown so used to performing in groups that pursuing a solo career never crossed her mind. That, however, changed when Katie was 30, and her friends dragged her on stage during an open mic session. By the time she was leaving the stage, she could not believe how moved the audience was by her performance. That encouraged Katie to begin performing, and she still does to date at the Underground Wonder Bar for her Sunday night Residency.
10. She had low self-esteem
Every motivational speaker will tell you that fear is what stops us from making any progress. Besides, it has been said that doubt kills more dreams than failure ever will, and Katie has come to this realization. She admitted that she has always been her own worst enemy, doubting if music was the right path for her. As a result, Katie held herself back from the many opportunities that presented herself. Her weight could have been the cause of low self-esteem since she saw herself as a chubby woman living in a skinny girl's world. That has changed, and today, when she looks in the mirror, she likes what she sees.
Tell us what's wrong with this post? How could we improve it? :)
Let us improve this post!