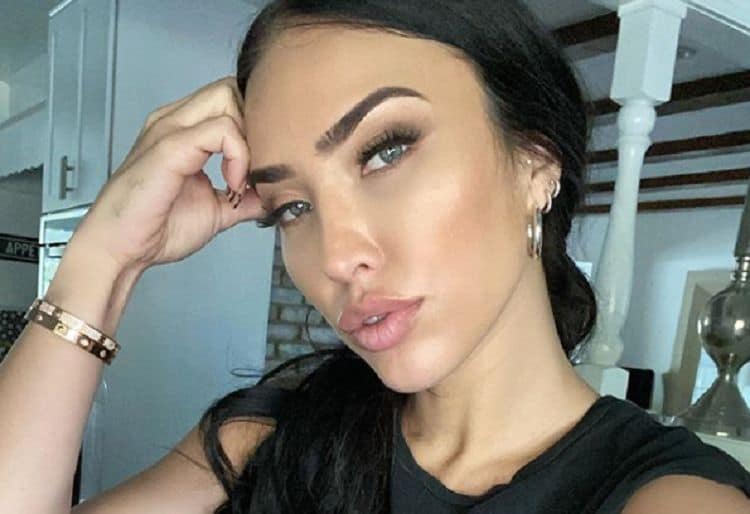 How a person feels about models and those that seek the spotlight but never seem to get recognized in the big way that others do is a personal thing. But if you know Bre Tiesi or not then it really says more about what kind of things you watch and what you enjoy viewing on YouTube since her while her fame isn't limited to this platform it really hasn't seemed to spike all that much throughout the years unless she's had someone else to stand next to when it comes to promoting her name. Her looks are undoubtedly great enough to get her noticed by many but it would almost seem that her talents aren't quite refined enough to stand on her own at this point unless it's for something that is more of a niche that she she knows something about and is confident enough to promote. Otherwise it would seem that she requires someone around to help her look just a little better.
Here are a few things you might not have known about Bre.
10. She's a fitness nut and even created her own 12-week transformation workout.
It's pretty obvious that she likes to stay in shape and is fully dedicated to her own fitness and perhaps to showing others how it can be done. Her workout is something that a lot of people might want to follow providing that they have the means since for her it seems to have done wonders.
9. Bre gets compared to Megan Fox a lot.
This is part of why it would seem that she needs her own platform to stand on since being compared to Megan Fox isn't a bad thing, it's simply that without people recognizing her for her then it becomes less likely that her own name will be pushed when people turn away after finding out the truth.
8. She has a pretty healthy following on social media.
Bre has well over 300 thousand followers on social media and it seems well-deserved since she no doubt keeps them all well-informed on what's going on in her life and keeps up on her traffic in a way that keeps the people happy.
7. Bre started dating Johnny Manziel in 2016.
You can rag on Manziel as much as you want but he does credit Bre for pulling his life back together when he got so horribly off track after entering the NFL. If anyone remembers he was kind of a walking dumpster fire to watch, but it would appear that she's performed a miracle in bringing him around. He even asked her to marry him.
6. She's been a model in the past and present.
This should come as no surprise at all since she does have the look and the kind of on camera attitude that many models are seen to exhibit. A lot of her life has been dedicated to modeling in fact and she started out when she was just 5 years old. Her mother and her sister have also spent time in front of the camera.
5. Bre didn't focus on modeling between the ages of 12 to 18.
Instead she buckled down and got serious about her studies, perhaps seeing this as a necessity so that she wouldn't become like one of many that seems to think that they'll grab a lucky break and not need school ever again. A lot of people might think that the average model is kind of a ditz, but a lot of them are well-educated and do know a few things when you really dig into their educational background.
4. She's been in a few TV shows and movies.
It would appear that Bre has popped up in a few different spots in her career on shows and in movies for a short part here and there, but if anyone remembers or recognizes her then it typically means that they might have been looking for her.
3. There's not a lot of information given on her father.
This could be one of those moments when she either doesn't know much or doesn't really want to divulge much, or both. Sometimes in life people don't want to go over things that might cause them a bit of emotional grief and thus the information gets left out. Likely there have been a few people that want to know more but until she releases it then it's not really a big concern.
2. She dated Nick Hogan for a while.
Yes, the son of famed wrestler Hulk Hogan. They dated for a few years and the relationship ended around 2015, just a year or less before started dating Manziel.
1. Her net worth is around $250,000.
This might seem low in comparison to a lot of other celebrities that have graced these lists but keep in mind that Bre is still something of an unknown commodity. Her salary is around $90,000 a year so she's not hurting for money.
It'll be interesting to see if she goes any further in her career.
Tell us what's wrong with this post? How could we improve it? :)
Let us improve this post!