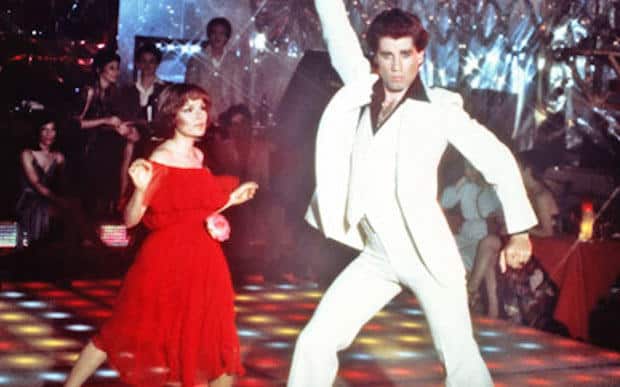 Saturday Night Fever is one of those films you look back on and then look to the current culture of today and then spend a few minutes trying to reconcile how such things could have possibly been considered normal back then. It's hitting its 40th anniversary this week since being released and while a lot of people have kind of forgotten a great deal about it there are areas around the US that still idolize Tony Manero for their own reasons. The reason I find this disturbing is that while he was guy disillusioned by his life spent at a dead-end job without any prospects other than every Saturday night he still attempted to rape a woman. The fact that he did what he could to salvage a relationship with her was somewhat admirable but these days even an attempted rape would make people want to crucify a guy.
Different times I suppose.
10. Donna Pescow didn't know about the hidden platform on the bridge.
When the guys were jumping off the bridge there was a hidden platform just a few feet beneath their jump point. Pescow's look of fear was genuine when she jumped and her anger at finding the platform was just as real.
9. When John Travolta told Manero's dad to 'watch the hair!' it wasn't scripted.
He'd spent so long fixing it up that he didn't want anything to upset it so the third time he got smacked he simply reacted and it was kept in.
8. Travolta ran and danced every day to get in shape for the role.
He ran about two miles and danced for about three hours every day.
7. The Mafia tried to get protection money from the crew.
Even back then this racket was still in place. Someone even fire-bombed the night club where the film was being shot.
6. The white polyester suit that Travolta wore went for a ridiculous amount of money at auction.
If you can believe it the suit went for about $145,000.
5. Gene Siskel loved the movie.
He's the one that bought the suit and he admitted to watching the film about 17 times.
4. The movie almost had a different title.
It was almost called Tribal Rites of the New Saturday Night, which was the name of a New York magazine back in those days.
3. A group of Hasidic Jews tried to disrupt filming.
They didn't want the crew filming in their neighborhood and at one point tried to flip over a car.
2. Donna Pescow had to work hard to dull herself for her role.
She was almost considered too pretty for the role and in response she put on about 40 pounds and started using her native Brooklyn accent again after having ditched it while studying drama. After the film she dropped the weight and lost the accent again.
1. Fran Drescher got to cop a feel on Travolta.
She placed her hand on his butt even though it wasn't scripted. She even admitted to not wearing any underwear while she was in the film.
Has it really been 40 years since this film?