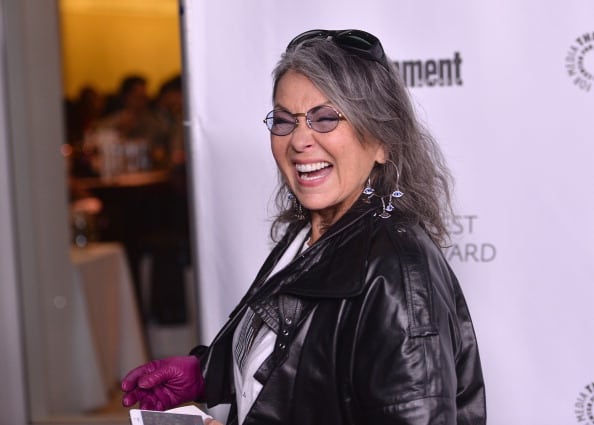 If you are like me and grew up in the late 80's and early 90's, you probably watched many family sitcoms like Growing Pains, Full House, and Family Matters. Then there was the sitcom Roseanne. It was a very true take of the average family living in America that had not often been depicted on television before. Not everyone had a doctor for a father and a lawyer for a mother like Cliff and Clair Huxtable on The Cosby Show. The Conner family had problems many Americans were facing like paying the mortgage or trying to find a job.  Roseanne debuted on ABC in October of 1988 and remained on the air for nine seasons,concluding in May of 1997.  Over the years, we saw a cast change (Lecy Goranson to Sarah Chalke and then back to Goranson and one last time back to Chalke), and the early departure of patriarch Dan Conner played by John Goodman, who only appeared of and onn during the final season. Here are ten fun facts you may not know about Roseanne.
1. Famous writers galore!
There were many now famous writers who got their early start writing for television on the sitcom Roseanne.  Joss Whedon, who is the creator of Buffy the Vampire Slayer, Firefly, and Agents of S.H.I.E.L.D., penned 4 episodes during the show's second season including the episode where Jackie announces she is going to be a police officer. Chuck Lorre, known for Two and a Half Men and The Big Bang Theory, and Norm MacDoanld wrote for the series as well.
2. Guest-starring husbands
Roseanne was married to three different men during the time Roseanne was on the air. Her first spouse was Bill Pentland. He would be an executive consultant on the show through 1991 and would appear in a season one episode. Roseanne's second husband is Tom Arnold. They were married from 1990-1994 and he was a producer, writer, and star during that time.  Roseanne's third hubby was Ben Thomas. He appeared in two episodes towards the end of the series' run. He is the father of her son Buck that was born in 1995.
3. Two D.J.'s!
We know that there were two actresses that played eldest daughter Becky on Roseanne, but there were also two actors that played loveable youngest child D.J.  The character was played by Sal Barone in the pilot episode. After the pilot was shot, television writers went on strike and when production resumed on the series, Barone had grown up too much for the character. It was also reported that Barone did not get along with Sarah Gilbert on set, so he was replaced by Michael Fishman for the remainder of the series.
4. David has a different name?!
Johnny Galecki began playing Darlene's boyfriend David in 1992. He would remain on the series until the finale in 1997.  However, David is not the character's name.  In his first appearance he is called Kevin.  When Galecki next showed up his name had been changed to David. Roseanne makes a comment about Darlene being so controlling that she even changed her boyfriend's name on an episode of Roseanne.
5. The Conner house is real.
Though the series was shot on a studio lot, the exterior shots of the Conner home on Roseanne actually exist.  If you take a trip to Illinois where fictional Lanford is located, you will not find the home as it is actually in Evansville, Indiana. The Conner's address is 714 Delaware Street, while the actual address is 619 Runnymeade Street. The home has 4 bedrooms and 2 bathrooms and was built in 1925.
6. Hey, that's the Chief!
Before James Pickens Jr. became the chief of the very popular Seattle Grace hospital on Grey's Anatomy, he appeared on Roseanne as Dan's friend Chuckie Mitchell. He appeared on nineteen episodes from 1990-1996.  His first appearance was the season three Halloween themed episode, "Trick or Treat."  After Roseanne, Pickens starred on Something So Right, Brooklyn South, and The Practice.  He most recently starred in the Jackie Robinson biopic 42 as Mr. Brock.
7. Sara Gilbert, the college student
Many Roseanne fans know that Lecy Goranson left the comedy to attend college. Since they were not able to work around her class schedule, the character was recast and Sarah Chalke took over the role.  Sara Gilbert would also go to college and attend Yale.  Roseanne wanted to keep Gilbert on the series so many segments would just feature Darlene alone and were shot on a soundstage in New York.  Gilbert graduated from Yale with honors in 1997.
8. Lecy Goranson's haircut
During the fourth season of Roseanne, Lecy Goranson has requested that she be able to cut her hair very short to go along with the trend that was taking place in the early 1990's. The producers refused to let the actress do anything drastic to her hair. When Roseanne found out about this, she became livid. She grabbed a pair of scissors and hacked off Goranson's hair forcing them to have to cut it the way she wanted them to in the first place.
9. Winner of many awards
Roseanne and its cast have been nominated and won several different awards during the nine seasons the sitcom was on the air.  Laurie Metcalf received three Emmy wins for her portrayal of Jackie and Roseanne would also take home a win in 1993.  John Goodman and Sara Gilbert received nominations. It was named a top television series by the ASCAP Film and Television Music Awards from 1990-1996 and was a GLADD Media Award winner in 1992, 1993, and 1995.  Michael Fishman, Sara Gilbert, and Johnny Galecki were all Young Artist Award recipients.
10. Highly rated series
Roseanne was a highly rated sitcom for all nine season it remained on the air.  It was rated as the number one most watched show during season two with an average of 21.2 million people tuning in every week.  It would remain in the top ten through season seven and then dip to #16 for season eight with 11.9 million viewers. The final season was the least watched, but was still ranked as the 35th most watched television show of the 1996-1997 television season.
Do you know any other interesting facts about Roseanne? Let us know in the comments section below.
Photo by Alberto E. Rodriguez/Getty Images