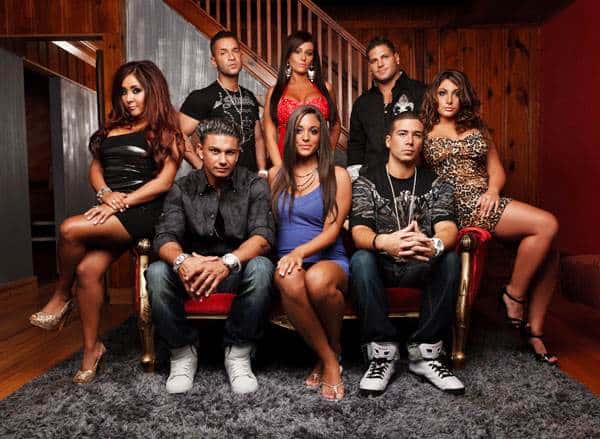 When you think of the state of New Jersey, what is the first thing that comes to mind? The answer is going to be, "It depends." It depends on whether you actually live in New Jersey or not. Personally, I think of chemical plants, casinos, and Chris Christie. When Jersey Shore first aired, it was hard to know what to expect. We soon found out. Here are 10 Things You Didn't Know About the Making of Jersey Shore.
Governor Chris Christie was not a fan of the show.
OK, he absolutely hated it. As all good governors do, he stands for mom, apple pie, and the state he runs. Jersey Shore had nothing to with wholesome American living, so Christie thought it disparaged his beloved state. He went so far as to veto a $420,000 tax incentive as a perk for the show to be filmed in the state. The show ended in December 2012, perhaps because Hurricane Sandy sent a message or it was an election year.
One of the original cast members left the show to start a singing career.
If you haven't heard any of Angelina Pivarnick's recordings on iTunes or anywhere else, that's because she has zero musical or singing talent. I hate watching shows that last more than a season where one or more of the cast feels the need to use their face time to break into song. The good news is Pivarnick took her non-talents away from the show. After spending 2 seasons feuding with virtually every cast member, she moved on to the aforementioned failed singing career. The latest sighting has her in New York City working as an emergency medical technician (EMT). We may be safe as long as she doesn't try to save someone by singing.
One of the cast has not one, but two college degrees.
It may justify spending all that money on a college education. JWoww (Jenni Farley) first earned a degree in computer programming and moved on to earn a BFA in Graphic Design from the New York Institute of Technology. Instead of being a starving actress before taking on the Jersey Shore role, she had her own design business.
A popular cast member continues to have legal troubles.
Mike Sorrentino apparently has been caught suspiciously dancing around the tax laws, including tax evasion and falsification of tax records. The problem started about 2 years after he left the show in 2014. With an estimated net worth of about $6 million, he can afford some heavy duty tax lawyers, but as of April 2017 the alleged crimes have not been yet resolved, so we may see a significant drop in that number once things get ironed out.
The cast were kept ignorant of the world outside during filming of the episodes.
There clearly were some smart people on the show, but during the weeks of shooting there were some pretty severe restrictions, such as no Internet access and restricted use of the phone. If the word "bored" comes to mind, then you have an idea what they went through during the 8 weeks of filming per season. They were given the opportunity to party, which they obviously did as can be seen in some of their episodes.
Everyone but 2 of the stars had an Italian background.
JWoww has zero connections with any Italian ancestry, as she is Irish and Spanish. Snooki is actually Chilean, but we can give her a pass since she was adopted by an Italian family at an early age. As we all should know by now, consistent exposure to the Italian way will rewire your brain to the point you actually are Italian.
The trash factor that had people either loving it or hating it was contractually taken into account by the network.
Hooking up was one of the prime activities encouraged by the network, so to prevent any legal complications, each cast member had a clause in their contract about catching any STDs as a result of the romps. You know, one thing leads to another …
The actual place where Jersey Shore was shot can be rented by almost anyone.
Now in 2017, it is hard to imagine who would want to stay there, but every show has a number of diehard fans. If you were a regular fan of the show you are already intimately aware of the rooms and layout, but perhaps seeing it in person with an aroma of old alcohol will bring back fond memories.
The show did not end because of low ratings or not being profitable for the network, MTV.
In fact, the opposite was true. The show was one of MTV's highest rated and most profitable shows. It's just that Snooki became pregnant — and that was that. Producers did consider a change of cast members, but the decision was made to go out on a high note. The influence of Hurricane Sandy has not been admitted to as a major factor in the final decision.
The original plan for the show was to have a different group on every season.
Instead of featuring one group, which was what actually happened, when the show first aired the Gang of 8 was supposed to have new members every season. Give credit to the producer who saw the popularity and long term potential of the initial group. This is the same director who decided to go out on a high note.