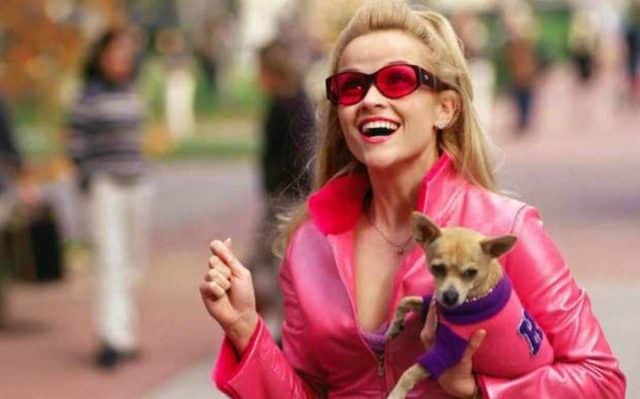 Legally Blonde has managed to catch on with a lot of people since it does carry a powerful message…with a lot of pink. Elle Woods decides to go to law school after getting dumped by her boyfriend. Her attempt to follow him however reveals that she's got a lot more going on for her than a nice figure and a very stylish look. Once she gets into law school she discovers that she has a real knack for working her way around the legal system and finding out what is really important in her life. This movie kind of goes to show that appearances aren't everything.
Plus it's gained a really strange but loyal following.
10. Elle's LSAT score puts her in the top one percent.
Her score was 179, while the maximum score is 180. That's simply amazing for anyone.
9. Reese Witherspoon spent some time with actual sorority girls to get the part down right.
She didn't want to play the role like a stereotypical, bubbly airhead sorority girl as has been seen on film so often. She spent time with a real sorority and therefore gained a better perspective on the role.
8. Reese goes through 40 different hairstyles in the movie.
That sounds like a lot of time just doing her hair. I'm sure they had hairstylists on call at all times to come up with a new style and apply it.
7. The name of the sorority that Elle joined had to be changed to avoid problems with the real sorority.
Since the name of the sorority was one that actually belongs to the Panhellenic Conference it had to be changed in order to avoid any legal troubles.
6. The word 'semester' is a period of six months.
A character in the movie suggest changing it to ovester, since she thinks that semester has something to do with semen. That's almost too funny.
5. There's a Broadway musical based on this film.
The production opened in 2007 and after 595 showings shut down in 2008. It was a fairly big deal when it came out and was highly publicized.
4. Universal passed on the film.
Apparently they didn't think it had much worth. MGM swooped in and grabbed it up and made something very unique out of it.
3. The confrontation with Warner wasn't a part of the original script.
Upon the original screening some people thought that Elle deserved a final confrontation with Warner was deserved after all she'd been through so it was added in. Plus, the graduation scene wasn't an original part of the script either.
2. The original location was supposed to be Chicago.
Due to some subject material and perhaps something else going on within the movie it was decided that it would be better if the movie was shot at Harvard instead.
1. Witherspoon and Selma Blair starred together in Cruel Intentions.
They were friendly towards each other in the movie as characters but didn't really connect until near the end of the film, if at all.
The great part of this story is that it shows that anyone can do anything they want if they just apply themselves.
Tell us what's wrong with this post? How could we improve it? :)
Let us improve this post!